Tijuana Dentist Offering Professional Dental Solutions
Save up to 75% getting your dental work in Tijuana, Mexico With Us
Certified Dentist in Tijuana, Mexico
Our certified team of dentists in Tijuana is happy to receive you with open arms! If you are looking to preserve or restore your smile, Trust Dental Care is the place where you can make it happen.
Experienced and only US licensed dentist working in Latin America, Our Mexican Dentist Dr. Serena Kurt is the leader of this advanced and modern dental clinic in Tijuana. And ambassador and trainers' trainer of Sirona, the world's largest dental technology company.
Trust Dental Care has also expanded both nationally and internationally. From Tijuana to Cancun and San Diego, allowing us to offer outstanding care at affordable rates to a larger number of patients around the world.
For more than 23 years, our worldwide patients have made their smile dreams come true. Thanks to our state-of-the-art German dental technology, we can offer a wide range of services like all on 4 dental implants, dental implants, CEREC one-visit dental crowns, and porcelain veneers; you'll find them all here.
Also, the statistics, reviews, and news regarding dental implants in Tijuana show that you can be sure when deciding to try dental tourism you will be making an informed decision.
So, start getting ready to show your new healthy, beautiful smile to the world and leave the rest in our hands!
Let Me Take Care of You With a Complimentary One-on-One
Popular Services For Dental Work In Mexico
In Trust Dental Care, your smile is our most important priority. You can expect high-quality results in every dental procedure.
Tijuana Dentistry & Technology
We have extensive experience and knowledge in creating
beautiful and healthy smiles

Tijuana Dental Implants
Dental implants are considered the high standard of care for replacement of missing teeth. They are designed to fit perfectly as a natural tooth.
Dental Implants

Dental Emergencies
Please contact us if you have a dental emergency. We will do our best to accommodate you as quickly as possible to relieve your dental pain and discomfort.
Dental Emergency

Advance Technology
For painless, effective and long lasting treatment, we only use advance technology with artificial intelligence to assist the doctor on the best way.
See Technology
Dental Implants in Tijuana, Mexico
Tijuana dental implants are an excellent process of replacing lost teeth due to disease or trauma.
Implants are permanently fixed to the jawbone, therefore looking and functioning just as a natural tooth would.
If you need to restore any number of teeth, maintain a fixed bridge, or secure partial, removable, and full dentures, Tijuana dental implants are the most reliable option.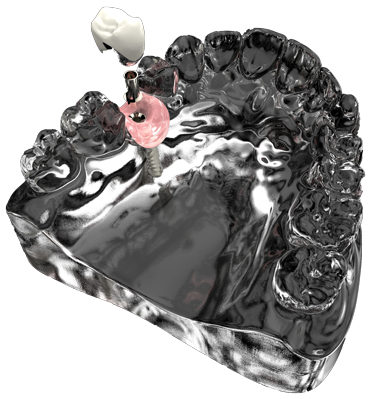 Come to The best Dentist in Tijuana: Your New Smile Is Just 3 Steps Away!
We want you to have a comfortable, pleasant experience. We'll always be at your disposal to attend to your needs.

STEP 1
---
Contact us at
(844) 848 7878, through social media, or fill out our contact form available here and book your appointment.

STEP 2

---
Come down to Tijuana
and give us a call about 5 minutes before you get to the pedestrian crossing border.
When you arrive at the meeting point, our private driver will pick you up and take you safely to your appointment in our sanitized VIP limousine service.

STEP 3
---
You made it!
Once in our dental office, get comfortable in our sitting area with wifi, fresh beverages, and TV until your Tijuana dentist is ready to see you.
Getting high-quality dental care has never been so easy!
Reviews From Our Satisfied Patients
We encourage you to see for yourself the countless of happy
reviews that have placed their trust in us.


Walked in greeted with a smile. The office manager was super nice he discussed payment plans if need be. Dr. Miranda made me feel comfortable.




But let me say how AMAZING. Dr. Cirenia was at calming me down in making me comfortable. I didn't feel a thing!!…I'm so happy I found this dentist.




This dental care, staff and Dr's are more than excellent. Very caring, kind, and just wonderful. I had done 2 root canals with crowns and 7 implants.

Grab your chance to make a positive change in your life!
This month take advantage of Trust Dental Care's promotion of 6 porcelain veneers for only $2,499!
Opening Hours
Monday: 9:00 am – 6:00 pm
Tuesday: 9:00 am – 6:00 pm
Wednesday: 9:00 am – 6:00 pm
Thursday: 9:00 am – 6:00 pm
Friday: 9:00 am – 6:00 pm
Saturday: 9:00 am – 2:00 pm
Sunday: Closed
Email
info@trustdentalcare.com
Phone
(844) 848 7878
Address
Edmundo O.Gorman 10401
Zona Urbana Rio Tijuana 22010, Tijuana.
Best Dentist in Tijuana, Mexico
We have extensive experience and knowledge in beautifying smiles.
We have pioneered Sirona and CEREC Technology, laser treatments, and the most innovative dental techniques to provide their patients with the most beautiful esthetic results.
Our dentist in Tijuana, Mexico offer an excellent alternative to high prices of dental procedures in the United States, Canada, and even the U.K.
More people are choosing Tijuana dentists for dental work in Mexico than ever before.
We are pleased to offer you the chance to have a healthy smile that you've always wanted and deserved.
We strive to make your experience at Trust Dental Care a comfortable and positive one that will leave you smiling brightly for many years to come.
Affordable Dental Implants in Tijuana
Trust Dental Care´s facility in Tijuana, Mexico, is specially designed for patients seeking dentistry abroad, we offer you bespoke expertise at a price that is unbelievably affordable.
We have an elite team of carefully selected specialists from all fields of dentistry. We are one of the leading dental tourism providers worldwide.
The number of American, Canadian, and UK patients choosing Mexican dentists is about half a million per year, with Tijuana being the most popular site for cost-efficient dental procedures.
In addition, Mexican dentists rank highest on the list of dental tourism destinations, with over 25% of all dental tourists on a global scale picking it as their dental tourism target.
Choose the Best Dentist in Mexico
The key to a perfect smile with dental tourism is not only to choose the right city for it, you also have to be sure you're going with the best. Trust Dental Care prides on being that very best stop for all your dental needs when visiting Tijuana.
Dr. Cirenia Aparicio Miranda is our Mexican dentist and is hands down the best dentist in Mexico.
Distinguished by being one of the few members of the American Academy of Cosmetic Dentistry, Dr. Aparicio Miranda´s work is synonymous with excellence and quality.
She is a Mexican dentist accredited by the AACD and U.S. licensed dentist. With over 20 years of experience in the field of dentistry, Dr. Aparicio Miranda has changed the lives of thousands through her devotion to Dentistry.
Additionally, our Tijuana dentist is also what is known as a trainer's trainer. Simply put, she prepares senior dentists to be teachers for junior specialists.
She makes patients happy again by providing a high-quality smile sure to leave a lasting impression for years to come. And speaking of impressions, the first one we leave on other people starts with our smile, and nobody knows this better than Dr. Aparicio Miranda.
Benefits of Choosing the Best Tijuana Dentist
Dental implants can restore your smile and rebuild both form and function to your teeth, especially since they are designed to look and feel like your natural teeth.
Having so many options for dental implants, our dentist in Tijuana, Dr. Cirenia Aparicio, offers this advanced dental restoration procedure to patients with a single missing tooth or multiple missing teeth.
The best alternative for dental implants in Tijuana is available at Trust Dental Care. Our team of experts is using only the most advanced dental technology.
No special maintenance is required other than normal brushing and flossing.
You can regain a beautiful, vibrant smile with no gaps or misalignment due to missing teeth.
They do not move or slip along the gum line.
They are designed to become permanent fixtures in your mouth, similar to your natural teeth.
They can improve your ability to speak and eat.
They blend in with surrounding teeth.
Dentist in Tijuana Using Artificial Intelligence Technology To Achieve High Dentistry
Our Dentist in Tijuana, Mexico, Dr. Aparicio Miranda is a senior speaker for Sirona – a German manufacturer of the best dental technology available in today's world – and for VITA Zahnfabrik – a dental prosthetics company that offers quality, innovative solutions to dentistry.
This kind of position takes years of continuous education to be able to achieve.
Also, since dentistry is Dr. Aparicio Miranda's love, her calling, her duty, she is working around the clock to not only improve her understanding of the field, but of her patients as well.
Trust Dental Care uses the latest Sirona technology for all procedures, including the CAD/CAM CEREC MC X machine that allows us to create your crown on the same day of your visit.
This equipment, along with the CEREC Omnicam, a state-of-the-art device that replaces conventional tray impressions, always delivers perfect dental restorations in a fraction of the time. As a result, you can get same day implants, saving time and money.
Dental Tourism in Mexico: High-Quality Dental Care
Countless of travelers from all around the globe appreciate Tijuana's vibrant, urban communities and their Tijuana dentist offices.
However, it's no secret that Tijuana has had a bad reputation for years.
Fortunately, things have changed for the better in recent years, transforming this border city into a place full of culture, good food and a thrilling experience for craft beer lovers.
The best part is that security has increased as more and more tourists keep visiting the city.
The best part is that the city has become safer as more and more tourists keep visiting.
Most noteworthy, you can visit Tijuana with no problems, as long as you practice a little bit of common sense, and take care of yourself and your belongings, as you should do anywhere!
Tijuana Dentist: Traveling Abroad for Dental Work  in Mexico Is a Fantastic Option
There are a lot of myths regarding dental tourism in Mexico. We want to take the opportunity to clear some of them up and tell you all the things that are happening south of the border.
Remember, at Trust Dental Care, we want you to make the best decision for your dental health needs, which means an informed one.
Traveling abroad for dental work can be a fantastic option for anyone looking to save money on their dental bills. So here are a couple of things to consider when looking for a dentist in Mexico.
Millions of tourists from Canada, Europe, and the United States travel to Mexico for affordable and high-quality Dental Implants. Whether it's for recreational, business, or health-related reasons, traveling to this country has its perks.
Mexico offers some of the most beautiful beaches in the world. It's famous for a diverse culinary culture and rich indigenous history. Mexico is also famous for its traditional mariachi music and its welcoming attitude toward tourists.
Technology in Mexico is up to par with any business in any major city. Mexico is mainly known for offering affordable dental care to those seeking affordable alternatives.
A cost-efficient procedure does not mean it's of bad quality. You need to keep this in mind.
Choosing the right dentist Tijuana is the main focus you should have. And Trust Dental Care is by far the best option in the country. We have highly trained dentists using the most advanced technology equipment for dental work in the world.
How to Find the Best Dentist in Mexico?
Dentists in Mexico has extensive experience and knowledge in improving smiles. High-end technology, years of experience, and hundreds of happy patients can be the best reference to choose a dentist in Mexico.
We have pioneered Sirona and CEREC Technology, laser treatments, and the most innovative dental techniques to provide patients with the most remarkable and esthetic results.
A Dentist in Tijuana offers an excellent alternative to the high prices of dental procedures in the United States, Canada, and even the U.K.
More people are traveling to get dental work in Mexico than ever before.
We are pleased to offer you the chance to have a healthy smile that you've always wanted and deserved.
We strive to make your experience at Trust Dental Care a comfortable and positive one that will leave you smiling brightly for many years to come.
German-engineered Dental Technology
German-engineered technology guarantees a positive result in every patient. The training our dentists have received does not limit to what they learned in the university, we keep improving our staff with seminars and classes that carefully mold dentistry practitioners for real-world situations. Our team keeps progressing in their craft due to never-ending education.
Low prices do not necessarily point to lower quality. Cost of living in Mexico, less student debt, and the affordable real estate, is a perfect recipe for dental tourism. Guaranteed to last a lifetime, investing in dental implants can be one of the smartest decisions a patient can make.
6 Things Every Traveler Should Know Before Going To a Dentist in Tijuana, Mexico
It's safe. Unfortunately, there is a lot of misinformation when it comes to this subject, but let us assure you, this has radically changed in recent years.
We take care of you. As a dental tourist, we will treat you with the highest level of respect and attention. Furthermore, you won't be disappointed when you come to our dental office. We guarantee it!
You will work with a qualified dentist. This is something we can't help to worry about due to the amount of misinformation on this topic. Our dentist in Tijuana operates with a U.S. license. You will be taken care of by Dr. Cirenia Aparicio Miranda, the first and only dentist of Hispanic descent to be accredited by the AACD in all its history – she is a globally acclaimed dental practitioner and one of the top dentists in Mexico.
Great savings. Other dental tourism spots in the world aren't as cheap as Mexico, and you will also have the benefit of getting the highest quality work available in the market. How much will you save? We're talking up to 75% less on most dental treatments without sacrificing quality or comfort.
The dentist and the staff speak English. Yes, we speak English, and we will take care of any needs you may have to make your trip comfortable during your stay. In conclusion, language is not a problem.
It's a popular destination among seniors. Seniors often live on a fixed income and delay much needed dental treatment due to the high cost. This is why many seniors are choosing Mexico as their choice destination for taking care of their teeth as they age.