Dentist in Tijuana Creating Dream Smiles
Trust Us with Your Smile. Integrity, Innovation, and Inspiring are words that define the goal behind our name.
Dentist in Tijuana: World Class Dentistry at Affordable Cost
With World-class facilities and groups of highly skilled Dentists in Tijuana, we are ready to Inspire your new smile. Trust Dental Care continues to focus on all aspects of health when treating our patients. With a holistic approach to patient care, we offer a full-body, mind, and soul. We strive to give the most out of your quality of life.
Dr. Cirenia Aparicio Miranda offers over 20 years of experience. With consent training, we strive to bring the latest technology. Her trustworthy team accompanies her during any procedure. They guarantee a 100% satisfaction rate every time utilizing certified equipage. Our team is ready to handle a simple checkup to a full-mouth restoration requiring the use of implants. Trust dental care understands the emotional toll that years of dental pain can cause to your overall health. We are here for you.
Our Trust Dental Care Team built up of experienced and highly qualified dentists continuously utilizes the latest equipment to obtain your desired results. We take a whole-body approach to your dental health. The array of treatment will allow us to provide individual care.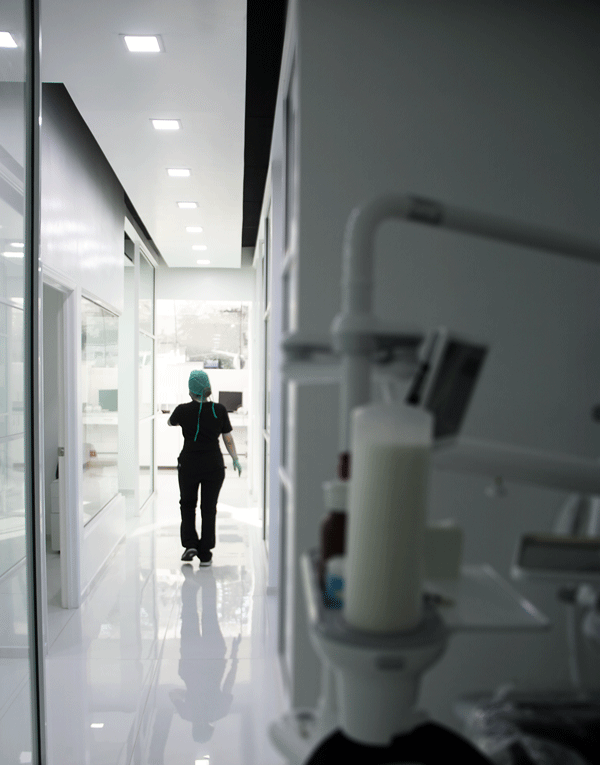 Our COVID – 19 actions
Dental emergencies are quite frightening and often painful. Imagine dealing with so much pain during this quarantine and not knowing what to do. Fortunately, our dental office in Tijuana will remain open to relieve pain if you require emergency dental services.
What qualifies as a dental emergency? some of these scenarios are:
Endodontics (root canal).
Broken and infected teeth.
Extractions.
Periodontal diseases.
We are giving 30% off on dental emergencies. Trust Dental Care is equipped and ready to handle your case. Give us a call to let us know your situation; we are available 24/7 to take all calls and messages.
Our practice is following scientific health care advice and infection control principles by implementing all additional patient safety and infection control measures to prevent the spread of this disease.
Meet our team of Tijuana dentists
Located in Tijuana, Baja California, Mexico, our State of the Art facility consistently provides a safe and knowledgeable atmosphere. We strive to make this the best dental decision of your life.
High-Quality & Top Technology with
Our Dentist in Tijuana
We have extensive experience and knowledge in creating beautiful and healthy smiles. Our team is ready to handle a simple checkup to a full-mouth restoration requiring the use of high-end dental technology. Trust Dental Care understands the emotional toll that years of dental pain can cause to your overall health.
We are here for you.
All of this allows us to offer you….
Associations and academies admire and recognize the effort Trust has invested in becoming a leader in the field of advanced dentistry.
Our Dental Treatments
Our dental specialists will guide you throughout your dental journey, attending all your needs and questions.
NEW PATIENTS ARE ALWAYS WELCOME!
New Patient Special: Dental Exam, X-Rays, Basic Teeth Cleaning for $59
GET THE BEST DEAL ON DENTAL IMPLANTS
Titanium Implant, Abutment
& Dental Crown at $1599
Read Experiences From Our
Satisfied Patients
We encourage you to experience why countless patients have placed their trust in us.


Walked in greeted with a smile. The office manager was super nice he discussed payment plans if need be. Dr. Miranda made me feel comfortable.



But let me say how AMAZING. Dr. Cirenia was at calming me down in making me comfortable. I didn't feel a thing!!…I'm so happy I found this dentist.



Walked in greeted with a smile. The office manager was super nice he discussed payment plans if need be. Dr. Miranda made me feel comfortable.

Opening Hours
Monday: 9:00 am – 6:00 pm
Tuesday: 9:00 am – 6:00 pm
Wednesday: 9:00 am – 6:00 pm
Thursday: 9:00 am – 6:00 pm
Friday: 9:00 am – 6:00 pm
Saturday: 9:00 am – 2:00 pm
Sunday: Closed
Email
info@trustdentalcare.com
Phone
(844) 848 7878
Address
O.Gorman 10401
Zona Urbana Rio Tijuana 22010, Tijuana.
Book Your Appointment Today
High-end Dental Technology For Remarkable Results
Trust Dental Care utilizes Sirona technology for every procedure, which includes CAD/CAM CEREC MC X machine.
Give your Doctor a 3D image of your full mouth and remove all the guessing work from creating a crown from a damaged tooth.
When you come to visit our facility and require a crown that same day, nothing can stop you.
With a busy life, this eliminates the need for several visits.
Cerec not only leads to fewer visits but money-saving travel expenses, allowing our dental office to deliver one single visit procedures.
It always distributes the result of our desires and restores in a shorter amount of time than the other brands.
We have pioneered Sirona and CEREC Technology, laser dental care, and the most innovative treatments available.
We offer an excellent alternative to the high prices of dental procedures in the United States, Canada, and the U.K. Our dental techniques give our patients the most beautiful and aesthetic results.
Choose the best Dentist in Tijuana Mexico
The key to a perfect smile with dental tourism is not only to choose the right city for it, but you also have to be sure you're going with the best. Trust Dental Care prides on being the very best stop for all your dental needs when visiting Tijuana.
Dr. Cirenia Aparicio Miranda is our lead dentist in Tijuana and is hands down the best dentist in Mexico.
Distinguished by being one of the few members of the American Academy of Cosmetic Dentistry, Dr. Aparicio Mirandas' work is synonymous with excellence and quality.
She is a Mexican dentist accredited by the AACD and is a U.S. licensed dentist. With over 20 years of experience in the field of dentistry, Dr. Aparicio Miranda has changed the lives of the thousands through der devotion to Dentistry.
Additionally, our dentist in Tijuana is also what is known as a specialist's trainer. She prepares the senior dentists to become the teachers for up and coming specialists.
She makes patients happy time and time again by providing high-quality smiles that leave a lasting impression for years to come. And speaking of impressions, the first one we make when we out with other people starts with our smile and nobody knows that better than Dr. Aparicio Miranda.
Benefits of Choosing the Best Tijuana Dentist
Dental implants can restore your smile and rebuild both form and functionality to your teeth, especially since they are designed to look and feel like your own natural teeth.
Our dentists in Tijuana, offer advanced dental restoration procedures to patients with a single missing tooth or multiple missing teeth.
The best alternative for dental implants in Tijuana is available at Trust Dental Care. Our team of experts is using only the most advanced dental technology.
No special maintenance is required other than normal brushing and flossing.
You can regain a beautiful, vibrant smile with no gaps or misalignment due to missing teeth.
They do not move or slip along the gum line.
They can improve your ability to speak and eat.
They blend in with surrounding teeth.
Artificial Intelligence Technology To Achieve High Dentistry
Our Dentist in Tijuana, Dr. Aparicio Miranda is a senior speaker for Sirona – a German manufacturer of the best dental technology available in today's world – and for VITA Zahnfabrik – a dental prosthetics company that offers quality, innovative solutions to dentistry.
This kind of position takes years of continuous education to be able to achieve.
Also, since dentistry is Dr. Aparicio Miranda's love, her calling, her duty, she is working around the clock to not only improve her understanding of the field, but of her patients as well.
Trust Dental Care uses the latest Sirona technology for all procedures, including the CAD/CAM CEREC MC X machine that allows us to create your crown on the same day of your visit.
This equipment, along with the CEREC Omnicam, a state-of-the-art device that replaces conventional tray impressions, always delivers perfect dental restorations in a fraction of the time. As a result, you can get same day implants, saving time and money.
Dental Tourism in Mexico: High-Quality Dental Care
Countless of travelers from all around the globe appreciate Tijuana's vibrant, urban communities and their Tijuana dentist offices.
However, it's no secret that Tijuana has had a bad reputation for years.
Fortunately, things have changed for the better in recent years, transforming this border city into a place full of culture, good food and a thrilling experience for craft beer lovers.
The best part is that security has increased as more and more tourists keep visiting the city.
The best part is that the city has become safer as more and more tourists keep visiting.
Most noteworthy, you can visit Tijuana with no problems, as long as you practice a little bit of common sense, and take care of yourself and your belongings, as you should do anywhere!
Traveling Abroad for Dental Work Is a Fantastic Option
There are a lot of myths regarding dental tourism in Tijuana. We want to take the opportunity to clear some of them up and tell you all the things that are happening south of the border. Remember, at Trust Dental Care we want you to make the best decision for your dental health needs, and that means an informed one.
Traveling abroad for dental work can be a fantastic option for anyone looking to save money on their dental bills, so here are a couple of things to consider when looking for a dentist in Tijuana, Mexico.
Millions of tourists from Canada, Europe, and the United States travel to Mexico for affordable and high-quality Dental Implants. Whether it's for recreational, business or health-related reasons, traveling to this country has its perks.
Mexico offers some of the most beautiful beaches in the world. It's famous for a diverse culinary culture and a rich indigenous history. Mexico is also famous for its traditional mariachi music and its welcoming attitude toward tourists.
Technology in Mexico is up to par with any business, in any major city. Mexico is mainly known for offering affordable dental care to those seeking affordable alternatives.
A cost-efficient procedure does not mean it's of bad quality, you need to keep this in mind, however, what matters is the dentist you got to. Choosing the right dentist is the main focus you should have. And Trust Dental Care is by far the best option in the country. We have highly trained dentists using the most advanced technology equipment for dental work in the world.
German-engineered Dental Technology
German-engineered technology guarantees a positive result in every patient. The training our dentists have received does not limit to what they learned in the university, we keep improving our staff with seminars and classes that carefully mold dentistry practitioners for real-world situations. Our team keeps progressing in their craft due to never-ending education.
Low prices do not necessarily point to lower quality. Cost of living in Mexico, less student debt, and the affordable real estate, is a perfect recipe for dental tourism. Guaranteed to last a lifetime, investing in dental implants can be one of the smartest decisions a patient can make.
6 Things Every Traveler Should Know Before Going To Mexico
It's safe. Unfortunately, there is a lot of misinformation when it comes to this subject, but let us assure you, this has radically changed in recent years.
We take care of you. As a dental tourist, we will treat you with the highest level of respect and attention.Furthermore, you won't be disappointed when you come to our dental office. We guarantee it!
You will work with a qualified dentists. This is something we can't help to be worry about due to the amount of misinformation on this topic. Our dentist in Tijuana operates with U.S. licence. You will be taken care of by Dr. Cirenia Aparicio Miranda, the first and only dentist of Hispanic descent to be accredited by the AACD in all its history – she is a globally acclaimed dental practitioner and one of the top dentists in Mexico.
Great savings. Other dental tourism spots in the world aren't as cheap as Mexico, and you will also have the benefit of getting the highest quality work available in the market. How much will you save? We're talking up to 75% less on most dental treatments without sacrificing quality or comfort.
The dentist and staff speak English. Yes, we speak English, and we will take care of any needs you may have to make your trip comfortable during your stay. In conclusion, language is not a problem.
It's a popular destination among seniors. Seniors often live on a fixed income and delay much needed dental treatment due to high cost. This is why many seniors are choosing Mexico as their choice destination for taking care of their teeth as they age.