All on 4 dental implants are a long-lasting solution for missing teeth. Actually, dental implants are considered as the best way to replace multiple teeth lost. Sadly, dental implants are expensive in the United States and Canada.
The good news is that thanks to dental tourism, hundreds of abroad patients can come to Tijuana, Mexico, and take advantage of the cost of dental implants. Patients from abroad can save up to 75% of what it would cost them back in their home countries. Even if we take into account the travel expenses like flights and hotel rooms, coming to Tijuana is more affordable.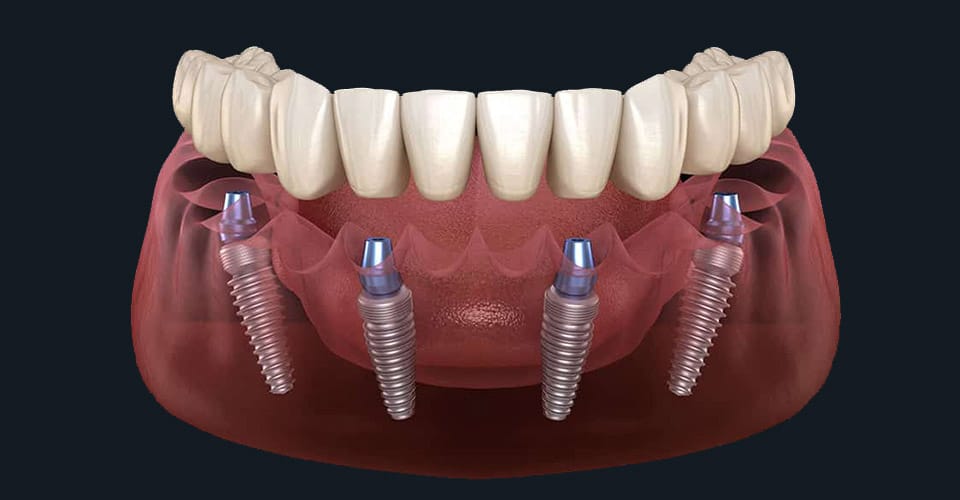 Today, there is no better option available in dentistry to replace missing teeth than dental implants. Patients can have a new chance of feeling like they have their teeth back again. The cost of dental implants in Mexico has given them hope to restore their smiles, to have the opportunity of being able to smile, eat, and speak freely again with confidence.
We specialized in dental implants, and for more than 20 years, we had restored the smiles of hundreds of patients from all over the world. There is no better feeling on Earth than seeing a happy patient being able to smile again.
What makes you smile?
To some people, smiling can be one of the most natural things in life; however, for some others (a lot of others), smiling isn't that simple. The main reason, believe it or not, is because of their teeth. When people feel that they have bad teeth, they prefer to cover their mouths while talking, eating, or smiling in front of people. There is a direct relationship between oral and overall health that has been studied for years. And today, we have enough evidence that shows how awkward to smile can be to someone with a multiple teeth missing problem.
The evidence revealed a link between physical and emotional health. First, because a lack of teeth can lead to some other dental and overall health problems, and second, because not being able to smile or talk in front of people creates an emotional trauma that damages the patient's self-esteem. Speaking in medical terms, this inability to speak, laugh, or smile due to multiple missing teeth can quickly become a case of clinical depression. And you? Are you smiling yet?
Eating with Multiple Missing Teeth
Many of the food we need to have a healthy diet includes vegetables, nuts, and different grains that are difficult or nearly impossible to bite or chew when missing teeth. Patients don't realize that this is a problem until it becomes so difficult to ignore. The restriction of being able to eat suddenly becomes an issue, a problem that needs to be addressed.
Dentistry can be expensive in the United States and Canada, which leaves few alternatives to solve the missing teeth problem. Patients can suttle the whole thing with bridges or dentures that are usually uncomfortable, and as a result, the patient ends up eating soft foods anyway. All this can lead to poor nutrition and, therefore, poor oral and overall health.
At this point, we need to stop and consider that even when we have some damage in one or more of our teeth, our ability to bite and chew properly can be compromised. Now imagine all the adverse consequences when it comes to multiple missing teeth. Patients can often lose appetite. Tastes, favorite foods, and textures options can change, causing patients to enjoy food differently, and not in a good way.
Eating when there is a multiple missing teeth problem can also cause pain, discomfort, and stress to patients, pushing them to pick certain foods and avoid some too. Sooner or later, all of this will bring unhealthy outcomes over time, including harm to gums.
What are All On 4 Dental Implants?
Well, we already give you some clues. That implants are the most fantastic way nowadays in dentistry to replace multiple missing teeth. We also discuss that many patients can't afford them in countries like the United States and Canada due to the high costs and some other circumstances. And that patients can get dental implants in Mexico in dental offices like ours because of lower prices and high quality results.
Dental implants in Tijuana are used to replace and also mimic real teeth roots using a titanium screw-like device that goes inserted into the patient's jawbone inside a pre-drilled socket. These incisions take some time to heal, but after they do, implants will be ready to work as support for a prosthetic set of artificial teeth, restoring full function in the patient's mouth in no time.
What are the differences between All on 4 Dental Implants and Removable Dentures?
Years ago, dentures were the most common, cheap, and popular way to replace multiple missing teeth. Thanks to evolving technology in dentistry, patients now have better alternatives. Even when dentures are a fantastic option, they have a lot of disadvantages. To put some examples, patients need to remove dentures at night, and also in some other situations that can be embarrassing. People often need to avoid sticky or crunchy foods that can damage the dentures. Plus, dentures can usually be uncomfortable to wear. In many cases, dentures can look artificial and very noticeable to other people.
| All-On-4 | Dentures |
| --- | --- |
| Prevent the loss of jawbone density | Acelerate bone loss |
| Can be treated like natural teeth | Require creams, pastes and adhesives |
| Are a permanent solution to missing teeth | Must be removed |
| Allow you to enjoy virtually any food | Make enjoying some foods difficult |
| Are Securely fastened | May shift or displace |
| Are durable and long-lasting | May need replacing after 5-10 years |
| Can be brushed like natural teeth | Must be taken out at night to be cleaned |
All on four dental implants, on the other hand, are quite a process; we are not going to lie. But it is a process that worth every single minute. This restoration of your smile will provide a more natural feel and look. The roots, as we mentioned before, will feel like real teeth roots. You won't need to take them off at night. Unlike dentures, implants won't shift inside your mouth. You won't need to worry about other people noticing that you have them because, unlike dentures, implants have more natural teeth looking.
Patients need to take off dentures for the cleaning process; with the implants, you will care, brush, and floss as if they were your real teeth.
Are All on 4 Implants any Different than Normal Dental Implants?
Quite the same, but there are differences to point. All on 4, as the name describes, take only four implants to be placed. These four implants that in some cases, are six implants, will provide support to the whole set of teeth. Unlike traditional implants that will take between six, ten, perhaps more individual implants to achieve the entire treatment. All on four surgery is performed by a professional surgeon that will place every implant in a strategic place and position into the jawbone.
Patients that may require traditional dental implants:
Patients with large bone density to support a single implant.
Patients with individual missing teeth.
Patients that will use dental bridges to replace missing teeth.
Patients that may require All on four 4 dental implants:
Those who need to restore a complete arch set of teeth.
Denture patients that are unsatisfied and are willing to change.
Patients that don't have enough bone density to support individual dental implants.
How to Know if Am I a Right Candidate for All on Four Dental Implants?
Probably, this is quite a surprise for you, but it is true: you need to be a great candidate to proceed with this alternative. Our team of professionals suggests this surgery to patients that have lost most or all of their teeth. It is also recommended to those patients that have severe damage by decay or periodontal diseases. In most cases, teeth can't be saved, which leads to pulling them off altogether.
First, the patient needs to have enough bone density to support the implants. You don't need to worry about it, though, because, in most cases, our team can fix it with bone graft surgery. Also, it is better to be a non-smoker, and no suffer from heart diseases or diabetes.
Remember that the best way to know if whether you are or not a great candidate, is to come for a consultation so our experts can make a proper evaluation of your case. Surgeons that specialize in all on four dental implants surgeries can quickly determine if you are an optimal candidate.
Benefits of All on 4 Dental Implants
This alternative will provide tons of advantages to your life. Will improve your overall health, will boost your self-esteem, and will give you the confidence to smile again. Among others, here is a list of some benefits that All on 4 dental implants will offer to you:
Patients get functional new teeth.
You will look younger because it can improve your appearance.
You will be able to enjoy your favorite food again.
Dental implants are a long-lasting solution.
Eliminate health problems associated with multiple missing teeth.
All on 4 dental implants are affordable in Tijuana, Mexico.
Get remarkable and permanent results in a short frame of time.
Eliminate oral problems related to missing teeth.
You will easily take care of them as you would do with your real teeth.
Disadvantages of All on 4 Dental Implants
As it turns out, there might be some disadvantages to take into account when it comes to All on 4 dental implants. The price, to begin with, can be a huge disadvantage for some people. We already talked about the high costs of dentistry in the USA and Canada. Nonetheless, this can't be a disadvantage perse if you are considering coming to a Tijuana dentist. Our dental office in Tijuana is offering dental implants an affordable cost in Mexico.
All On 4 can't be placed in the molar areas, which are the most reliable places in the mouth with more strength when it comes to bite force. Plus, as we mentioned before, if there is not enough bone structure in the patient's jawbone to support implants, bone graft surgery may be required. If needed, the process will take a little bit longer than estimated.
How I get Started with this Process?
You can fill our patient information form to make your first contact with us. Therefore, our team will contact you to set an appointment with you and don't worry if you are coming from a different country. We have more than 20 years of experience bringing patients to get dental implants in Tijuana with us. Ask us how we can help you with the arrangement of your flight, hotel room, and, finally, your first consultation with us.
During your first consultation at Trust Dental Care, our team of experts will evaluate and determine if you are an eligible candidate for the procedure. Our specialists will examine your bone density, teeth, gum tissue using different kinds of techniques and cutting edge technology such as CT scans, 3D images, X-ray, among others.
Using state-of-the-art technology, our dental experts will present a dental plan for you. You will decide how and when to start with your treatment. All your questions will be answered during your first consultation. Plus, our team will explain to you the entire procedure and the results you will achieve.
What Happens During the All On 4 Dental Implants Surgery?
Some people are afraid of what might happen when they are in surgery. They hear the word, and as if was a scary movie, they imagine a blood bath and a lot of pain. The truth is that it is a procedure that can be done in a single visit and that as a patient, you feel nothing during the process. The sweet thing about dental technology nowadays is that it allows the patient to be relaxed, feeling nothing but relaxed. Our team of dentists are experts in calming anxiety.
You won't feel a thing because our team will administer local anesthesia. Sedation options are also available, and you can discuss it with our dentist before the surgery. If there are teeth that need to be pulled out, like any remaining teeth, you will need to heal first before continuing with the rest of the procedure. But again, you will feel any pain during the extractions, either.
Then, when you recover in about a few weeks, our specialists can start placing the dental implants in your mouth. Once the implants are ready in the right place, it will be time to attach the artificial set of teeth. Remember that the prosthetic arch will feel and look like natural teeth.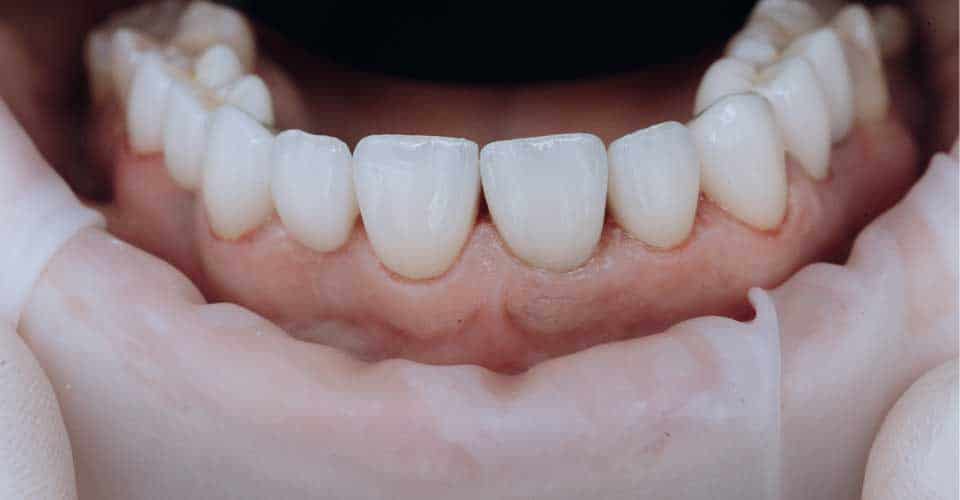 All on 4 Dental Implants in Mexico
Trust Dental Care is a dental office located in Tijuana, Baja California, Mexico. For over 20 years, we restored the smiles of hundreds of patients that came from all over the world. We specialized in dental implants, always getting remarkable results. To get an appointment, the only thing you need to do is to fill our patient information form so we can contact you, or you can call us 844) 848 7878. Don't forget to look up for us on our different social media platforms.