Want to Feel Comfortable with your Smile? Your Dentist in Tijuana has what you are Looking for!
Porcelain Veneers in Tijuana are the best solution to restore one or more teeth that have experienced an accident or some damage due to decay.
Some oral injuries may need immediate treatment, while others can wait until normal business hours.
We want our patients to feel better as soon as possible, which is why we provide same-day emergency porcelain veneers.
We will try to book you up as soon as possible.
Some common types of mouth injuries include cracked, broken, or knocked out teeth.
It can be a result of biting on a piece of food that is too hard, a sports-related injury, a fall, or any other type of accident.
You must have healthy teeth and gums to qualify for dental veneers.
Patients with conditions such as tooth decay, gum disease, and root canal infection typically do not qualify for veneers.
What are Porcelain Veneers?
Porcelain Veneers are thin laminates of no more than 0.5 millimeters in thickness, placed on your teeth with minimal preparation or effort.
They're placed away from the gums to avoid retraction, and both the look and functional results are optimal in the long run, allowing patients to recover their natural smile.
Dental veneers match the color of your existing teeth or a lighter shade you desire. Porcelain veneers are used to close gaps between the teeth, correct stains and even repair broken or chipped teeth.
During the visit, our dentist will carefully prepare and contour the teeth.
We will take an impression of the teeth so as to create the veneers. the veneer is bonded to the tooth. Once it is done, you can quite easily forget that something was done to your tooth. Your teeth will feel as good as new.
Benefits to Improving Teeth with Porcelain Veneers
Porcelain veneers are a permanent procedure, our dentist needs to change the structure of your natural teeth to place them properly.
In this way, the outer layer of your enamel may be removed to make room.
It is a non-invasive treatment.
You can eat and speak as you normally would.
Do not retain plaque.
Change the shape of your teeth, their color, and their position.
They do not stain with wine or coffee.
It's important to weigh the pros and cons that come with the territory before getting them.
Make an appointment with us to find out if dental veneers are a fitting solution for you.
PORCELAIN VENEER VS COMPOSITE RESIN COMPARISON
| | Composite Resin | Porcelain Veneers |
| --- | --- | --- |
| Aesthetic | Yes | Yes |
| If chipped/broken | Often repaired | Must be replaced |
| Lifespan | 5-7 Years | 10-15 Years |
| Staining | Yes | No |
| Same Day | Yes | Yes |
| Metal | No | No |
| Invasive | No | No |
| Appearance | Natural look | Natural look |
*This comparison is between a Porcelain Veneers and Composite Resin.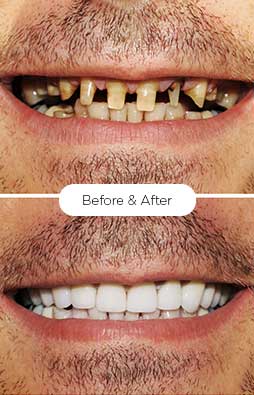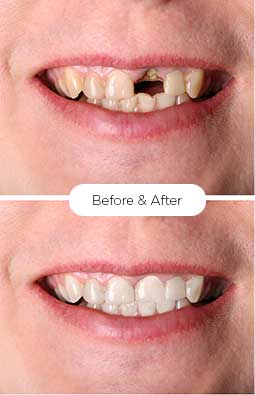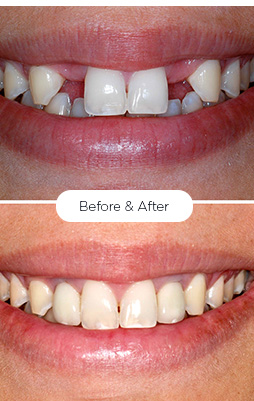 Are You a Candidate for Porcelain Veneers?
Porcelain veneers are suitable for a significant percentage of dental patients. You might be a good candidate for veneers if:
You have severely stained teeth.
Minor cosmetic imperfections in the structure of your teeth.
Have sufficient tooth enamel.
Don't grind or clench your teeth.
Before undergoing any cosmetic dentistry procedure, it is important that you have healthy teeth and gums.
However, after necessary restorative treatment, you may still be able to receive porcelain veneers.
How Much Do Dental Veneers Cost in Tijuana?
The cost of dental veneers in Tijuana will vary based on the location and number of teeth you want to restore.
According to a 2013 survey of members of the American Academy of Cosmetic Dentistry, the average cost of a single veneer was $1,175.54 in the US.
This is why you should consider getting your porcelain veneers done at Trust Dental. Average price for a single veneer rounds $499 to $599.
Not only will you be saving on the actual cost of your veneers, but you will also be getting work done by one of the leading experts in the cosmetic dentistry field.
Our team of experts can help you out with a question that you may have.



Real Reviews from Our
Satisfied Patients
We encourage you to see for yourself the countless of happy
reviews that have placed their trust on us so you too can make
a smart decision today!

This dental care, staff and Dr's are more than excellent. Very caring, kind, and just wonderful. I had done 2 root canals with crowns and 7 implants.


The service over there is excellent I got everything I needed on the same day , all the staff is very nice they speak perfect English plus I saved a lot of money.


Very professional and prices you can't beat. We have done crowns, root canals and fillings for the family. Thank you, I will come back!

What is the Procedure for a Veneer?
The veneers fabrication process varies slightly, depending on the particular type of porcelain used, but for the most part, the procedure remains largely the same.
Our dentist will take an impression of your teeth, then a specialist creates a working model. Inside this replica, he or she builds up multiple layers of porcelain, using intense heat or pressure to increase the strength of the material.
All layers of porcelain may be the same shade, or the ceramist may hand-paint each layer for the most lifelike appearance possible.
Our dental office uses CEREC® technology to fabricate porcelain veneers, the process is much quicker.
After analyzing the computer images and making any necessary adjustments, the dentist sends the images to a milling system.
Much like a 3D printer, the machine creates customized veneers from a single block of porcelain in a matter of minutes.
Our dentist selects the shade of porcelain that most closely matches a patient's teeth. It can further personalize the restorations by painting or polishing the material.
Is There Any Pain Involved with Veneers?
Not at all, after receiving porcelain veneers, there is no recovery time.
Unless patients have opted for dental sedation, they will be able to drive themselves home from the office, and they can immediately go about their daily routine, including physical activity.
For about a week, they may want to avoid very hot or cold foods, as well as extremely chewy, hard, or crunchy food.
When this initial sensitivity wears off, however, patients should be able to return to their normal dietary habits.
It's normal to have questions before getting something like veneers in your teeth, you should make an informed decision after all, let us know if you have any doubts.
Remember, your health is our priority, we are here to help you!
Can I Remove Porcelain Veneers?
Veneers are considered permanent because our dentist needs to change the structure of your natural teeth to place them properly. In this way, the outer layer of your enamel may be removed to make room.
Porcelain veneers are an excellent way to hide discolored, crooked or damaged teeth, but it's important to weigh the pros and cons that come with the territory before getting them.
Now, if you decide to get the veneers and the process is complete, there are more things you need to know that need to be applied on your day to day routine.
Address
Blvd. General Rodolfo Sánchez
Taboada 929, Zona Rio, Tijuana.
Opening Hours
Monday: 9:00 am – 6:00 pm
Tuesday: 9:00 am – 6:00 pm
Wednesday: 9:00 am – 6:00 pm
Thrusday: 9:00 am – 6:00 pm
Friday: 9:00 am – 6:00 pm
Saturday: 9:00 am – 2:00 pm
Sunday: Closed
Email
info@trustdentalcare.com
Phone
(844) 848 7878
Latest News & Articles Regarding Your Oral Health
Take some time to read the latest news and articles regarding your oral health. This includes helpful tips on how to improve your dental health and articles regarding innovations in the dental world.
In the meantime, we also included some tips to make your dental tourism trip much easier and comfortable.
Finally, we also include some interesting reads for a better understanding of the medical dental field. At Trust Dental Care we care about you, but most of all, we value your trust.