A Superior Method for Tooth Replacement
If you are currently looking for a way to replace your missing teeth, with full mouth dental implants, you are not alone.
According to The Public Health Agency of Canada, at least 6% of adults no longer have any of their natural teeth.
We can help reverse your condition by providing a full mouth implant procedure – a process of rebuilding or replacing all the teeth in the upper and lower jaw.
Full mouth reconstruction may be necessary for teeth that have been injured, fractured or lost, due to trauma.
Also, severely worn-out teeth from tooth grinding (bruxism) will too need a full mouth restoration.
Our Tijuana dentist must first determine how many implants are needed and what type of prosthesis is the right one for you.
For your tranquillity, our dental specialists are qualified to proceed with this treatments,
  What are Full Mouth Dental Implants?
If you are missing all of your teeth, an implant-supported full bridge or full denture can replace them. Dental implants will replace both your lost natural teeth and some of the roots.
Patients with severely decayed teeth or gum disease are more prone to jaw bone atrophy. Also, severely worn-out teeth from tooth grinding (bruxism) will too need a full mouth restoration.
If not treated properly, gingivitis can lead to a change in the bite and tooth loss. Furthermore, jaw bone loss affects the tooth's supporting tissue and gives you a droopy face.
Making use of our advance dental technology, our surgeons will determine where your nerves are, and you muscle positions, allowing your implants to be painless and perfectly placed.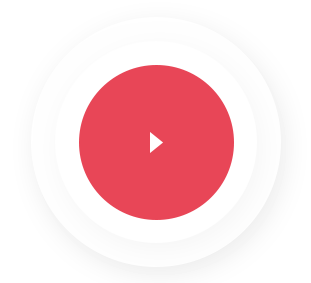 Watch the Short
Video & See How It Works
The Advantages of Getting Full Dental Implants
Dental implants provide several advantages over other teeth replacement options.
In addition to looking and functioning like natural teeth, dentures are designed to be sustainable.
Dental implants integrate with your jawbone, helping to keep the bone healthy and intact.
Esthetic
Easier to maintain
On the long term, implants can be more esthetic and easier to maintain than conventional dentures. Also, traditional dentures make it difficult to eat certain foods.
DENTAL IMPLANTS VS BRIDGES COMPARISION
| | Dental Bridge | Tooth Implant |
| --- | --- | --- |
| Longevity | 7-10 years | Lifetime |
| Preservation | No | Yes |
| Hygiene | Difficult | Easy |
| Decay | Yes | No |
| Teeth fracture | Yes | No |
| Appearence | Acceptable | Acceptable |
| Invasive | Yes | No |
| Cutting teeth | Yes | No |
*This comparision is between a bridge and a single implant with crown.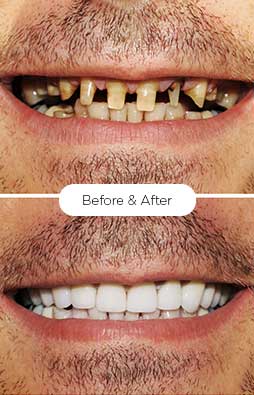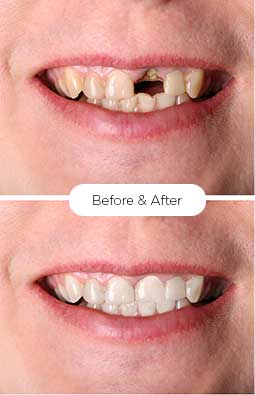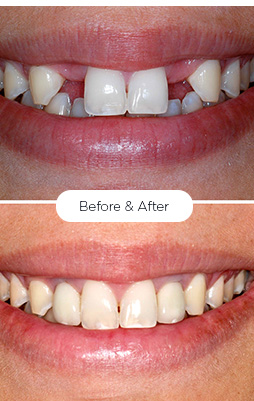 Am I a Candidate for Full Mouth Dental Implants?
Before a full mouth dental implant procedure, our dentist will need to examine your mouth.
We will want to discuss your medical history as systemic diseases can affect healing.
With full mouth implants, we set the dental implants at strategic intervals throughout your upper or lower arch, and it is important they receive sufficient support from the surrounding bone.
If you lost teeth quite a few years ago, then you may have suffered significantly from missing teeth tooth bone loss.
If you have lost bone, then treatment is usually still possible, but bone graft treatment might be necessary beforehand so we can build up bone for implant levels using sophisticated painless techniques.
What is the Full Mouth Dental Implants Cost in Mexico?
Although the cost of full mouth dental implants in Mexico varies depending upon the needs of the patient.
The prices we offer are 75% less than the price of the same repair performed in the United States and other countries.
The Full Mouth Dental Implants procedure may include:
Dental Implants
Dental Crowns
Dental Bridges
Tooth Extraction
Bone Graft
After your evaluation, our dentist will discuss with you all of your potential options to arrive at a plan that best fits your goals and budget.



GET THE BEST DEAL ON ALL ON 6 TREATMENT
Full Treatment, Hotel,
Dentures & Extractions
at $9999
Reserve Now
Real Reviews from Our
Satisfied Patients
We encourage you to see for yourself the countless of happy
reviews that have placed their trust on us so you too can make
a smart decision today!

In the end I've had three implant a root canal three crowns and a bridge done a Trust dental and I would give them two thumps up.


While my boyfriend got an extraction and bone graft surgery for implants in his front 4 teeth and I saw the girls here cleaning and scrubbing everything! Amazing!


Trust Dental is the best dental clinic if you are looking for Tijuana dentist. I flew 6 hours to get my implants , and they placed 4 implants less than 1 hour.

How Will the Dental Implants be Placed?
Every case is different, and some of these steps can be combined when conditions permit. Our dentist in Mexico will work with you to determine the best treatment plan.
Step 1: Is necessary to uncover the implants and attach extensions. These temporary healing caps, along with various connecting devices that allow multiple crowns to attach to the implants, completing the foundation for your new teeth.

Your gums will be allowed to heal for a couple of weeks following this procedure.

Step 2: Full bridges or full dentures will be created for you and attached to small metal posts, called abutments, or the connecting device. After a short time, you will experience restored confidence in your smile and your ability to chew and speak.
Is There Alternatives for Full Mouth Implants?
This type of restoration does require multiple dental implants which may not be a suitable solution for everyone.
It is important that you know that other treatments might be better for you. The most significant one would be All on 4 dental implants as this is a system that uses just four dental implants to support a lower denture, providing a cost-effective long-term solution.
Additionally, with all on 4, the implants are located towards the front of the mouth, often reducing or eliminating the need for extensive bone grafts. With this system, the implants can be immediately loaded soon after surgery is complete.
After Full Mouth Implants, Some Instructions to Follow
It is normal to feel some discomfort after receiving full dental implants, our implant specialists can provide advice on using over-the-counter painkillers or will give you a prescription for pain medication.
You may need to take antibiotics, and we might suggest using an antimicrobial mouth rinse for the first week or so after surgery.
We will provide you with lots of information on how to care for your implants, including information on cleaning and the best foods to eat for the first few days after surgery.
If you have any question or doubt, please do not hesitate, our specialist team can help you. You can call us, send us a message or in our live chat. We are here to help you!
How Many Implants are Needed for a Full Mouth Restoration?
The number of dental implants will depend on the strength and thickness of your jawbone.
If you are on a budget, we can recommend the minimum number of implants to support full mouth of teeth. We can also recommend the optimal number of implants for different types of full mouth dental implants.
The mouth has 28 teeth (excluding wisdom teeth), 14 on each jaw. Our Tijuana dentist will not install 14 dental implants on each jaw. That's overkill and not workable, medically. The most are eight dental implants per arch. The minimum is two dental implants.
Getting Full mouth dental implants in Mexico will allow you to eat your favorite food again with no pain. Also, it will also restore your mouth's functionality as well.
Patients with an aged facial appearance due to missing teeth can expect a youthful look after a full mouth restoration. A healthy smile is just one benefit of a full mouth restoration procedure.
Address
Blvd. General Rodolfo Sánchez
Taboada 929, Zona Rio, Tijuana.
Opening Hours
Monday: 9:00 am – 6:00 pm
Tuesday: 9:00 am – 6:00 pm
Wednesday: 9:00 am – 6:00 pm
Thrusday: 9:00 am – 6:00 pm
Friday: 9:00 am – 6:00 pm
Saturday: 9:00 am – 2:00 pm
Sunday: Closed
Email
info@trustdentalcare.com
Phone
(844) 848 7878
Latest News & Articles Regarding Your Oral Health
Take some time to read the latest news and articles regarding your oral health. This includes helpful tips on how to improve your dental health and articles regarding innovations in the dental world.
In the meantime, we also included some tips to make your dental tourism trip much easier and comfortable.
Finally, we also include some interesting reads for a better understanding of the medical dental field. At Trust Dental Care we care about you, but most of all, we value your trust.