All-On-Four dental implants look and function like your real teeth.
All-On-4 in Mexico is a great option to take care of your oral health.
Loosing teeth is perfectly common amongst adults. Therefore, All-On-4 Dental Implants is the best solution.
All-On-4 Dental Implants is the solution for one of the many things we must face as aging adults.
Nevertheless, the fact that we become more prone to losing our teeth with age is just unavoidable.
Tooth loss is very common when we start to age, particularly when we don't properly care for our pearly whites throughout the years.
You might not be able to get back your natural teeth, but even so, there are alternatives to regain a brand new smile.
Therefore, All-On-Four dental implants are the safest and more efficient solution to this problem.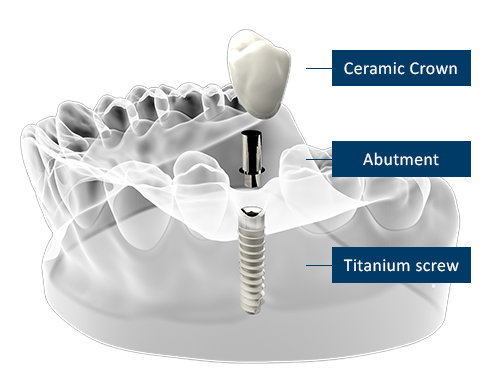 Structure of Dental Implant
Mexico Dental Implants
The benefits of dental tourism in Mexico are endless.
FunctionalityDental implants function exactly as a natural tooth would, therefore, making eating and speaking way easier than dentures.
Better oral health
All-On-Four dental implants make it simpler to brush and floss your pearly whites to maintain a healthier smile.
Face restorationDental implants prevent bone deterioration, stimulate bone growth, and they help restore your natural facial shape. As a result, you get to look better and even younger!
All-On-Four Mexico offers you a fast and painless alternative.
Saving on All-On-Four Dental Implants
How Much Do All-On-Four Cost In Mexico?
The cost for All-On-Four dental implants in the U.S. averages between $25,000 to $30,000 per arch. Prices vary depending on the dental practice of your choosing.
In addition, said prices are only for placing the implants. Other costs for bone graft or sinus lifts need to be considered.
| Dental Treatment | Mexico | USA |
| --- | --- | --- |
| All-on-Four Inplant | $6000 | $24300 |
| Bone Graft | $500 | $1500 |
| Sinus Lifting | $1000 | $4000 |
**These are estimated prices for all the country, not the standard.
The cost for dental implants in Mexico is lower than in the U.S. because of a lower cost of living. More importantly, you don't sacrifice quality.
More often than not, dental insurances think that dental implants are an unnecessary procedure or an elective one. First of all, this is an outdated idea, since patients and dentists are more likely to choose dental implants over other methods as a standard of care to replace missing teeth.
Although most dental insurances do not pay or cover the total costs for dental implant procedures, some of them may help you pay for the crown. However, that depends on the type of insurance you have.
As a dental practice in Tijuana that operates with a U.S. licensed dentist, it's imperative that we accept PPO dental insurance.
Additionally, we have a significant amount of PPO insurance companies we are affiliated with that can give you the service you deserve.
The All-On-Four Dental Implants Procedure
All-On-4 dental implants have a success rate of 98%, according to recent studies by the AACD. With this technique, only four implants per arch get used.
The implants consist of titanium like screws that get placed into the jawbone. These serve as a foundation for your future teeth.
The process starts with a visit to the dentist to examine the actual state of your mouth. In addition, your jaw needs to be in good condition for the procedure.
However, if the jawbone is not strong enough to hold the titanium screws, there might be some bone grafting or sinus lift required.
When your jaw is ready, the implant then gets placed. Additionally, the recovery time might be between two to six months. Also, we provide you with temporary teeth during this time.
Recovery
Recovery time varies depending on each patient.  This time allows for bonding between your bone and the titanium implants, which serve as the anchors for artificial teeth.
Another part of the process consists of getting an abutment – a connecting device that gets to be in charge of holding the new teeth.
When you have the implants and abutments in place, a bridge or crown will be created for you. Finally, the new artificial teeth will attach to the implants.
Visit Trust Dental Care for a Life-Changing Experience!
If you're looking for affordable All-On-Four dental implants, you should visit Trust Dental Care.
Furthermore, our number one priority is to help our patient obtain a perfect smile! We achieve that by sticking to our values, which are:
TrustWe always go out of our way to speak with our patients regarding their dental needs. This helps us form a bond with all our patients.
Top-QualityOur state-of-the-art materials include the latest Cerec® technology. In addition, we have the finest personnel, and our general administrations are the most exceptional in the market.
Innovation
Our Sirona® German technology is the most advanced in the field of dentistry.
Exellence
The primary goal of our dental practitioners is always to exceed your expectations.
Respect
We treat you with all the value, and friendliness, you deserve.
At Trust Dental Care we use the latest technology available in dentistry today. The SIRONA CEREC MC XL is the best milling machine in the market today for CAD/CAM same-day procedures:
Dental crowns
Inlays
Onlays,
Dental veneers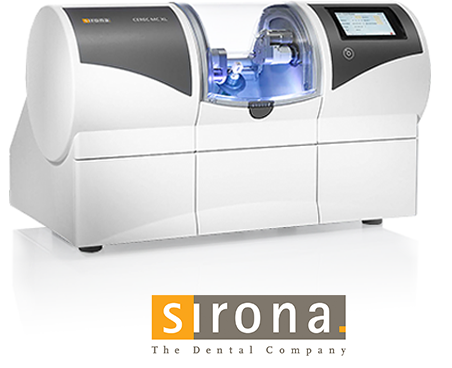 Latest Dental Information
Take some time to read the latest news and articles regarding your oral health. This includes helpful tips on how to improve your dental health and articles regarding innovations in the dental world.
Furthermore, we also included some tips to make your dental tourism trip much easier and comfortable. Finally, we also include some interesting reads for a better understanding of the dental medical field.
At Trust Dental Care we care about you, but most of all, we value your trust.