How to Find a Good Dentist in Mexico: Tips & Advantages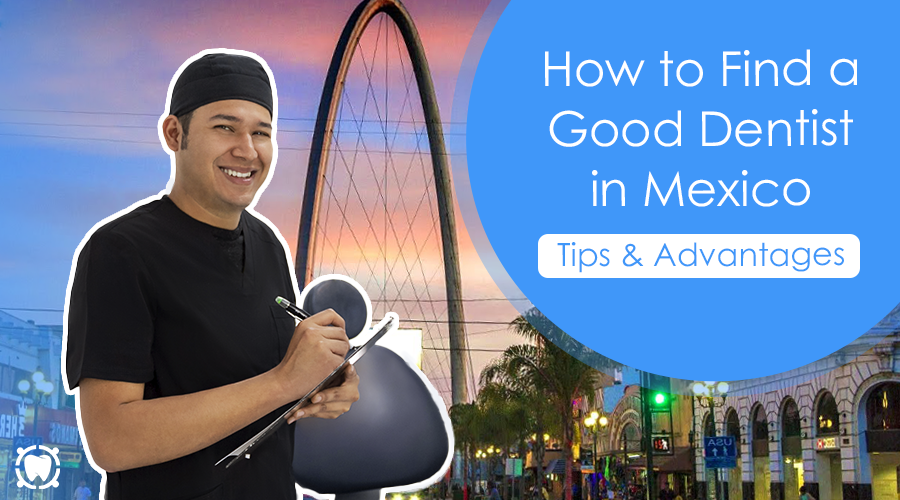 Find a good dentist in Mexico, If you're from the U.S, you know better than anybody how hard it is to get dental care at affordable costs.
Recently it was discovered that only 12% of older citizens in the United States have dental insurance. But people need to get their treatments regardless. Some resort to getting into debt, others simply give up and never visit the dentist, and a good percentage pack their bags and see a dentist in Mexico.
"Mexico?" you may ask yourself.
Yes! It's really no secret that thousands of Americans travel to Mexico every year to save thousands on dental treatments. Some people who may even be able to afford a local dentist simply choose to visit a dentist abroad to be smart about spending their money.
Mexico is the world's second-largest provider of medical tourism and the leader in dental tourism, with an annual flow of up to 3 million people from other nations.
And while doing dental tourism can be an exciting adventure, it can also go wrong if you don't inform yourself. If you're investing precious time and money into something, you better know all about it, right?
That's why we got to work and gathered all the tips and information that anyone who wants to get dental treatments in Mexico should know. After reading this article, you'll be more than ready to give dental tourism a try.
5 Advantages of Visiting a Dentist in Mexico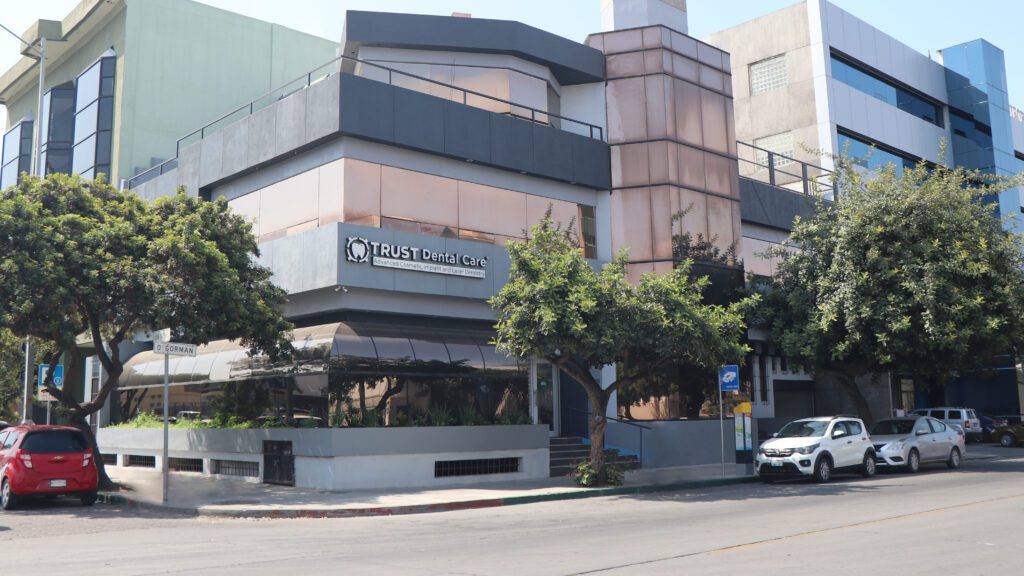 These are just some of the reasons why so many international patients choose dental tourism in Mexico. Take a look:
#1 Say Yes to Saving Money
What do you think you'd be able to get for $20,000? Because that's how much you approximately can save when going to a dentist in Mexico for major dental work. Of course, the amount changes depending on what you need.
Some Americans end up saving about 30 to 40 thousand dollars for extensive dental work like all on 4 dental implants, extractions, or bridges.
But even if you need a dental cleaning, you'll also be saving up to 75% off. Let's make a quick comparison:
The average cost of a dental crown in the U.S is $1,500.
The cost of a dental crown with a Mexican dentist is $499.
That's $1,000 that can go to any other plans you're thinking about—a vacation, a car, loans, or maybe just a nice meal.
The high costs of dental care in countries like the U.S has people without alternatives. Sharelle, one of our patients, shared this when asked why she didn't choose a local dental office:
"It's ridiculous, it's so expensive. it discourages you from getting what you need done. If you don't have the money, what they offer you it's to pull your teeth. And you choose that because you don't want to be in pain anymore, but then that leads to you needing even more dental work in the future.
It has become common for people to be very grateful and even cry when they finally hear that they can afford the dental treatment they've needed for years. And at Trust Dental Care, nothing makes us happier than being able to lift that weight from our patient's shoulders.
#2 Faster, Easier and Better Services
If you like efficiency, visiting a dentist in Mexico will be an excellent experience for you.
Mexican dental offices like Trust Dental Care don't stay behind when it comes to being up-to-date with dental technology.
Treatments like crowns, dental implants, or veneers are some of the restorations that you can now get in a day.
Besides, we understand the circumstances of being in another country for something as time-consuming as dental care.
You're likely visiting from far and have everything planned to get everything on time. Mexican dentists understand the urge for efficiency and efficacy.
Having specialists and trained staff also helps our processes be quicker. With us, you can get your complete treatment in just one day. Whereas with local dentists, you would have to visit separate specialists in different offices.
You will find everything you need in one place!
#3 Safety And Comfort
Traveling to Tijuana, Mexico, for dental treatment is as simple and safe as traveling within the United States.
Every day, thousands of individuals across the border between Tijuana and San Diego go to their job, school, leisure, or get their medical and dental treatments done.
The safety and security of visitors are a top issue for municipal, state, and federal authorities.
Your trip to Tijuana for dental work should be entirely safe and enjoyable if you also follow the same safety precautions as you would for any other sort of domestic or international travel.
Trust Dental Care is in the heart of Tijuana's greatest neighborhood, where you'll find a wide range of shops, jewelry stores, and restaurants. When our patients come to see us, we want them to feel at ease.
Our office has a peaceful and soothing ambiance, and our staff is some of the friendliest people you'll ever meet.
We strive to make your dental visit to Tijuana as comfortable as possible, and that's why we offer a complimentary shuttle service that will pick you up, bring you to the office, and even to your hotel.
You just need to ask for it by giving us a call.
4# Adventure Is Waiting for You
You might think, "dental care is affordable, but what about the travel expenses?"
Well, let's set an example. Imagine you need three dental implants, you go to a local dental office, giving you a quote of $18,000.
You look for another option and choose to visit a dentist in Tijuana instead. It turns out your treatment is $4,800 and the expenses of your trip to Tijuana for a week are less than $1,000.
See the difference?
It's a great excuse to get a break and go on vacation. Tijuana, Mexico, is an excellent chance for you to have new exciting experiences. From the delicious food to the art, you can have the best time of your life while meeting new people.
Even with travel expenses included, you still end up saving more than back home.
5# Get All Your Procedures In One Place
Mainly if you're visiting to get extensive dental treatments, having the staff who can perform them is crucial. For example, single dentist practices tend to refer you to an endodontist in another clinic when you need a root canal.
You'll likely have to wait up to 2 weeks to get it done. If you're in pain, or if there's somewhere you have to go, this can be bothersome.
Mexico dental offices tend to work collectively with other dentists. Getting a periodontist or an endodontist does not represent a challenge, and they can even see you the same day.
At Trust Dental Care, all our patients get to save time and effort by getting all the treatments and procedures they need, thanks to our wide range of specialists. You don't need to make unnecessary trips to different locations. It's all in one place!
That's why many patients choose to get procedures like dental implants in Mexico. It's faster, and they get better results.
5 Tips to Visit a Dentist in Mexico
Whether this is a new experience for you or not, it never hurts to know some tips and hacks to better your trip. We've gathered some tips you should know to make the most out of your dental tourism adventure:
#1 Have Your Passport Ready
Many Americans wonder if they actually need a passport to cross the border, and the answer to that is yes.
You must provide a valid Passport Book, Passport Card, or Enhanced Driver's License while returning to the United States by land from Mexico.
There is a significant distinction between crossing the border from Mexico to the United States and crossing from the United States to Mexico.
So make sure to have all your documents ready before planning anything else on your trip.
#2 Plan Everything on Time
Try to organize your dental trip as best as possible. If you need dental treatment, make sure to call the dental office first. At Trust Dental Care, you can have a video consultation with a professional to share your concerns and expectations.
Once you know what you need, how long it'll take, and how much it will be, you can start planning everything with time. If you're visiting from afar, get your plane ticket months in advance.
When choosing a place to stay, you can ask your Mexican dentist what places they recommend or which hotels are preferred by other patients.
Of course, if you're worried about transportation, ask for our complimentary shuttle service. Take advantage of all the options we have available for you.
#3 Look for Recommendations
The best way to find a reliable dentist is through referrals from friends, family, or the internet. Ask someone who has already experienced what it is like to get dental care in Mexico. They can give you excellent referrals and even tips for your dental trip.
Looking online is also a great option, although you may be worried about reviews not being legit. If that's the case, look for comments with pictures that show their work done, the clinic, or the doctors.
People on the internet are very considerate of others. You can get beneficial insight from there. Also, make sure to check out how the dental office manages complaints or negative feedback. That'll give you an understanding of how they will respond if something goes wrong.
#4 Choose Quality Over Price
We know you want to save as much as possible and, who doesn't, right?
But when looking for a dentist in Mexico, you should always aim for quality work first and then worry about the price. The thing is that you'll likely find dental offices that overcharge and others that will be suspiciously cheap. What's important is to find a middle ground.
Many dentists offer a list of prices and their comparison to those of the U.S on their web pages. That's a great place to start.
Another way for you to find the right dental office is to call a few and ask for the cost of one procedure. Doing this, in addition to looking at reviews and before & afters, can give you a better perspective on the quality of their work and if that matches their prices.
5# Don't Rush Your Dental Treatments
One of the advantages of visiting Mexico for dental work is getting faster results. But some patients tend to want their dental work at the speed of light.
It's very valid, of course. We understand that you're coming from another country, and time is of the essence. But you should also acknowledge that quality dental treatments will take some time.
You'll need to have some patience. Otherwise, you risk leaving with faulty dental treatment, which will surely cost you more money in the long term.
Try to go for dental offices with modern dental technology. At Trust Dental Care, we can deliver same-day crowns because we have machines like CEREC and 3D CADCAM Milling Machine and the trained staff to design them.
At our practice, we will never give up quality for time. If anything, we prefer asking you directly to stay a bit longer and be honest about any inconveniences.
If time is crucial for you, dental offices without modern technology might not be the best option.
Begin Your Dental Journey By Taking the First Step
We all deserve high-quality dental care in our lives. Our smile is very important in our daily lives, and not getting the help we need can lead to future issues and expenses that can be hard to face.
Visiting a dentist in Mexico is a safe, smart choice whether you can afford dental care or not. Just make sure to get all the information you need for your experience to fulfill your expectations.
You can start your search for a Mexican dentist with Trust Dental Care, we have over 23 years of experience seeing patients from the U.S, and we'd be happy to welcome you to our office.
Give us a call or fill out the contact form and book your first appointment. Ask about our specials and our VIP Luxury Limousine Service.
Let us help you have the best experience in Mexico!