Toothless People Going Viral Over a TikTok Denture Trend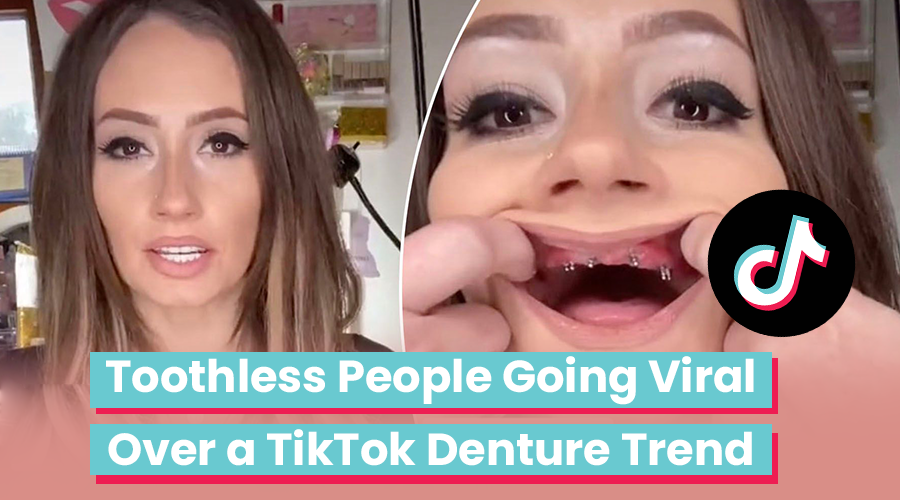 TikTok will never cease to amaze the masses with its scandalous trends and funny videos. This time, we'll explore a new phenomenon that became popular on the platform and that created what we will call the toothless celebrities of TikTok.
It takes only one person to share their experience, and then thousands more will follow. This was the case of Alicia or Princess Glitterhead, as people know her on TikTok.
She is one of the most famous toothless celebrities of TikTok who first began to embrace and normalize the use of dentures.
People with missing teeth often have to endure judgment and rejection from other people because of their condition. It truly affects the way they see themselves and contributes to the creation of negative stigmas around those who struggle with this issue.
Alicia has tons of videos documenting how it is like living with Snap-On dentures and even offers some tips for her followers. She encourages other people to accept themselves and love how they look with or without their dental devices.
Naturally, this inspired many to hop on the trend and become part of the positive message.
Embracing Every Part of It
Besides Princess Glitterhead, other people of all ages have also gained popularity for sharing content where they address the typical struggles of dealing with tooth loss and how it is like to live with their dental appliances.
This girl jokingly shows how people react when someone first finds out you're missing some teeth. It only goes to prove that more people than you think might be missing one or two teeth.
If you take yourself too seriously, you might just end up feeling even more insecure. This Tiktoker gained over 6.6 million views and over 700 thousand likes by just having some fun with the gaps on his smile.
This internet sensation, also known as Holygxd, not only on TikTok but other social media platforms, has over 11 million followers and has gathered more than 100 million likes with his videos. People know him primarily for his facial structure and comedy content.
Holygxd has a condition called ectodermal dysplasia, which affects the development of his bone structure, hence why he has missing teeth and can move his jaw in a very particular way.
He always approaches his struggles with humor in his videos, making it almost impossible to make you laugh. Which only helped him gain the love and acceptance of many followers who most certainly see him as an inspiration.
He is one of the most successful toothless celebrities of TikTok, for sure.
What Are the Dental Devices Toothless Celebrities of TikTok Wear?
If you're wondering how exactly do those dentures work, either out of curiosity or because you're struggling with the same issue, let us explain:
Snap-On Denture
Snap-on dentures (the ones that Princes Glitterhead uses), also known as implant-supported dentures or overdentures, are kept in place by a few remaining teeth or dental implants placed in the jawbone.
You'll also find three types which are immediate, conventional, and overdentures.
Implant-supported dentures provide a more solid and less prone to slip alternative for patients who have trouble eating and speaking while wearing traditional dentures, which tend to shift and move in the mouth.
Partial Dentures
A partial denture is a removable but natural-looking dental solution that replaces one or more missing teeth to help you retrieve the shape and function of your jaw.
Partial dentures are comprised of a mix of metal and acrylic, giving them the capability to fulfill your chewing and speaking needs while also looking natural.
Some partial dentures are manufactured entirely of acrylic; these dentures are less durable and structurally sound, but they may be viable options depending on your circumstances.
Bridge
A dental bridge can replace one or more missing teeth. Dentists cement bridges on your teeth, and its structure has two or more crowns on either side of the missing tooth or teeth that support it.
The following are the four main types of bridges:
Traditional fixed bridge:
The most common bridge type. It uses a crown on either side of the pontic.
With this procedure, you can replace front teeth. It uses porcelain or metal frameworks with "wings" glued to the back of your teeth on either side of the gap location instead of crowns.
Implant-supported bridge:
In a single process, you'll surgically get an implant for each lost tooth into your jawbone. After that, the bridge, which holds the pontics, is placed over them.
Because dental bridges are not detachable like dentures, you can consider them "permanent," yet they do not stay for a lifetime. The average bridge lasts five to seven years.
However, with good maintenance, some bridges can last even a decade or longer. This type of bridge is also good to keep your jaw healthy and looks just like real teeth.
The Secret to a Permanent, Natural-Looking Smile
Although most of the toothless celebrities of TitkTok seem to use dental devices that you can take off, there is a much better alternative dentists recommend if you check the boxes for its requirements.
We're talking about dental implants. The most modern technique to retrieve your smile and the closest you'll get to having teeth that feel like your own.
Dental implants function like artificial dental roots that are great to replace missing teeth. Fixed or removable replacement teeth created to match your natural teeth get support from implants.
If you are missing multiple teeth, this treatment variation is called all on 4 dental implants. It allows you to replace a full arch of teeth more affordably and effectively.
These are some of the benefits patients have found with their implant treatment:
You look great: dental implants have the appearance and feel of natural teeth. They are also permanent since they merge with your bone.
Better speech: poor-fitting dentures might cause you to mumble or slur your words because the teeth shift within your mouth. Nobody likes to worry about that all the time. Dental implants enable you to speak freely without fear of your teeth slipping out of place.
More comfort: implants minimize the discomfort of removable dentures since they become a part of you—no more need to take them off or have a tiresome cleaning routine.
Eat whatever you want: chewing can be challenging with sliding dentures. Dental implants function very similarly to natural teeth, allowing you to consume your favorite foods confidently and pain-free.
Durable and stable: implants are incredibly long-lasting and will last for many years. Many implants can last you a lifetime if you give them the attention they need.
Some Tiktokers have even manifested that they want to get implants or will do it soon. As much as they can have fun with their smiles and how great it is to normalize the use of dental appliances, it's still pretty hard to deal with it every day.
Even more, if you don't have the financial means to get the care you need. For this reason, many people have decided on dental tourism. Most of our patients at Trust Dental Care come from countries like the U.S and Canada.
We are an alternative to get the high-quality, affordable dental care they can't get at home. We encourage you to visit a dentist in Mexico from our office and experience it for yourself. Call us today and become proud of your smile the way toothless celebrities of Tiktok do.