These Dental Implants Before and After Will Change Your Mind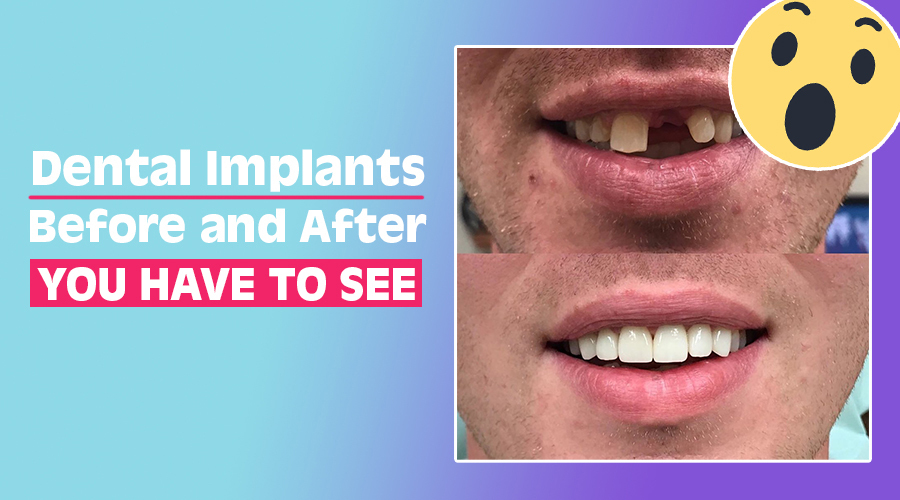 If you're trying to make up your mind about whether you should go for dental implants or not, we're here to give you a helping hand with some of our own dental implants before and after photos.
Trust Dental Care is a modern, innovative dental office located in Tijuana, Mexico at 10 minutes from the San Diego airport. We have the best in technology and expertise to achieve excellent long-lasting results.
Dr. Serena Kurt has dedicated more than 27 years to change her patients' lives for the better by giving them high-quality smile makeovers with dental implants in Mexico.
Here we'll share with you some of our dental implants before and after photos to help you see what they can do for your smile.
How Dental Implants in Mexico Can Recover Missing Teeth
Dental implants are made of titanium, a non-toxic and strong metal. They are inserted into the jawbone to fuse with the bone and create a solid base to support a Porcelain Crown that will give you back the functionality and appearance of a natural tooth.
Dental implants don't shift like dentures, so you can be sure they won't fly out when you eat or laugh. Dental implants in Mexico are a standard procedure among patients visiting from different countries around the world.
The Many Options Dental Implants in Mexico Can Give You
Implant treatment is very versatile. It doesn't matter if you want to replace one tooth or your whole mouth. This dental procedure can be performed according to your needs, like the All-on 4 dental implants, which can help you replace an entire arch of teeth in one day.
There are also other options like all-on6 or all-on 8 dental implants, which provide more stability and are used in specific cases. Everyone's mouth is different, and that's why dental implants are so flexible.
At Trust Dental Care, we only use high quality and resistant materials to give you back your smile. Porcelain or zirconia crowns can be done in One-Single Visit, right next to your dental chair, thanks to our state-of-the-art German technology.
These elements complement the whole implant procedure and can be custom-fabricated to produce a smile that enhances your facial features' aesthetics.
A Tour Through Our Dental Implants Before and After Gallery
Dr. Serena Kurt gives personalized care to every patient. She carefully studies each individual case and elaborates a detailed treatment plan. She chooses the best approach for every situation to come up with beautiful results.
Here are some dental implants before and after photos you need to see.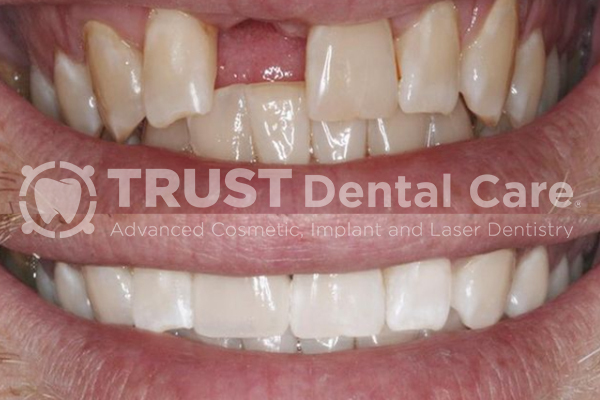 This patient came in with multiple missing teeth. She had dentures that just weren't working for her anymore. We performed a bone graft to strengthen her jaw and installed an implant to replace the missing tooth. To recover the natural look of her smile, we placed resistant Zirconia crowns and bridges.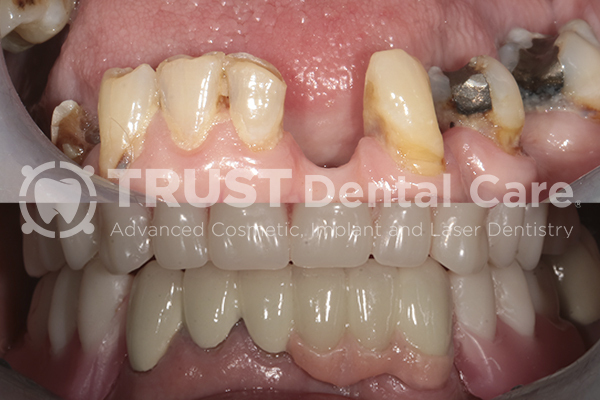 The patient came in with metal crowns on the front teeth. These were crooked and made the patient look like his teeth were decayed. His teeth on the lower arch were also affected by decay and had some missing ones. We went ahead and performed an all-on 4 dental implant treatment to restore his arch of teeth. We also placed white, natural-looking Porcelain Crowns on the top to get rid of the old metal ones. Now, he can smile big without having to worry about how he looks.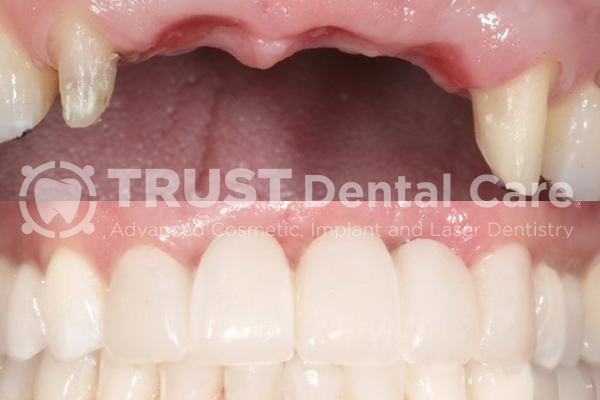 The patient came in with three missing teeth on the front, several damaged teeth, and gum recession. This time we used three implants to replace the missing teeth. We installed custom-made Porcelain Crowns to give him a natural-looking smile that complimented his facial features.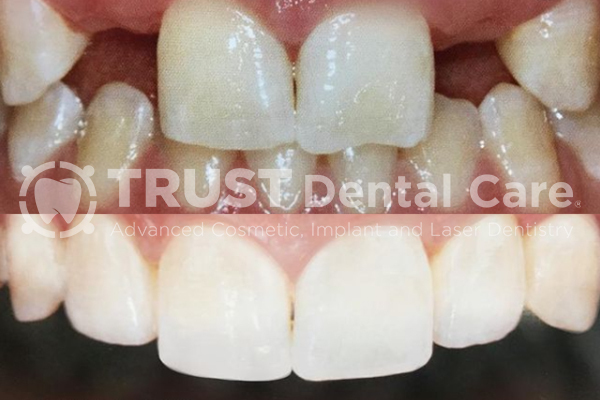 This patient's upper arch was empty. She had trouble eating, and her daily life represented a struggle. With our all-on 4 dental implants in Mexico treatment, we were able to give her back a smile she deserved. Her brand new permanent Porcelain dentures will allow her to do the things she avoided in the past.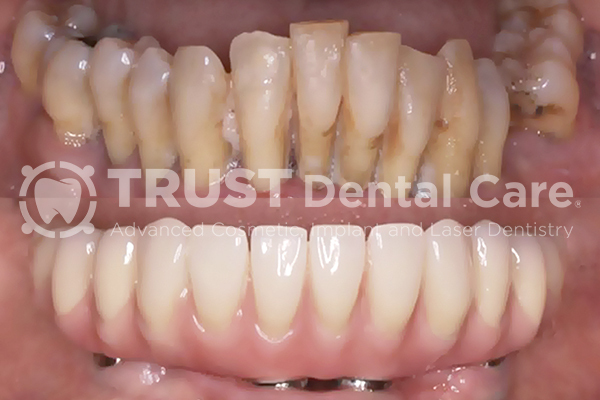 This patient struggled with bad teeth for a long time. He had lost the majority of his teeth due to inadequate oral care. Even eating the softest foods was a challenge, and the pain was consistent. Thanks to our all-on 4 dental implants in Mexico treatment, we were able to free him from the physical and mental toll of his past smile.
So, Are Dental Implants in Mexico the Best Option for You?
That's for your dentist to decide. Dental implant treatment is great but is not for everybody. You must get a detailed dental evaluation to determine if you're a good candidate to receive them.
At Trust Dental Care, we've placed over 30 000 implants to patients from the U.S and many other countries all over the world. Our experts can give you an accurate diagnostic and walk you through the process.
We are a dental office that invests in state-of-the-art technology, kind care, and knowledge to give only the best to our patients.
Because of our location, you can save up to 75% off! Don't let the cost stop you from achieving the life you've always wanted, and visit us to make it happen.
Call us and get your complimentary one-on-one with one of our professionals. Add your smile to our dental implant before and after gallery, and be the success story of courage and inspiration!