The Differences of All-on-4, All-on-6, and All-on-8 Dental Implants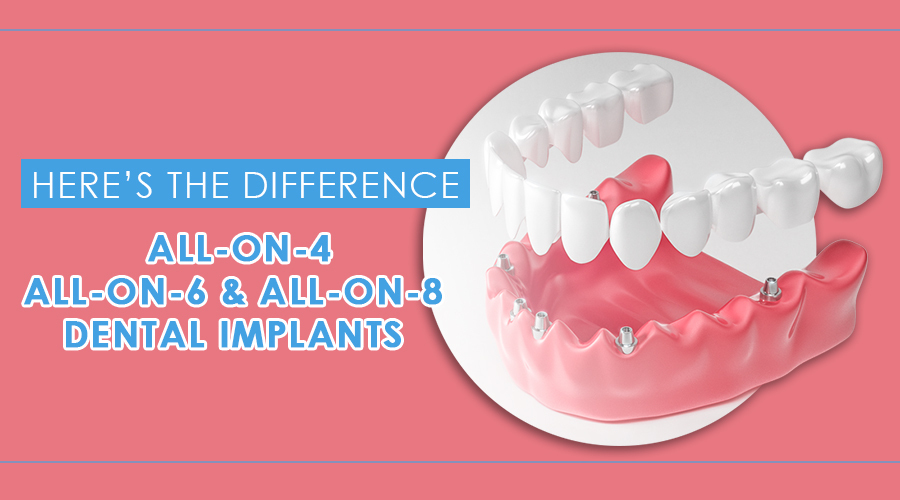 Having missing or very damaged teeth turns into a daily struggle where many problems come together to negatively impact your life. The all-on systems such as all-on 4 dental implants Mexico is a permanent solution designed to restore a full arch of teeth.
This offers you a better alternative to the very known and troublesome temporary dentures.
Imagine being freed from the constant toll of bad oral health. Eating normally again, without thinking about pain, or going to a job interview feeling self-confident and knowing you've already succeeded.
All this and more is possible with implant surgery. An innovative solution developed to give you your teeth back and prevent your jawbone from bone loss. Enabling you to adopt a more healthy diet.
3 Types of All-on Dental Implants In Mexico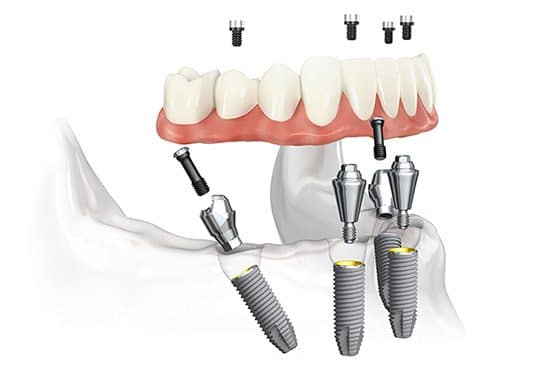 There are essentially three types of all-on implant treatments we offer at Trust Dental Care. You might've heard about them before and wonder what the differences are or which is best for you.
For starters, we can let you know that the main difference lies precisely in their name. Which indicates the number of implants installed into the jaw to create a support for a set of teeth. Still, they all can achieve a full mouth restoration.
Let's dive into the differences between these procedures a little bit more.
All-on 4 dental implants Mexico and Tijuana
This system consists of inserting 4 titanium implants per arches. You would generally need to have enough bone density to get this dental work done. Otherwise, you can choose to get additional procedures like a bone graft.
This procedure it's an excellent affordable, and effective option to restore multiple missing or damaged teeth. Although it doesn't offer the same pressure distribution of all-on 6 or all-on 8. It still remains the less invasive go-to solution for many patients.
All-on 6 dental implants Mexico and Tijuana
This variation follows the same process as the previous one, but this time, six dental implants will be used in every arch. The reason for two extra implants it's merely because you might need a bit more strength and stability for the treatment to be successful.
All-on 8 dental implants Mexico and Tijuana
All-on 8 will offer the maximum support to your dentures. The pressure is way more even. One difference from the all-on 4 is that this procedure doesn't require bone grafting, and it does have a higher success rate than other surgeries.
4 Interesting Facts About All-on Dental Solutions

It's harder to pull out a tooth than placing an implant 
Of course, if you picture an implant surgery, you might associate it with something very invasive. But surprisingly, it's easier to insert an implant than to pull a tooth out because the dentist needs much more pressure and force to remove it correctly. 
Dental implants have been around for a while
Back in 2500 BCE, humans had already seen the need to fix their teeth one way or another. For instance, in China, those with missing teeth would replace them with pieces of bamboo. In 600 AD, the Mayans, on the other hand, would replace their teeth by hammering seashells into their mouths, creating a form of dental implants.
Dental implants make your jawbone strong
When a titanium or zirconia implant is installed into your mouth, it begins to integrate with the bone. A process is also known as osseointegration. The implant stimulates bone growth, causing your jaw to become healthy and strong.
More people have implants than you think
According to the American Academy of Implant Dentistry, about more than three million (and counting) people only in the U.S carry dental implants. This dental treatment is becoming more common among patients. More than 500,000 choose to get implants each year. In fact, at Trust Dental Care, we have placed over 30,000 dental implants on patients from the U.S and other countries.
Which All-on 4, All-on 6, or All-on 8 Dental Implants Mexico Is Best for Me?
You might be looking for helpful advice on how to choose the best treatment for you. But the truth is that you won't get a clear answer to which all-on procedure is better.
And you guessed it.
The right thing to do is visit a professional so they can let you know. Because everyone has different dental needs and if an all-on 4 dental implants Mexico worked for someone, it doesn't mean it'll be right for you as well.
Depending on your mouth's structure, the bone density on your jaw, and the level of damage on your teeth, dentists will advise you on the route you should choose.
Your overall health also comes into play. Remember, it's a surgical procedure. You might just be okay with getting an all-on 4 dental implants Mexico instead of going for a more extensive one, such as all-on 6 dental implants Mexico.
Either way, no matter what variant is best for you, at Trust Dental Care in Tijuana, Mexico (10 minutes from the San Diego airport), we're prepared to make it happen. This type of dental solution is something we often do at our office. We have the specialists and state-of-the-art German technology required to ensure your treatment goes as smoothly as possible.
We've helped thousands of patients from multiple countries who seek to cover their dental needs through dental tourism. With our help, they could recover their smile and, therefore, all the things in life they were missing out on.
You, too, can make the change. It's never too late to improve your life and regain the power you've lost because of bad oral health.
Talk to us and tell us your concerns in a complimentary one-on-one with a professional. We care. We're here for you.