Aligned Teeth Can Contribute to Overall Oral Health
For most people, a beautiful smile is the most obvious benefit of teeth braces. We believe that it's more than just a smile.
Straight teeth help an individual to effectively bite, chew and speak, contribute to healthy teeth and gums.
Properly aligned teeth and jaws may alleviate or prevent physical health problems. Teeth that work better also tend to look better.
An attractive smile is a pleasant "side effect" of orthodontic treatment.
You may be surprised to learn that straight teeth are less prone to decay, gum disease and injury.
Straight teeth collect less plaque, a colorless, sticky film composed of bacteria, food and saliva.
orthodontic treatment can benefit social and career success. It may also improve a person's general attitude toward life.
Behind every smile is a unique and important individual.
Why Having Teeth Braces is Important?
Dental braces are most commonly associated with teenagers, simply because this is when most people first notice their crooked teeth.
There is no age limit for this kind of corrective treatment though, so don't be put off by the stereotypes.
Having straight teeth is important. Teeth that are crooked or out of place affect the way a person chews and talks and how their smile looks. Because they have unnatural spaces, crooked teeth are harder to clean and are more likely to have cavities.
In some cases, crooked teeth can cause pain and discomfort. Teeth braces or dental braces, are devices used to align teeth. They are nonsurgical and more often doesn't require other procedures.
Treatment works by exerting a gentle pressure over time to straighten teeth that are growing, or have already grown, out of place.
The forces that are exerted on the tooth achieve tooth movement using the brackets during the treatment.
What are the Benefits of Having Braces on Your Teeth?
Getting braces can be a daunting experience.
But it doesn't have to be scary. With the right information and advice, dental braces can be a walk in the park.
Reduce the Incidence of tooth decay and nd gum disease.
Stop bone erosion.
Improve speech.
Prevent cavities
Help with digestion
Yes, your teeth play an important role in digestion.
Before food ever enters your stomach, it has been partially digested by the teeth.
If teeth are severely out of line, however, they may not play their role in breaking down food as effectively as they should.
PORCELAIN VENEER VS COMPOSITE RESIN COMPARISON
| | Composite Resin | Porcelain Veneers |
| --- | --- | --- |
| Aesthetic | Yes | Yes |
| If chipped/broken | Often repaired | Must be replaced |
| Lifespan | 5-7 Years | 10-15 Years |
| Staining | Yes | No |
| Same Day | Yes | Yes |
| Metal | No | No |
| Invasive | No | No |
| Appearance | Natural look | Natural look |
*This comparison is between a Porcelain Veneers and Composite Resin.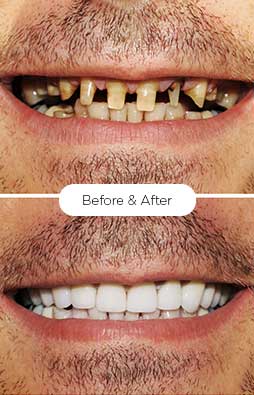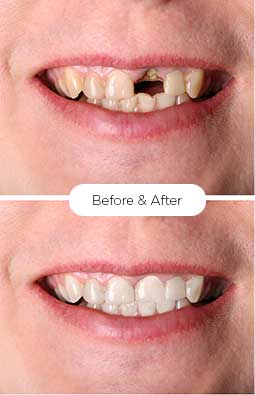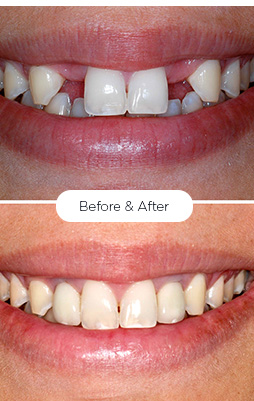 Different Types of Teeth for Straight Teeth
Different types of braces can be implemented to correct your smile.
However, you need to get a consultation with our specialists to determine the right one for you. These are the types of braces available:
Traditional metal braces.
Ceramic braces.
Invisible braces.
With this last treatment, we take an impression of the teeth or a digital 3D scan.
Within months, your child can have beautiful, straight teeth.
Important Steps in the Process of Placing Braces on Teeth
When you meet with our orthodontist, we will ask you questions about your health and perform a clinical exam.
We will take a series of x-rays of your head and mouth, along with photographs and an impression that will be used to create a plaster model of your teeth.
Once we have all the relevant information, our specialist will prescribe a plan of treatment best suited for your particular situation.
Our dentist will begin by thoroughly cleaning and drying your teeth.
Next, he will apply an adhesive substance to your teeth to attach the brackets. the entire process takes between 1 and 2 hours.
Getting used to the braces will typically take about a week.



Real Reviews from Our
Satisfied Patients
We encourage you to see for yourself the countless of happy
reviews that have placed their trust on us so you too can make
a smart decision today!

This dental care, staff and Dr's are more than excellent. Very caring, kind, and just wonderful. I had done 2 root canals with crowns and 7 implants.


The service over there is excellent I got everything I needed on the same day , all the staff is very nice they speak perfect English plus I saved a lot of money.


Very professional and prices you can't beat. We have done crowns, root canals and fillings for the family. Thank you, I will come back!

Invisible Braces vs Regular Which is Faster?
Braces have come a long way from the "train track" look of years ago.
Today, many orthodontic patients can get braces that attach to the backs of the teeth or use transparent brackets.
Treatment time for traditional metal braces is usually 2-3 years while Six Month Smiles braces require six months only.
Traditional teeth braces show metal framework while Six Month Smiles system uses clear brackets and tooth colored wires.
Normal braces cost more than Six Month Smiles.
Regular braces fix other dental problems about dental braces while Six Month Smiles focuses on the cosmetic part of aligning the front teeth.
Why Orthodontic Aftercare is so Important?
Once your braces are placed on your teeth, it's important for you to care for them properly to get the best results.
Standard dental practices, such as daily brushing and flossing, should be maintained.
When brushing, it's important to clean your teeth thoroughly.
When flossing, always use dental floss that is waxed to prevent it from getting stuck between your braces.
You will also need to pay particular attention to the foods you eat.
Foods that are high in sugar may lead to excess plaque buildup that can cause damage to your teeth.
Additionally, foods such as caramel, gummy candies, popcorn, and nuts, are good to avoid, as they can become lodged in the braces themselves.
How to Brush Your Teeth and Floss With Braces
Whether your children have braces for six months or two years, one thing is sure: It is crucial that they learn how to brush their teeth with braces.
Braces make cleaning difficult because food particles and plaque can adhere to the brackets and teeth.
According to the American Dental Association, the number of times a person with braces should brush each day varies from dentist to dentist, but it is important to brush after every meal.
Before you clean, rinse with water.
After cleaning the gum line, place the toothbrush on top of the brackets, angling down to brush on top of each bracket.
reposition the toothbrush to clean the bottom of the bracket and the wire, angling the toothbrush up. Go slowly.
Use a floss threader to make flossing with braces easier.
You can help prevent cavities by rinsing with a fluoride mouth rinse.
Address
Blvd. General Rodolfo Sánchez
Taboada 929, Zona Rio, Tijuana.
Opening Hours
Monday: 9:00 am – 6:00 pm
Tuesday: 9:00 am – 6:00 pm
Wednesday: 9:00 am – 6:00 pm
Thrusday: 9:00 am – 6:00 pm
Friday: 9:00 am – 6:00 pm
Saturday: 9:00 am – 2:00 pm
Sunday: Closed
Email
info@trustdentalcare.com
Phone
(844) 848 7878
Latest News & Articles Regarding Your Oral Health
Take some time to read the latest news and articles regarding your oral health. This includes helpful tips on how to improve your dental health and articles regarding innovations in the dental world.
In the meantime, we also included some tips to make your dental tourism trip much easier and comfortable.
Finally, we also include some interesting reads for a better understanding of the medical dental field. At Trust Dental Care we care about you, but most of all, we value your trust.