Smile Contest Winner Smiles Again With a Dentist in Tijuana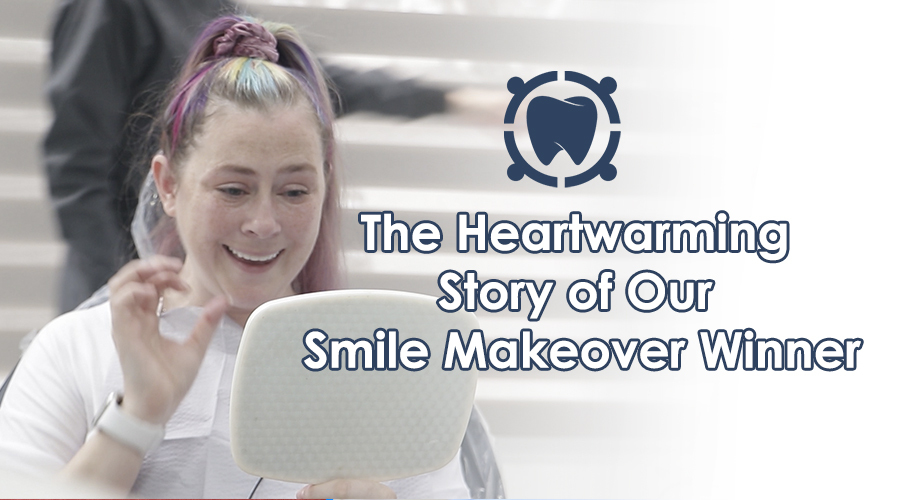 Being a dentist in Tijuana, we get to help and meet wonderful people all the time. Now it's the turn to tell DeAnna's story, another winner of our smile makeover contest.
When you've been struggling with the same problem for such a long time, it almost feels impossible to solve it. You get to a point where you don't even remember how you were before.
DeAnna is from East Virginia, she is a beautiful, bright, and outgoing girl, but she spent most of her days holding herself back.
DeAnna's mother couldn't afford a dentist. So, just like thousands of other kids in the United States, she lacked proper dental care.
This affected the healthy development of her teeth, and even though she was still a kid, the negative thoughts and insecurities made their way to her head.
Still, her joyful spirit continued to show. As she kept growing, she always tried her best and worked hard to meet her goals. She really wanted to make her family proud by going as far in life as she could.
But because life is full of surprises, some good and bad, DeAnna had to face a challenge she had no preparation for.
She discovered she had some genetic issues on her father's side, contributing to her developing medical problems.
There was a series of hormonal changes that came with those medical conditions, which became the main reason for the early deterioration of her teeth. This affected her so instantaneously and so severely that it took her a great effort to process it.
She found herself struggling to eat the simplest foods. Pain and sensitivity were present every single day, and her mental health got tremendously bad.
It brought her down in a very negative way. Hiding her smile was hiding her personality, and not being herself could close many doors in her path. Not to mention the constant feeling of not being attractive enough for society's standards.
What was even more discouraging is that DeAnna would have to deal with this for many years to come. She would have to get in debt for life if she chose to fix her teeth in the U.S.
She simply had no choice but to adapt and keep going, but she was never the same after that.
A Little Bit of Hope With a Dentist in Tijuana
Trust Dental Care knows the power that a smile can have, and we also know that not everyone has the resources to access quality dental care.
That's why we do our best to help as many people as we can by launching smile contests, where we offer a complete dental makeover for free. This way, those who can't afford oral care for any reason can have the chance to smile once more.
On a day that seemed like any other for DeAnna, she came across our dental office on Instagram. She had done this a couple of times, look for dentists on social media to imagine how it would be if she got her teeth restored.
But without expecting it, an opportunity showed up in front of her. She saw Trust Dental Care's contest and felt like it was a sign from destiny.
"It won't hurt," she thought and entered the contest.
A few days passed, and she even forgot about it. And then her phone rang. It was our Patient Journey Coordinator to deliver the good news. She was getting her smile makeover for free!
It was like a weight that had been in her shoulders since she could remember was lifted just like that.
Tears, happiness, and excitement were her first response. Could this be real? After all this time, would she be able to start over?
Even though everything seemed to be going according to plans and the arrangements for DeAnna to visit us in Tijuana, Mexico, were going well, the biggest obstacle came in our way.
COVID-19 happened to the world, and it took everyone by surprise. We had to postpone her transformation until things got better. We didn't want to put anyone's health at risk, and it was the right thing to do.
What was certain was that we were going to restore her teeth no matter how long it took.
Fast forward to a year, we were ready to receive DeAnna with all the necessary measures, and she was able to travel.
We got in contact with DeAnna again, and we organized everything to ensure her journey went as smoothly as possible.
For her, this was the first time she visited Mexico, and she couldn't be more excited even though people around her told her to be careful. She knew very well the stereotypes that people associated with this country, and among the excitement, there was some nervousness.
But she packed her bags, kept a positive mindset, and boarded the plane.
A Life-Changing Dental Experience
When she finally arrived in Tijuana, we made sure to guide her and make her feel comfortable. We sent our VIP Luxury Limousine Service to pick her up at the border and bring her to the office.
We were super excited to meet DeAnna finally, and we're glad she was happy with the service she was received with:
"You don't think there could be a place where everybody in the facility is precious, nice, kind, gentle and caring but that's how it is here," she said, "you dont come across that very often."
At Trust Dental Care, we always do our best to make everyone feel welcome and at home.
We took her 3D tomography and all the pictures we needed to start working on her case to make the restoration happen.
Due to her medical conditions, DeAnna had lost some of her teeth. We performed extractions on the areas where we found residual roots and gave her at least four root canals to treat teeth affected by decay.
She had been in Tijuana for about three days, and besides coming to the dental office, she also went out and explored the city to experience a little of the Mexican culture.
"I found the best coffee I've ever tasted here."
We were so happy to see that she enjoyed her time in our city, and we were eager to complete her transformation.
We continued to work and prepped her upper arch for the treatment we chose, some beautiful Porcelain Crowns and Bridges. When we finished the procedure, we handed her a mirror to see the results.
DeAnna got a glimpse of her reflection, and it was enough to fill her eyes with tears. She couldn't believe it. Getting her smile back was like releasing herself from the mask she had to put on all these years to hide her true self.
She could now eat, speak, laugh, and show her bright side to the world without holding back. When we asked her about her feelings throughout the entire procedure, this is what she had to say:
"I thought id be in a lot of pain, and I'm in none, zero. Everybody here made me feel special, in a way that I've never felt in a long time. You don't get taken care of like this in the United States. It changed my life."
At Trust Dental Care, we genuinely care for your smile and want you to recover its power, just like DeAnna did. We work hard to offer you only the most advanced, state-of-the-art dental technology, skilled specialists, and affordable costs to help you achieve the best high-quality results on your smile.
Contact us today to start your smile journey with a dentist in Tijuana and become the best version of yourself.