In most cases, candidates for a Mexico sinus lift are unaware they need one.
What is a Sinus Lift Mexico?
With age, or in the case of tooth loss, the maxillary sinus expands and makes the jaw bone atrophy.
The maxillary sinus, located above the upper molars, wastes away and the remaining bone does not have sufficient volume to support dental implants.
A sinus lift in Mexico is the standard procedure to correct this situation, basically elevating the sinus floor.
The current Tijuana sinus lift procedure is highly invasive, meaning there are medical instruments introduced into the body cavities. Due to its invasive nature, up to ten days of home rest are necessary following a sinus lift procedure.
In layman terms, the bone tissue located right below your eyes shrivels thanks to tooth loss or the passing of time. Placing a dental implant without first doing a sinus lift in Mexico for those who need it can lead to destructive results.
20% of all patients who need dental implants require a sinus lift.
Sinus Lift Benefits Mexico
Sinus lift in Mexico can improve
your health tenfold.
Increases amount of bone
Makes it easy for dentist to place implant
Stops and reverses bone atrophy
Bone integrates with jaw properly
Don't reach the point of no return! We can help recover your smile!
Tijuana
Sinus Lift
Procedure
FREE Shutttle Service
Sinus Lift Cost Mexico
Save Money
The average price for a sinus lift is about $1600 to $2400, not counting the dental implant itself. This price tag is per side of the mouth, so if you need a sinus graft for each side of your buccal cavity, prepare to pay up to $4800.
| Dental Treatment | Mexico | USA |
| --- | --- | --- |
| Sinus Lifting | $1000 | $4000 |
| Dental Implant | $1200 | $2300 |
Dental insurances do not cover this treatment since it is considered a cosmetic procedure in most cases.
You can obtain the same exact treatment using the same materials in Tijuana, Mexico for about $600 per side. Additional costs may apply when X-Rays or CT scans are required, and pain medication will also incur extra charges.
Tijuana Sinus Lift Surgery
A sinus lift in Tijuana, sinus floor augmentation or sinus graft is a surgical procedure used to develop new bone in the upper jaw bone.
Sinus lifts require parting the frangible membrane of the maxillary sinus floor to inject bone graft after a saline solution is introduced to the bone, making the jawbone dense enough to sustain a dental implant. 
This method is put into action when there's not sufficient bone length in the upper jaw, or when the sinuses are too close to the jaw for dental implant surgery.
If you've lost your natural teeth due to trauma, gum disease, or decay, the toothless area will wither away, causing the floor of the maxillary sinus to drop and leading to bone loss.
Bone volume is a necessity when a patient is undergoing dental implant procedures because dental implants must integrate into the bone to successfully hold permanent teeth.
A sinus graft only grafts new bone to the floor of the maxillary sinus resulting in the new bone material that supports any number of dental implants.
Without a Mexico sinus lift, the maxillary sinus floor might end up being too close to the implant area, and as a result, the sinuses won't have protection.
Mexico Sinus Lift Pain
Discomfort, mild bleeding, and facial swelling are normal following a sinus lift in Tijuana.
Our state-of-the-art technology not only made the procedure quicker to perform but has significantly reduced the pain a patient would feel after treatment.
Expect facial bruising around the surgery area. Ease your discomfort with a cold pack or over-the-counter pain medication.
Bite down on a gauze pad for half an hour to halt any bleeding. Change the gauze pad as the bleeding decreases.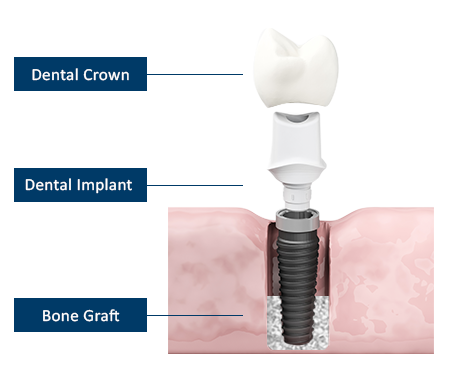 Tijuana Sinus Lift Recovery
It takes up to ten days to recover from a Tijuana sinus lift, but the bone itself takes up to six months to become one with your sinus floor bone. Dental implants can finally be placed three months after healing.
During recovery, it's important to avoid sneezing forcefully or blowing your nose. Nasal spray and other decongesting medications will help you prevent doing this. Try to keep any strenuous physical activities to a minimum.
You won't be able to brush or floss the surgery area for a week following surgery but don't neglect the oral hygiene of the rest of your teeth. Try using mouthwash throughout this time to rid yourself of any lingering bacteria.
When eating, opt for soft foods and chew carefully. Don't drink or eat hot things, as doing so will aggravate the area surrounding the bone graft.
Seven to ten days after the original surgery, your Tijuana dentist will schedule a follow-up, where your surgeon will remove stitches that did not dissolve on their own. Addressing any worries, questions or concerns regarding pain or discomfort, is imperative during this appointment.
Why Choose Trust Dental Care?
A sinus lift in Mexico is beneficial to your health, time and wallet. The key is to choose the best dentist in Tijuana or that Mexico has to offer.
Here, at Trust Dental Care, we have the most qualified dental professional available in Mexico. Dr. Cirenia Aparicio Miranda is the best dentist in Tijuana and is waiting to help you smile again.
Dr. Aparicio Miranda has been taking care of patients like you for over 20 years. She continues to update her knowledge of the sinus lift procedure to provide a painless experience for all her patients.
Since Dr. Aparicio Miranda is the only U.S. licensed female dentist in all of Mexico, she is also the most requested dentist. There is no time to waste if you want the best dentist in Mexico to perform your sinus lift in Tijuana.
For the sake of your health, give us a call now! Trust Dental Care is patiently waiting for your call – (844) 848-7878 – to inform you if a Tijuana sinus lift procedure is right for you.
Schedule Now!
Latest Dental Information
The best knowledge regarding oral health