Dental Care is a pretty big deal, with the way the economy is going and budget cuts on health insurance like Medicare and Medicaid, having healthy teeth has become a tough task. However, a new option in the form of dental tourism has opened a new door to those looking to get dental implants and general healthy teeth. Some 130 million Americans live without dental insurance, according to a report to Congress called Dental Crisis in America from Sen. Bernie Sanders issued in 2013. Because even the insured face out-of-pocket costs, it might make financial sense to fly to your next dental appointment.
Scheduling a root canal or dental implants on vacation might seem odd, but more and more Americans are making appointments with dentists abroad. Particularly in Tijuana, Mexico, this trend has benefit thousands of Americans and Canadians in getting the dental care they need paying up to 75% less than they would normally do. At Trust Dental Care you will get the highest quality in the market at affordable prices while also get the treatment you need by Dr. Cirenia Aparicio Miranda. She is the first and only dentist of Hispanic descent to be accredited by the AACD in all its history – she is a globally acclaimed dental practitioner and the best dentist in Mexico.
It's understandable to be a little worried about visiting a dentist in another country, so we want to help you make an informed decision, after all, we want you to put your trust in us. Here are some things you want to consider before venturing abroad for dental treatment.
How much will you save?
Yes, the whole point of getting dental work or dental implants in Mexico is to save money. As we stated before, at Trust Dental Care you should be able to save up to 75% on the procedure you need while maintaining the quality you'd expect from the highest ranking clinics in the US and Canada. You can always reach us to compare prices.
Getting a Quality Dentist.
Dr. Cirenia Aparicio Miranda is the first and only US licensed dentist of Hispanic descent to be accredited by the AACD in all its history. And she is proud to be their only Mexico dentist; this is why she maintains the standards that make her your best option for Dental Implants in Mexico.
Plan post-appointment care.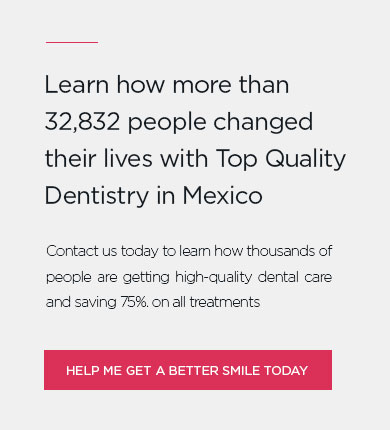 Most dentists don't advise you combine major procedures like wisdom tooth extraction with a vacation. Even if it's not necessary for most procedures, in particular with the efficient, painless and quick service we provide, but taking a trip to Tijuana might be worth your time if you want to experience the many things the city has to offer. Be it the new hip gastronomy, the art, music, craft beer or many museums; this could be the chance for a mini holiday at a very affordable price.
Sign up a companion.
Arrange to have a relative or close friend in the waiting room if possible. In addition to providing care after procedures that require anesthesia or pain medications. Although we have a capable staff that will take care of transportation, it always helps to bring someone along for the ride. You can make dental implants in Mexico a fun and endearing experience.
Insurance.
As a dental practice in Tijuana that operates with a U.S. licensed dentist, it's imperative that we accept PPO dental insurance. But not only that, we have a significant amount of PPO insurance companies we are affiliated with that can give you the service you deserve.
These are the options for PPO insurance that cover your dental treatment in Tijuana's Trust Dental Care clinic.
Anthem
United Health Care
Aetna
Cigna
Kaiser Permanente
Humana
Highmark
Blue Shield Of California
Independence Blue Cross
Your dental insurance company also has an interest in seeing you save money on your dental care.  We won't be able to bill your insurance company after dental treatment directly, but we will do all the necessary paperwork, so your company will reimburse you for your dental expenses upon your return. Check with your dental insurance provider before you leave to find out their exact policy on receiving dental care outside the Us or Canada.
Your trust is our primary concern here at Trust Dental Care, and as always we want you to make the smart decision, that means making an informed decision. When you come to us for any of your dental needs we want to make sure you understand you will not only be getting the highest quality and prices in the market for dental implants in Mexico, but also have the most efficient, safest and comfortable experience doing so. You've heard from the rest; now it's time you try the Best Dentist in Tijuana, Mexico.