How Do Toothpaste Tablets Work?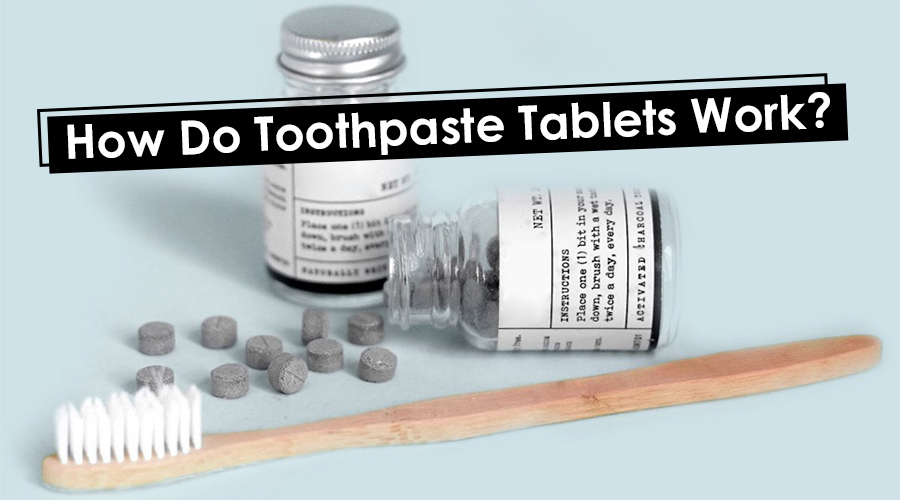 If you've heard of napkin tablets, now get ready for toothpaste tablets. Over time, people try to innovate as much as possible to make our lives easier and more eco-friendly.
These tablets are a new promise of regular toothpaste replacement. Apparently, they can give you a fresh, clean smile while saving the environment at the same time.
But of course, when it comes to new products to use in your body, you must know for sure if they work and if there are any risks.

In this article, we'll explore a little bit more of what these toothpaste tablets are all about and discover what they can do for your oral health.
What Are Toothpaste Tablets?
As you might expect, they are chewable versions of regular toothpaste. They polish the teeth in the same way that traditional tubes do, and they also come in various tastes to choose from.
The tablets come in a form suitable for kids or adults. They are pretty small and fit into the palm of your hand.
Tablets also tend to be more affordable than regular toothpaste. Although they have been around for about 40 years, their popularity has increased only in recent years.
Although many people are still wary about toothpaste tablets, they have begun to gain popularity mainly because they fit into our fast-paced society better than regular toothpaste.
You pop the chewable tablets into your mouth when you're ready to use them, as the name implies. Once in your mouth, you'll smash the tablet with your teeth, mainly your back molars, which are larger and stronger.
The tablet's contents will combine with your saliva to form an all-natural toothpaste that you can use to brush your teeth.
Despite the fact your Tijuana dentist may suggest fluoride toothpaste, some people are allergic to it or are concerned about its effects on their health. These people use fluoride-free toothpaste regularly. Therefore a chewable toothpaste tablet could be an excellent choice for them.
Do Toothpaste Tablets Actually Work?
Yes, they're very convenient, practical, and even somewhat cute. But what matters the most is knowing if they'll help your oral health.
To begin with, fluoride, a proven cavity-buster that's been commonplace in toothpaste for decades, isn't found in many of these tablets.
And even if many of them do contain beneficial active components like sodium bicarbonate and xylitol, there's no research that indicates how much of that goodness ends up in your teeth for sure.
Many toothpaste tablets proudly announce their fluoride-free status, which is kind of concerning because research shows that fluoride-free dental care products, frequently advertised as "natural," are associated with an increase in cavities.
So you should have this in mind in case you're looking to replace your regular toothpaste with tablets. Remember that in the end, what matters the most is the benefits they can contribute to the preservation of your teeth.
How to Use Toothpaste Tablets?
No matter which one you choose, a tablet will never have the same mouthfeel as a gel. It will always be a little less rich and foamy in texture.
If you want to give it a try for yourself, this is how you should use it:
1. Wet the area of your mouth where you want to brush.
2. Allow the toothpaste tablet to soften in the water for a few seconds.
3. Brush as you would with any other toothpaste!
The Best Toothpaste Tablets Out There
If you're willing to try a toothpaste tablet, here are a couple that might just convince you for good:
Bite Fresh Mint Toothpaste Bits
Coconut oil and xylitol, which are vegan and mouth-friendly, absorb smells and repel microorganisms that cause cavities.
The tablets come in glass bottles that contain 62 pills (a whole month's worth if you brush twice a day), and you may reuse the container in any way you choose once you're done. There's no plastic here—only healthy teeth and a cleaner environment.
DentTabs include fluoride, which can help prevent tooth decay by removing plaque and tartar. And it's one of the best options because of this. They're packaged without plastic and come with a two-month supply. This brand also has some eco-friendly toothbrushes and refill bottles that you can check out.
One bottle offers 60 tablets for a low price that will appeal to budget buyers. Natural cranberry extract (thought to reduce plaque) and xylitol (which prevents cavities) assist clean teeth in addition to the delightful cool mint flavor.
They're also fantastic for travelers; you can fly with confidence knowing that these tablets will get you through security quickly.
Backpackers all over the world are raving about how great this product is for extended travel. They also say they do an excellent job of keeping their tongues fresh.
The Hello tablets are another plastic-free alternative to standard toothpaste, coming in a tin container that is portable, reusable, and recyclable.
They're great for removing surface stains, plaque and freshen up breath using a combination of coconut oil, fresh mint, and activated charcoal.
These pills are as natural as they get, with no preservatives, animal-derived substances, colors, or fluoride.
The pills are very soft, making it simple to smash and prepare a paste with them. Are you ready to go all-in and become an eco-warrior? Combine them with a bamboo toothbrush
How to Know If You Should Use Them?
You can give toothpaste tablets a try. Just order some online and check them out. However, if you're thinking about using them instead of regular toothpaste, try to talk to your Tijuana dentist first.
Don't have one? Consider a Tijuana dentist from Trust Dental Care. You can schedule a video consultation to share any of your oral concerns, so we can help choose the best alternative for you.
Take care of yourself and your family with the best dentist.