Many Americans and Canadians refuse to pay elevated prices for cosmetic dentistry in their respective countries. They eventually decide to visit Tijuana, Mexico for treatment, making dental tourism a rising trend south of the border. The last ten years has seen demand for dentistry in TJ spread like wildfire to other states besides California. A patient in Seattle, Washington might feel like the Mexican border is too far, but tips from patients who've traveled longer distances can teach you the best ways to reach Mexico for dental care.
Tijuana is perhaps the easiest dental tourism destination to arrive to from Seattle. All you have to do is book a plane ticket from Seattle to San Diego, and as soon as you reach the airport, we at Trust Dental Care will take care of the rest. Planning a road-trip with friends is also an excellent way to reach the border town, but when time is of the essence, this option is not the best. The trip in its entirety, with minimal pit stops, would last about 21 hours before reaching the border. It would be an incredible drive down the coast – taking the I-5 S down to the border will get you where you need to be. A Trust Dental Care employee would meet your party on either side of the border to facilitate the arrival.
FACTS

People from Seattle looking for Dental Care abroad usually have one thought in mind: saving money. The nearest place to find insanely low costs in dental care is Mexico. Saving over 70% in dental treatment has made dental vacations to Mexico a trend in modern times. The rising cost of dental care in the United States and Canada, combined with an increasingly expensive health insurance and long waiting times for consultations, means more people are opting for dental tourism.
Mexico has become the biggest destination for dental tourism, but Tijuana remains the most searched for location on Google when it comes to dentistry. Seattle is one of the leading cities in the U.S. looking at Tijuana as a perfect destination for dental tourism, and the reasons are still unclear. Taking the latter into consideration, we decided to give people from Seattle the best tips possible to make their trip to Tijuana an unforgettable experience.
It's Not Always About Price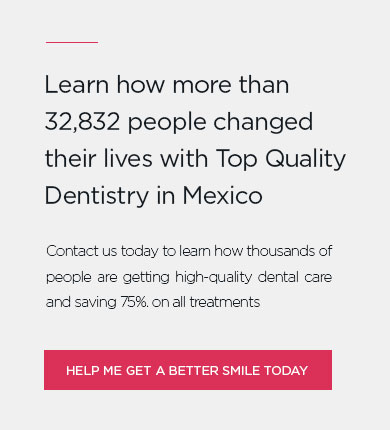 As we all know by now, the incredibly low cost of dental treatment in Mexico has turned this country into a hot spot for dentistry. Patients with knowledge of dental tourism are looking for an adventure while receiving the best possible service from the best dental practices in the country. Seattle natives can relate to Tijuana's border identity and usually have a sound understanding of the major benefits a border town offers. Add that to the amazingly low prices for dental treatment, and you get one of the most attractive deals you could ever find.
Grab your tablet, mobile phone, laptop, or whatever gadget you can reach, and further your research of this topic. You might want to avoid picking the very first option for dental care because you always want to find the best quality dentist possible. Most dental practices in TJ offer every major treatment that can take multiple appointments to conclude. Trust Dental Care offers the most advanced technology available, giving patients the satisfaction of knowing they won't have to come back for modifications. State of the art technology like the CEREC (Chairside Economical Restoration of Esthetic Ceramics, or Ceramic REConstruction Machine), will make your experience quick and painless, giving you more time to explore the city.
Round-trip tickets from Seattle to San Diego is the fastest way to reach Tijuana from your hometown. Worry not though, because several dental practices can pick you up from the border and transport you to the office. However, if you want a more personalized service, choose Trust Dental Care to get picked up directly at the airport. One can already see the benefits of dental tourism in Tijuana go beyond low cost. The particular service some dental clinics offer customers is by far the best hooking point when it comes to dental tourism.
Quality of Treatment
With Trust Dental Care, Seattleites won't have to worry about not getting the same quality treatment they would at home. As soon as you step foot inside the office, Trust Dental Care professionals greet you in perfect English and thoroughly explain each requirement for the treatment. You can ask our staff any question you want. Our staff will make sure you don't go through any trouble and will always be available to discuss anything you want, even after the treatment.
Sightseeing in Tijuana
If you are already experienced in Mexican dental tourism but have yet to visit Tijuana, make sure to visit the following attractions when you do decide to visit. The main local food joints are located around Zona Rio and Paseo Chapultepec. Both places mentioned above are filled with a wide variety of gastronomic proposals from all around the world. If you are looking for a "culture-clash trip," Zona Rio has CECUT (Centro Cultural Tijuana) which is the city's Cultural Development Center. There, you will find theater, a big museum with several exhibitions, a huge I-MAX screen that mainly plays award-winning documentaries, and you'll also find that people always visit CECUT regardless of what day it is.
If you want to keep exploring past the city of Tijuana, Rosarito is just a half an hour away. This is the world famous spot for spring breakers, but if you're more of the quiet type, you'll want to continue driving a couple of hours south of TJ. One of Baja California's most famous places to visit is the wine country in Valle de Guadalupe. They have a variety of leisure tasting spots that will blow you away, and host concerts every other week. Not to mention this is where you'll find the best view in all of Baja California.
If you still aren't familiar with Tijuana and looking to get to know the city a little bit more, Tijuana is now famous for housing some of the best breweries in the country. Near Colonia Cacho, you'll find a local brewery called Public House, where beer is made to enjoy on the same day it's brewed. If you want to head downtown, you'll find other famous breweries such as Mamut, El Norte, and Cerveceria Tijuana. All these breweries craft their beer and offer easy-going environments perfect for hanging out with friends.
So as one can see, going on a dental tourism trip is not just about low costs for dental treatments. (Although that is already a great selling point.) Trust Dental Care will offer many more services and even give you a tour guide that will take you to the best spots in town. The shuttle service is the best alternative for people who don't know their way around the city. Experiencing same day dentistry is another huge reason as to why Trust Dental Care is always a fan favorite. If you choose Trust Dental Care, you'll have the opportunity to visit top spots in the city with the remainder of your time. What are you waiting for? Grab your phone and give Trust Dental Care a call now to secure your appointment.
Is it safe?
Since safety is, and will probably always be, the biggest sticking point for Americans visiting  Tijuana, I feel the need to address it last. And let me tell you once and for all, this is one of the most culturally rich and growing cities you'll currently find in Mexico. I'm sure all types of horror stories regarding Tijuana's violence has reached Seattle, but as a local who's lived in Tijuana all his life, I can confidently say I've never had a problem in my 30 years here.
Taking proper precautions is a must for any trip you make. Being cautious and alert is a part of life anywhere you go. It's always a good idea to ask locals if the city you are planning to visit is safe and if it doesn't present any risks to you. When the concept of dental tourism became more familiar, safety was one of the biggest concerns.
Another great concern is the quality of the work performed by the doctors. There is a common misconception that dentists in Tijuana do not have the proper practice. Foreign media has created a stigma stating prices are low because you'll have to deal with a practitioner instead of a professional dentist. (They couldn't be more wrong, by the way.) Our best doctor at Trust Dental Care is Dr. Cirenia Aparicio Miranda. She is considered the best female dentist in all of Mexico and has an AACD (American Association of Cosmetic Dentistry) license to practice in the United States. She has over 15 years of experience treating patients from all walks of life, including Seattleites. There is no reason to fear dental work in Tijuana when choosing Trust Dental Care; without question, the best Dental Clinic Tijuana has to offer.
Feel free to send us a message. We will answer all your questions and explain the benefits of getting dental care in Tijuana.
Make sure to mention "phone consultation" under "Description".