Restore your natural teeth on the same day without pain.
Dental Veneers Mexico: A Natural Solution
Smiles are the first form of non-verbal communication, facial expressions as these are hard to fake and say a lot about your confidence,  we strive in developing the most attractive and natural looking smiles possible. Having misaligned, stained, cracked or damaged teeth in any way, pose an aesthetic problem that diminishes your self-trust when smiling, laughing or even when having a face to face conversation.
Modern dentistry has come up with the ideal solution for this common issue. Teeth whitening and orthodontics are the first go-to solutions, but when teeth have lost their natural beauty, porcelain dental veneers in Tijuana are the perfect route to follow.
The objective we pursue with this dental aesthetic painless treatment is to improve your smile and, subsequently, the general appearance of your face. Booking an appointment with the best dentist in Tijuana is the smartest decision you can make when it comes to getting high quality and affordable dental veneers in Tijuana.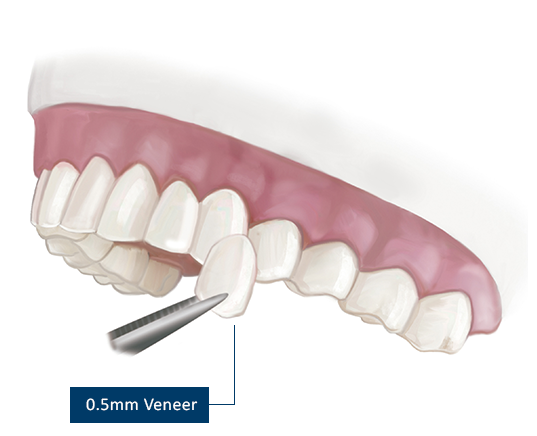 Benefits of Porcelain Dental Veneers in Tijuana
It is a relatively non-invasive treatment.
You can eat and speak as you normally would, so the adaptation process following the treatment is minimal.
Unlike teeth, they do not retain plaque, which helps maintain optimum dental health as long as you follow the indications given by our Tijuana dentist regarding dental hygiene.
It is possible to change the shape of your teeth, their color, and even their position.
They do not stain with wine or coffee.
Dental Veneers in Tijuana FAQ
How long do porcelain veneers last?
Depending on your oral health habits, Tijuana dental veneers should last over 20 years if the procedure was performed by a trained and highly-skilled dentist in Tijuana.
What do I do if it breaks?
Although rare, if your laminate falls, cracks or chips, the solution is rather simple: We would simply custom-make a new shell and cement it where the old one was.
Are Tijuana dental veneers right for me?
Placing dental veneers in Tijuana is a non-invasive procedure, and most people are candidates for this treatment. One of the only factors why a Tijuana dental veneer would not be appropriate for you would be if you have excessive enamel wear.
Candidates for Dental Veneers in Tijuana are:
Patients with tooth gaps
Patients with cracked teeth
Patients with chipped teeth
Patients with misshaped teeth
Patients with slightly crooked teeth
Patients with stained teeth that can't, for one reason or another, undergo a whitening treatment
Now that you know the benefits, see how much you'll save!
Tijuana
Dental Veneer
Procedure
FREE Shutttle Service
Dental Veneers in Tijuana Cost
Save Time & Effort
It is not an invasive or painful dental treatment, but it's important to understand that porcelain dental veneers in Tijuana are made to fit perfectly on each and every one of your teeth. Therefore, their design and preparation in the laboratory require time, as well as their placement or installation process, which makes this treatment highly exclusive in the dental community.
Average prices in the United States range from $1000 to $2200 depending on each individual, but when choosing to undergo this treatment with us, not only can you save a lot of money but you can rest assured that your smile is in the hands of our prestigious Tijuana dentist with global recognition.
| Dental Treatment | Beverly Hills | USA |
| --- | --- | --- |
| Dental Veneer | $3500 | $2200 |
| Dental Crown | $4500 | $2500 |
Consider the value of a good smile in your life. Having a smile you can be proud of can give you a renewed confidence in yourself and rejuvenate the general appearance of your face.
Choose the Best Dentist in Tijuana
When it comes to selecting a dentist in Tijuana, it's important not to go straight for the lowest prices, since treatments like this should be always treated as an important investment, so if you intend on keeping your veneers for let's say 20 years.  you should instead,  find the most qualified expert for the job, someone like Dr. Cirenia Aparicio Miranda.
Dr. Aparicio Miranda is a restorative dentist in Tijuana with over 20 years of experience in the field. Dr. Aparicio Miranda is also a senior speaker for Sirona and VITA, two of the most distinguished dental enterprises worldwide.
 Technology from said giants of the dental industry allows us to reduce the amount of time that is required for you must spend on the dental chair. We always make sure each procedure goes smoothly, but we also understand the fact that you're anxious to leave the office as soon as possible.
Dr. Aparicio Miranda is also famous for being caring and kind with all her patients, as she has worked hard always to provide a comfortable experience for everybody. She makes sure that you are comfortable with starting the procedure and is an expert at removing any dental anxiety you may have.
In all the years the AACD has been active, it has only had a little over 300 members, and Dr. Aparicio Miranda is one of the best they have ever had. She is the top Mexico dentist.
The Only U.S. Licensed Female Dentist in Mexico
Accredited Member
Dr. Aparicio Miranda is the best Tijuana dentist at your disposal, then know that there's no other dentist in Mexico
accredited by the American Association of Cosmetic Dentistry (AACD). In fact, there is no other dentist in all of
Latin America accredited by the AACD. Impressive, huh?
Latest Dental Information
The best knowledge regarding oral health