According to the Department of Health and Human Services (HHS), an estimated 108 million Americans do not have proper dental insurance coverage despite the Affordable Care Act, colloquially known as Obamacare. Over 181 million Americans fail to visit the dentist at least once a year, and in 2012, CDC (Centers for Disease Control and Prevention) found that nearly 50 percent of people over 30 years of age suffer from gum disease.
As shocking as this may seem, it makes absolute sense, since more than 100 million patients cannot even afford a dentist visit, PBS reported. The sad part to all this is that at least 8,000 people die every year due to pharyngeal and oral cancers. Elderly patients are some of the most affected, but children are not safe either. Children from low-income families are especially in danger, being twice as likely to develop cavities and suffer from tooth decay.
Although experts estimate 4 out of 5 patients fear the dentist and only 20 percent have at least two visits per year, high prices contribute to this statistic more than fear itself. When looking at the National Hospital Ambulatory Medical Care Survey (NHAMCS) from 2010 published by the CDC, which states that over 2 million Americans visited the emergency room with dental pain that year, it becomes evident that money is the primary reason for ignoring the dentist.
Medical tourism, or specifically dental tourism, has become the silver lining to terrible dental coverage offered in the United States. The Deloitte Center for Health Solutions reported a 20 percent increase per year in dental tourism among Americans. According to Health.com, the number of Americans who opt for dental tourism is about 400,000, and FOX News reports Mexico, Costa Rica, and India being the most popular sites for affordable dental procedures. Mexico ranks highest on the list due to 25 percent of all dental tourists worldwide choosing the welcoming country as their dental destination.
Top reasons for dental tourism being the following: Routine care, cosmetic procedures, restorative work, and emergency work.
1) Dental Crowns – A dental crown is an artificial tooth that functions as a replacement of the lost tooth. Trust Dental Care in Tijuana, Mexico offers E-Max, Zirconia, and PFG crowns at affordable prices and unmatched quality. (Same day availability.)
2) Dental Implants – A dental implant is the best option for a patient who has lost a tooth due to injury, periodontal disease, or any other reason. An implant serves as an artificial tooth root that is surgically placed into the jaw bone to hold a crown or bridge.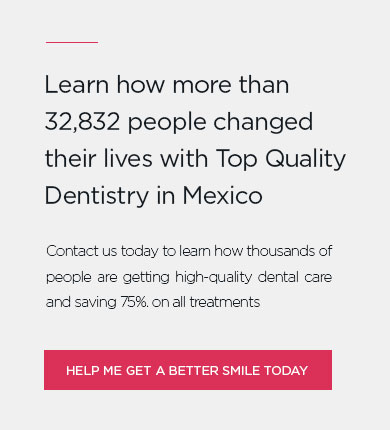 3) Dental Bridges – "Dental bridges literally bridge the gap created by one or more missing teeth. A bridge is made up of two or more crowns for the teeth on either side of the gap – these two or more anchoring teeth are called abutment teeth – and a false tooth/teeth in between." – WebMD   
4) Root Canals – Root canals are gaps within roots of teeth. It consists of the pulp chamber (the center of the tooth made up of tissue and cells), the main canal and other anatomical branches that connect root canals.
5) Dental Veneers – Also known as laminates, dental veneers are thin pieces of porcelain shell that cover the front of the teeth to make your smile more attractive and beautiful. Trust Dental Care offers dental veneers made of dental porcelain because they provide strength and resilience comparable to natural tooth enamel. Dental veneers are a great alternative to crowns in many situations.
6) Smile Makeovers – A smile makeover improves the appearance of the smile through cosmetic dentistry procedures like teeth whitening, dental implants, veneers, and composite bonding.
Studies done at the University of Minnesota coincide with other research centers proving bacteria in dental plaque, as well as unhealthy gums, can cause tiny, clot-triggering cells that create blood clumps. These cells are better known as platelets, and the clumps eventually lead to clots. Blood clots can reach the brain or the heart, resulting in strokes or heart attacks.
If gum disease can be prevented or treated, diabetes is easier to control and reduces risks of cardiovascular diseases. More than 80 percent of those with diabetes and gum disease develop heart diseases. Regular dental care helps reduce swelling of joints for people suffering rheumatoid arthritis. Adequate oral hygiene can also be helpful in minimizing morning stiffness for arthritis patients. A study managed by the West Virginia University linked proper dental care with memory retainment in senior citizens. The study pointed to gum disease as a risk factor for osteoporosis as well.
With ever-increasing information available to us regarding dental and oral care, everyone should make sure to visit a dentist at least twice a year. If high prices hinder you from proper dentistry in your hometown, dental tourism might be the only solution.
Tijuana, Mexico is one of the most popular destinations for dental procedures, and the quality Trust Dental Care offers is second to none. German-engineered, state-of-the-art equipment allows for precision and speed every time.
See how much you can save HERE
.