Our cutting-edge technology allows for same day, painless restoration of your smile.
A Natural Option for Teeth Replacement
For ages, dentures have been the sole choice for patients in need of a new set of teeth.
Fretting over concerns of this nature causes anxiety, leading to health issues unrelated to the mouth. Dental implants in Tijuana, Mexico help you avoid difficulties that removable dentures bring along with them.
Throughout the 1970's, dental implants transformed dentistry by reducing time, pain and denture malfunctions. While dental implants are more beneficial to you and other patients the world around, a vast number of people still opt for removable dentures or bridgework instead.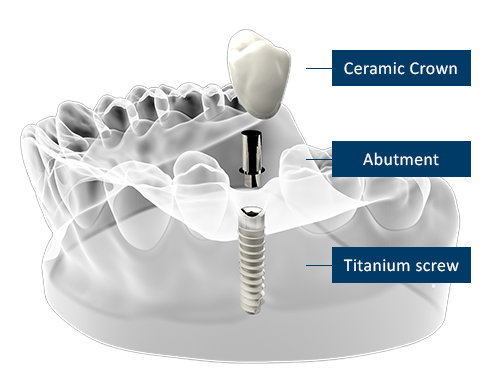 Structure of Dental Implant
Benefits of Dental Implants Mexico
Mexico Dental implants are the best option!
Durable and Stable
Function like natural teeth
Last a lifetime
Protect bones and stimulate natural growth
Chewing and talking are made easy
Now that you know the benefits, see how much you'll save!
Cost of Dental Implants in Mexico
Price Comparison
United States
Dental Crowns
Abutments
Implants
Surgery
Tijuana
Dental Crowns
Abutments
Implants
Surgery
FREE Shutttle Service
United Kingdom
Dental Crowns
Abutments
Implants
Surgery
The average U.S. prices are for each Mexico dental implant, so when you're missing multiple teeth, fees can skyrocket.
National Health Insurances (PPO) consider dental implants an aesthetic procedure (non-functional) and therefore only cover half the price, depending on your particular case. With uncertainty growing regarding public health providers in the United States, Mexico is quickly becoming the best option to receive dental treatment for countless of Americans.
Visiting the Best Dentist in Tijuana, Mexico
Just because Dental Implants Mexico are the Maserati of dental reconstruction does not mean you should spend Maserati money on them. Mexican dentistry is now, more than ever, on par with American surgeries but for a fraction of the price.
Anxiety prevents a select few from visiting Mexico dentist, leading to Americans picking an inadequate dentist in their hometown. Surrendering quality for the supposed convenience of staying local will be counterproductive in the end. Defects will emerge and will force you to pay for the same process yet again.
Few people plan their dental appointments and wait for tooth pain to indicate their need to see a Mexican dentist, but when it comes to dental tourism, it's crucial to plan ahead. (Avoid holidays like spring break.) Use Travelocity to find incredible deals on hotels and flights.
If you have to undergo multiple procedures, attempt to do it all in one trip to save even more money. If a friend, family member or spouse needs dental work as well, it would be wise to do it on the same trip as well.
Dental Implants Process in Tijuana, Mexico
Three different steps
We put a titanium screw into the jaw bone to replace the tooth's root. In severe bone decay circumstances, a bone graft surgery might be inevitable ahead of the screw getting inserted surgically. Bone graft surgery requires at least three months to recover and in particular situations, up to six.
When we finish the bone graft process, and the titanium is in place, osseointegration transpires. Osseointegration refers to when the bone bonds with the titanium dental implant and begins to grow. The therapeutic process lasts up to four months but it´s more often than not over in two, depending on your age, past dental history, and oral care.
Finally, our Mexican dentist places the abutment over the post to hold the crown in place. Our top-of-the-line technology eliminates the need for a third visit, allowing us to create ceramic crowns in minutes.
Trust Dental Care's Technology
At Trust Dental Care, we practice our craft with the most advanced German-engineered dental equipment, and we offer a warranty, guaranteeing quality every time.
Trust Dental Care proud to own the CEREC MC XL, the greatest milling machine available to dentists for CAD/CAM (Computer Aided Design / Computer Aided Manufacturing).
The CEREC is employed to examine your mouth before using a 3D printer to make your crown during your follow-up visit.
More information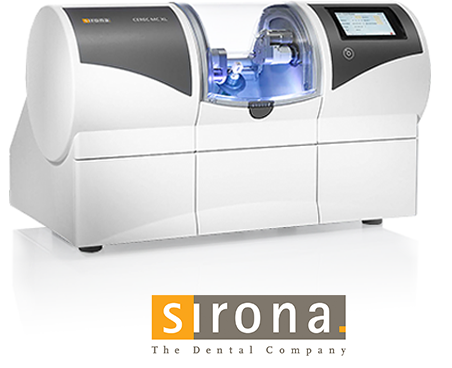 Best Dentist in Tijuana, Mexico
We at Trust Dental Care are honored to have Dr. Cirenia Aparicio Miranda as our leader. She is the only dentist in all of Latin America licensed by the American Academy of Cosmetic Dentistry (AACD).
You deserve a dental professional that cares for you and caters to your unique requirements. Dr. Miranda treats Americans, Canadians and other patients from all around the globe with high dental standards.
More than 90% of Dr. Miranda's patients come from all over North America, so when looking for the most qualified Mexican dentist, Trust Dental Care has the only one with sufficient credentials.
Latest Dental Information
The best knowledge regarding oral health