What is a Tooth Crown?
Beauty, Strength, and Durability Blended Together
The Best Option to Replicate Your Teeth
Dentists use tooth crowns to restore teeth that might've been harmed because of an accident, tooth decay, or other reasons. Dental crowns are custom made, and patients can get them done in a single visit.
The best thing about getting crowns in Tijuana is that patients from abroad can achieve what they are looking for in a day at our dental office. Tooth crowns enhance your smile to the fullest and provide durability. Crowns are designed to fit in size and shape your real tooth.
They are permanent but can last for over 15 to 30 years with proper care and maintenance. Dental crowns are still exposed to cavities or damage, so patients need to be careful and pay attention to them. Maintaining your oral habits in order will allow your crowns to prosper and function in the long-term process. Avoiding the need for a replacement.
Our specialists will provide all the information you need to keep your crowns on point, and they also will answer all your questions prior to the procedure.
Book Your Appointment Today
The Advantages of Having a Dental Crown in Mexico
As mentioned before, a dental crown is a cap for a tooth that has a lot of damage. A crown can be made from different kinds of materials, including metal or porcelain. 
One of the advantages of making a crown in Mexico is that we use a holistic approach for this procedure. Meaning is that we only use free-metal materials to make crowns. 
As a patient, you might have a dental crown over one molar that rarely shows, except when you open your mouth widely, or you might have crowns on your front teeth with us and enjoy a crown specifically designed to match the color of your neighboring teeth. 
There are many benefits to take into account when choosing a crown in Mexico, including:
Affordability.

High-end dental technology is available in Mexico.

Strength.

The best quality.

Durability

Natural appearance.
A natural look that doesn't detract from your smile may also be a priority for you. Our dentists can discuss the multiple alternatives and help you figure out what best to meet and exceed your expectations. 
EMAX CROWN VS ZIRCONIA COMPARISON
| | Emax Crown | Zirconia Crown |
| --- | --- | --- |
| Aesthetic | Yes | Yes |
| Strenght | 4/5 | 5/5 |
| Add-on-Options | Yes | Yes |
| Benefits | Bio Compatible | Super Strenght |
| Same Day | Yes | No |
| Metal | No | No |
| Invasive | No | No |
| Appearance | Natural look | Aesthetic |
What's the Best Kind of Crown for Your Tooth?
Our state of the art facility handle the following types of high quality dental crowns in Tijuana so that you can choose the most adequate for you:
E-Max Crown: Commonly used for aesthetic purposes. This kind of dental piece gets mostly recommended for the front teeth; they are strong, durable, and look exactly like natural teeth.
Zirconia Crown: Zirconium-made crown is incredibly resilient and can stand wear and tear. It also looks completely natural. These caps do not contain any metals and become modified correctly to the size, shape, and color of your teeth.
We are a metal-free dental office, giving you the best quality available in the market.
Read Experiences From Our
Satisfied Patients
We encourage you to experience why countless patients have placed their trust in us.


Walked in greeted with a smile. The office manager was super nice he discussed payment plans if need be. Dr. Miranda made me feel comfortable.



But let me say how AMAZING. Dr. Cirenia was at calming me down in making me comfortable. I didn't feel a thing!!…I'm so happy I found this dentist.



Walked in greeted with a smile. The office manager was super nice he discussed payment plans if need be. Dr. Miranda made me feel comfortable.

Who Needs a Dental Crown?
Patients with large cavities that are too big for a filling may need a dental crown. Patients may also need a crown if their tooth is: 
Severely worn down.

Cracked tooth.

Weakened tooth.

Rehabilitate a dental implant.
Dental crowns are also recommended after root canal therapy on a tooth. After an endodontic, the tooth is more fragile and will need extra protection to bear the pressure and daily chewing. 
Patients may be candidates for a tooth crown if they miss a tooth, and a dentist needs to put in a dental implant or a dental bridge.  
Difference Between Tooth Crown & Veneer
A dental veneer can be a beautiful restoration for a tooth. It is a thin porcelain shell placed over a tooth.
Porcelain veneers work for many of the same problems as what crowns can. There are a few benefits in certain situations that a tooth crown can provide.
Potentially the largest benefit of a crown is the strength that it offers a tooth. If the center of the tooth is suspect to fracture, the crown will accept much of the harmful forces.
The crown circumferentially covers the tooth and eliminates the possibility of the tooth breaking outward.
The Crowning Process Takes Just One Visit
It typically takes a dentist two separate appointments to make and place a new dental crown for a patient.
However, thanks to our innovative technology and expertise, we're able to provide this treatment in a single day.
The appointment involves:
Preparing (shaping) the tooth.

Taking its impression.

Placing the crown.

The time needed to perform these steps can range from 30 min to

an hour in some rare cases.

The dentist will cement the finished crown into place.
Using Sirona Technology, we're able to create your dental crowns on the spot, making the process much faster than usual, saving you time and money in the process.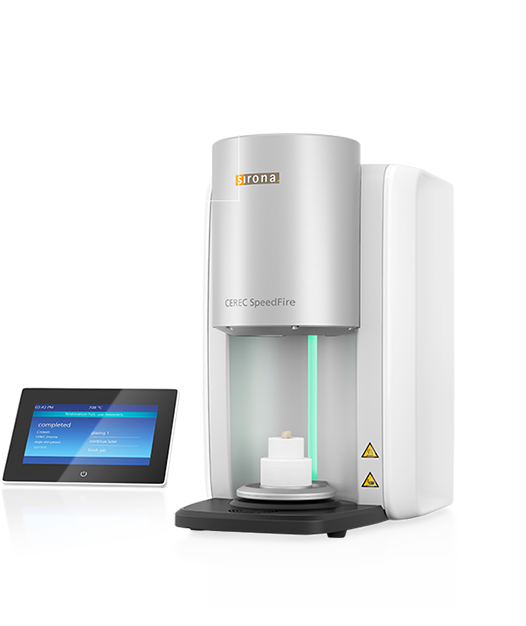 What Problems Could You Develop With a Dental Crown?
Dental crowns are meant to be the final step in the tooth restoration process, but poorly installed crowns can cause pain, sensitivity, and other complications.
Here's a more in-depth look at common dental crown problems and their solutions.
Sensitivity to hot and cold. In the days after having a crown put on, you may notice the tooth is thermally sensitive right at the edge of the gum line. This can happen when the enamel is trimmed away as part of the crowning process, and the dentine underneath is exposed.
Gum Tissue Pain. To avoid issues with thermal sensitivity crowns usually end right at or just below the gum line.Therefore, it's easy for the gums to get roughed up during the tooth-trimming, impression-taking, and crown-fitting processes. In most cases, gum pain subsides after a few days when the inflammation goes down.To speed up the healing process, take NSAIDs and rinse with warm salt water up to three times per day.
Cracked root. If you bite down too hard on a crowned tooth, the root may crack.Usually, crowns are an effective treatment option for broken teeth, but the root is beyond the crown's reach. Unfortunately, in the case of a cracked root, there's no other solution but to extract the tooth.
Opening Hours
Monday: 9:00 am – 6:00 pm
Tuesday: 9:00 am – 6:00 pm
Wednesday: 9:00 am – 6:00 pm
Thursday: 9:00 am – 6:00 pm
Friday: 9:00 am – 6:00 pm
Saturday: 9:00 am – 2:00 pm
Sunday: Closed
Email
info@trustdentalcare.com
Phone
(844) 848 7878
Address
O.Gorman 10401
Zona Urbana Rio Tijuana 22010, Tijuana.