The Best Option to Replicate the Look of Natural Teeth
A tooth crown is one of the most popular treatments performed in dental offices all over the world.
To restore a cracked teeth , you might need a tooth crown, depending on how damaged your teeth are.
Dental crowns improve your mouth's appearance by replacing a broken tooth's shape, size, and strength.
A porcelain crowns should last on average from 10 to 20 years.
Crowns are still subject to fracture and cavities, so it is important to take extra care in brushing and flossing around crowned teeth to prevent them from needing replacement too often.
We evaluate all options and review them with you before recommending a crown or set of crowns.
We take the time to explain our treatment plan recommendations fully.
  What Does a Crown do for Teeth?
Dental crowns are an artificial tooth that functions as a replacement of the lost tooth. It's cemented into the existing teeth, and can only be removed by a professional dentist.
Also, you might be in need if you require a filling or a root canal treatment. If you have broken cusps, excessively worn out teeth, or discolored and disproportionate teeth, a tooth crown might be right for you.
Using advanced dental technology to create our dental crowns in Mexico, we can guarantee top quality materials and a painless single visit to our office.
Certain materials traditionally used in dentistry can lead to health problems, and it is for this reason that we offer our patients metal free dentistry, preserving the beauty of their teeth while repairing their bite.
Our qualified and trained dentists in Tijuana will give you the best dental work in Mexico. We want our patients to understand the treatment options available to them and their advantages.
The Benefits of Having a Tooth Crown in Mexico?
Many patients have heard of dental crowns, but may not be entirely sure how they can help their teeth look and function better.
These are the top benefits of getting porcelain crowns:
Relieve uncomfortable symptoms.
Custom made to suit your smile.
Last for many years
We use strong, beautiful materials to manufacture our patients' dental crowns.
With proper care, these permanent prostheses can last between 15 and 30 years. This means that you can enjoy the benefits of dental crowns for decades.
EMAX CROWN VS ZIRCONIA COMPARISON
| | Emax Crown | Zirconia Crown |
| --- | --- | --- |
| Aesthetic | Yes | Yes |
| Strenght | 4/5 | 5/5 |
| Add-on-Options | Yes | Yes |
| Benefits | Bio Compatible | Super Strenght |
| Same Day | Yes | No |
| Metal | No | No |
| Invasive | No | No |
| Appearance | Natural look | Aesthetic |
*This comparision is between a bridge and a single implant with crown.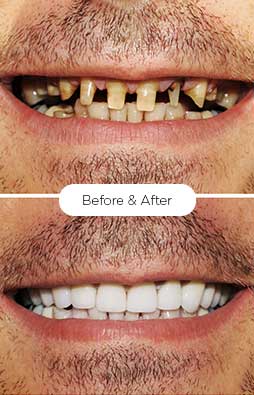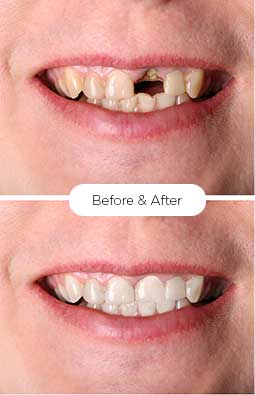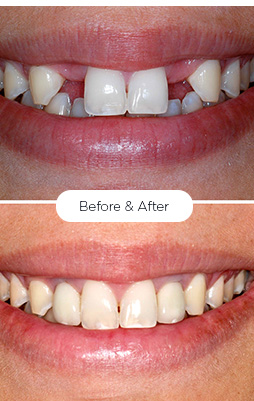 What's the Best Kind of Crown for Your Tooth?
Our state of the art facility handle the following types of high quality dental crowns in Tijuana so that you can choose the most adequate for you:
E-Max Crown: Commonly used for aesthetic purposes.

This kind of dental piece gets mostly recommended for the front teeth; they are strong, durable, and look exactly like natural teeth.

Zirconia Crown: Zirconium-made crown is incredibly resilient and can stand wear and tear. It also looks completely natural.

These caps do not contain any metals and become modified correctly to the size, shape, and color of your teeth.
We are a metal-free dental office, giving you the best quality available in the market.
In What Cases Do You Need a Tooth Crown?
There are a variety of situations that require a tooth restoration with a dental crown. The following are the most common:
Large filling.
Root canal.
Dental Implants.
Broken cusps.
Trust Dental Care has cutting-edge technology.
Sirona CEREC® allows us to digitally design and fabricate your crown on the same day of your visit, getting results in a single visit.
The process is much faster than usual, saving you time and money in the process.



Real Reviews from Our
Satisfied Patients
We encourage you to see for yourself the countless of happy
reviews that have placed their trust on us so you too can make
a smart decision today!

This dental care, staff and Dr's are more than excellent. Very caring, kind, and just wonderful. I had done 2 root canals with crowns and 7 implants.


The service over there is excellent I got everything I needed on the same day , all the staff is very nice they speak perfect English plus I saved a lot of money.


Very professional and prices you can't beat. We have done crowns, root canals and fillings for the family. Thank you, I will come back!

Difference Between Tooth Crown & Veneer
A dental veneer can be a beautiful restoration for a tooth. It is a thin porcelain shell placed over a tooth.
Porcelain veneers work for many of the same problems as what crowns can. There are a few benefits in certain situations that a tooth crown can provide.
Potentially the largest benefit of a crown is the strength that it offers a tooth. If the center of the tooth is suspect to fracture, the crown will accept much of the harmful forces.
The crown circumferentially covers the tooth and eliminates the possibility of the tooth breaking outward.
The Crowning Process Takes Just One Visit
It typically takes a dentist two separate appointments to make and place a new dental crown for a patient.
However, thanks to our innovative technology and expertise, we're able to provide this treatment in a single day.
The appointment involves:
Preparing (shaping) the tooth.
Taking its impression.
Placing the crown.
The time needed to perform these steps can range from 30 min to
an hour in some rare cases.
The dentist will cement the finished crown into place.
Using Sirona Technology, we're able to create your dental crowns on the spot, making the process much faster than usual, saving you time and money in the process.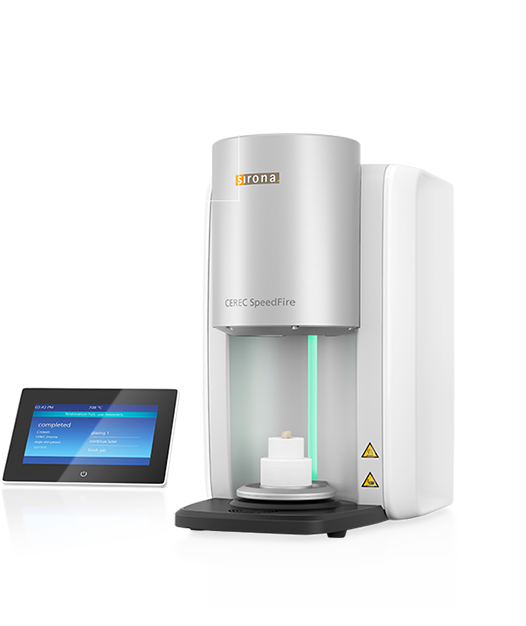 What Problems Could You Develop With a Dental Crown?
Dental crowns are meant to be the final step in the tooth restoration process, but poorly installed crowns can cause pain, sensitivity, and other complications.
Here's a more in-depth look at common dental crown problems and their solutions.
Sensitivity to hot and cold. In the days after having a crown put on, you may notice the tooth is thermally sensitive right at the edge of the gum line.

This can happen when the enamel is trimmed away as part of the crowning process, and the dentine underneath is exposed.

Gum Tissue Pain. To avoid issues with thermal sensitivity crowns usually end right at or just below the gum line.

Therefore, it's easy for the gums to get roughed up during the tooth-trimming, impression-taking, and crown-fitting processes. In most cases, gum pain subsides after a few days when the inflammation goes down.

To speed up the healing process, take NSAIDs and rinse with warm salt water up to three times per day.

Cracked root. If you bite down too hard on a crowned tooth, the root may crack.

Usually, crowns are an effective treatment option for broken teeth, but the root is beyond the crown's reach. Unfortunately, in the case of a cracked root, there's no other solution but to extract the tooth.
Address
Blvd. General Rodolfo Sánchez
Taboada 929, Zona Rio, Tijuana.
Opening Hours
Monday: 9:00 am – 6:00 pm
Tuesday: 9:00 am – 6:00 pm
Wednesday: 9:00 am – 6:00 pm
Thrusday: 9:00 am – 6:00 pm
Friday: 9:00 am – 6:00 pm
Saturday: 9:00 am – 2:00 pm
Sunday: Closed
Email
info@trustdentalcare.com
Phone
(844) 848 7878
Latest News & Articles Regarding Your Oral Health
Take some time to read the latest news and articles regarding your oral health. This includes helpful tips on how to improve your dental health and articles regarding innovations in the dental world.
In the meantime, we also included some tips to make your dental tourism trip much easier and comfortable.
Finally, we also include some interesting reads for a better understanding of the medical dental field. At Trust Dental Care we care about you, but most of all, we value your trust.