Schedule a Dental Appointment Today
TRUST DENTAL: "WHERE YOUR SMILE IS OUR PASSION"
We Will Book An Appointment At Just The Right Time For You
If you're in need of emergency dental service or if you're looking for world-class dentistry call us today to book an appointment.
Whether it's your first time with us or you've been with us before one of our dental representatives will be more than happy to assist you in booking an appointment.
In most cases, the practice will be able to accommodate walk-in appointments or offer a same-day appointment, however, next-day appointments are occasionally necessary.
Contact us and ride with our private shuttle service. We can pick you up at the San Diego Airport and take you back when your dental treatment is completed.
With the help of google maps you will be able to set a route directly to our office no matter where in the world you are whether you're coming from a city in the united states, Europe or Canada one of our drivers and their shuttle will be able during our business hours for you.
Book Your Appointment
Please enter your information
How to walk across the Tijuana international border and save time
Step by step directions on how to cross the U.S./Mexico international border at San Ysidro once you get there.
Walking across the border:

Walk along the pedestrian passageway going south towards Tijuana. Go through the metal revolving doors.

Follow the sidewalk:

After you pass under the sign that says "Mexico," it's super easy. Walk along the customs hallway until you reach the Mexican checkpoint.

Meeting Point:

You'll be walking until you reach a mustard-colored pharmacy called Milenio. Once you reach the pharmacy and find a long line of taxis, look for our driver's description and he will assit you in getting to the office.
Address
O.Gorman 10401
Zona Urbana Rio Tijuana 22010, Tijuana.
Opening Hours
Monday: 9:00 am – 6:00 pm
Tuesday: 9:00 am – 6:00 pm
Wednesday: 9:00 am – 6:00 pm
Thursday: 9:00 am – 6:00 pm
Friday: 9:00 am – 6:00 pm
Saturday: 9:00 am – 2:00 pm
Sunday: Closed
Email
info@trustdentalcare.com
Phone
(844) 848 7878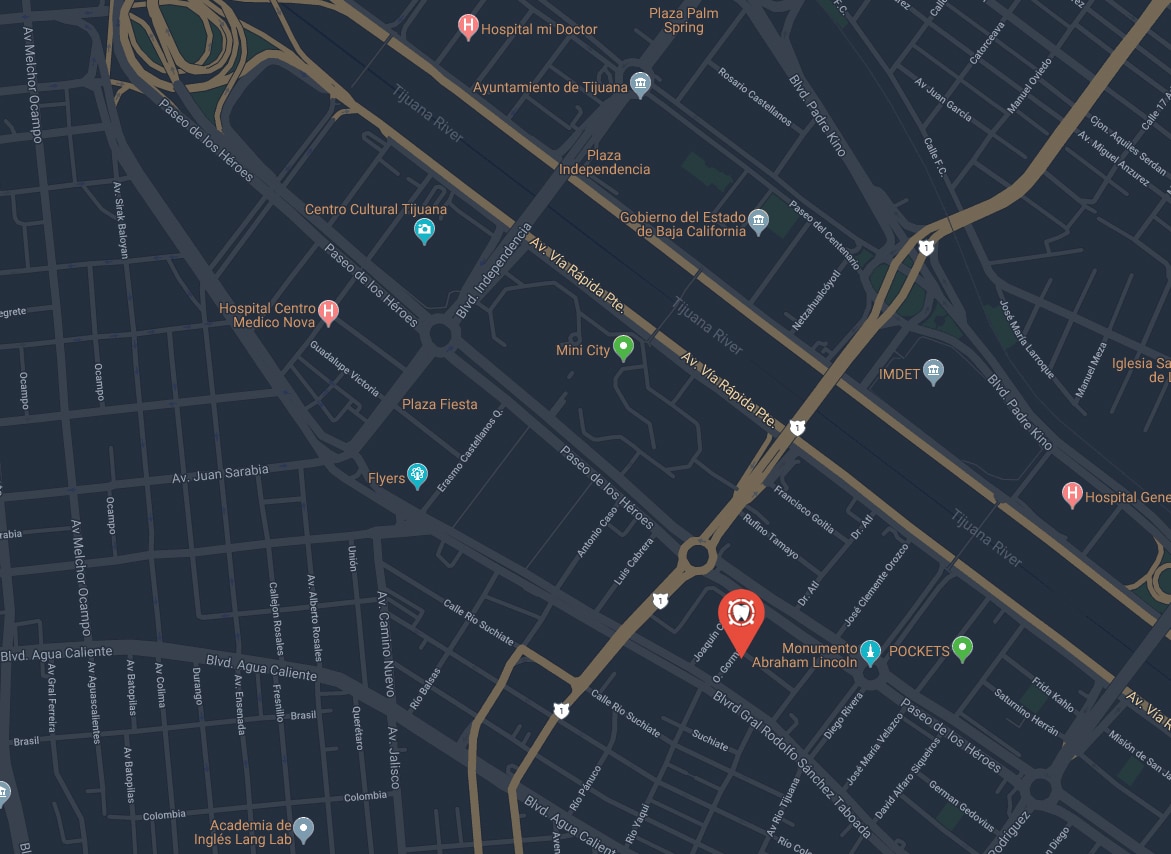 There Are Many Tourist attractions you can visit while staying in Tijuana
Tourists from the United States and Canada have realized that the city of Tijuana has transformed into one of the most amazing places to visit in Mexico.
Because nightlife is no longer the most attractive thing to do in the city, gastronomy and local breweries have also become a landmark for tourism at the border.
According to the New York Times, Tijuana is one of the cities people need to visit during 2019. Great quality dental care is just another good excuse to visit Tijuana.
Plus, if you're looking for great wine and you're interested in vineyards, you can also visit Valle de Guadalupe wich is just an hour and 30 minutes away from the border