Bone Graft Helps Your Jaw Prepare for the Implant
Usually, dental implants commonly require the use of bone graft surgery to restore the area.
Missing teeth could be a result of the jawbone deterioration, and it occurs when you suffer from gum disease, a traumatic injury or have had previous extractions.
When bone loss occurs, the jaw deteriorates and cannot hold the implant in place.
If you're looking to get dental implants, you may need treatment to restore your jaw to a healthy state, and this is when the bone graft procedure takes place.
The dental bone graft is necessary to perform a successful dental implant treatment.
Placement of the bone graft can be very simple, depending on the particular circumstances and the actual state of your oral health.
  What Is The Bone Graft Procedure?
If your jawbone has deteriorated, dental implants can't be placed right away, since there's not enough strength within your mouth to support it. In that case, you might be in need of dental bone graft.
Implants commonly require the use of bone graft surgery to restore the area.
Missing teeth could be a result of the jawbone deterioration, and it occurs when you suffer from gum disease, a traumatic injury or have had previous extractions.
Bone graft refers to a surgical procedure in which missing bone from a patient gets replaced with material from the patient's body or artificial substitutes. The primary purpose of this is to increase bone volume as it regenerates after the removal.
Bone graft is necessary to perform a successful dental implant treatment. The regenerating process, in which the body converts the bone graft material into a mature and vigorous bone, takes between four to six months, and it ensures a stable base to support the dental implant.
The Advantages of a Bone Grafting Procedure
bone grafting procedures are done to restore your bone to its previous form following tooth loss, gum disease or trauma.
Bone grafting may also be used to maintain bone structure after tooth extraction.
Bone grafting can truly create new opportunities for better mouth function and a more attractive smile.
This unique aspect to bone graft in Mexico is the reason why it is critical to get in touch with our Mexico dentist if you're concerned about your dental health!
Remember that all cases of bone graft from procedure to recovery, are different for everyone.
DENTAL IMPLANTS VS BRIDGES COMPARISION
| | Dental Bridge | Tooth Implant |
| --- | --- | --- |
| Longevity | 7-10 years | Lifetime |
| Preservation | No | Yes |
| Hygiene | Difficult | Easy |
| Decay | Yes | No |
| Teeth fracture | Yes | No |
| Appearence | Acceptable | Acceptable |
| Invasive | Yes | No |
| Cutting teeth | Yes | No |
*This comparision is between a bridge and a single implant with crown.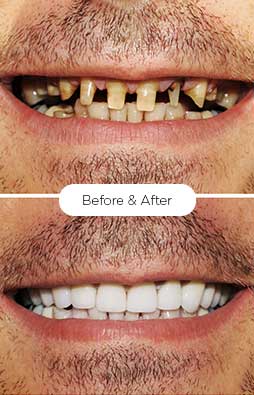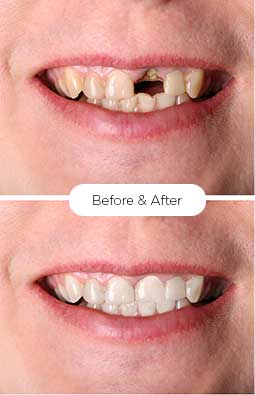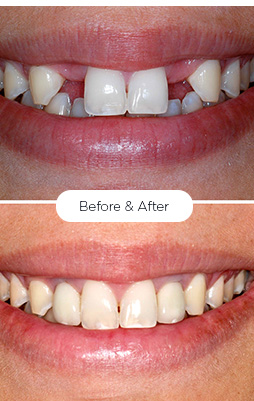 How Long Does a Bone Graft Take to Heal for Implant?
Most bone grafts are ready for dental implants 4 months after the surgery. Some will need up to 9 months.
There are a couple of things to consider in the bone graft recovery process:
Feeling uneasy for a few days after a bone graft is natural.
Expect some swelling and inflammation after a dental bone graft.
Swelling and inflammation can alter your bite.
Stiffness of the jaw muscles.
Smoking decreases the success rate of the bone graft surgery
We know that you may have more questions, please, feel free to ask any time, we are here for you!
How Do I Choose the Right Bone Graft Material?
Bone grafts for dental implants are classified by the source where the graft was obtained.
We previously covered bone grafting and the reasons for needing bone grafting for dental implants.
We are a dental facility certified to use Autograft to increase support for dental implants.
An autograft is graft material harvested from your own body. Areas of harvesting may include:
The upper or lower jaws
Ribs
Hips
Leg bones
Skull



GET THE BEST DEAL ON ALL ON 4 TREATMENT
Full Treatment, 4 Stars Hotel,
Implants, Abutments, Immediate Denture,
Final Denture
at $8499  
Limited Time Offer.
Reserve Now
Real Reviews from Our
Satisfied Patients
We encourage you to see for yourself the countless of happy
reviews that have placed their trust on us so you too can make
a smart decision today!

This dental care, staff and Dr's are more than excellent. Very caring, kind, and just wonderful. I had done 2 root canals with crowns and 7 implants.


While my boyfriend got an extraction and bone graft surgery for implants in his front 4 teeth and I saw the girls here cleaning and scrubbing everything! Amazing!


Trust Dental is the best dental clinic if you are looking for Tijuana dentist. I flew 6 hours to get my implants , and they placed 4 implants less than 1 hour.

4 Tips for a Fast and Easy Bone Graft Recovery
Effects after surgery might be quite minimal and depend on each patient.
Proper post-surgery care is critical to prevent complications of infection, avoid pain or minimize swelling. Being aware of the symptoms and effects, and how to react to any of them, will help you through your recovery process.
Swelling: Swelling might not become a problem within minutes of the surgery but will reach its peak during the second or third day after the operation.

You can minimize the swelling by using ice packs, applying them to the side of your face after the bone graft surgery.

Healthy diet: Stay hydrated by drinking an average of six glasses of water the first day after the bone graft procedure.

However, don't use straws since the sucking motion can cause more bleeding. Eating soft foods is highly encouraged, and avoid chewing hard or sharp objects for the next few weeks.

Healthy food will help you gain energy to heal.

Maintain healthy habits: Proper oral hygiene is crucial to the healing of any oral surgery.

After a bone graft, you can brush your teeth but rinse gently. It is encouraged to rinse at least five to six times a day starting the day after the surgery to keep the bone graft area as clean as possible.

No Smoking: Smoking is out of the question for the next 48 hours after a Tijuana bone graft surgery.

Tobacco use slows the healing process down dramatically. Nicotine is also harmful since this substance constricts blood vessels.

Quit smoking, your mouth and your lungs will thank you.
Why Choose Trust Dental Care?
Having bone graft in Mexico is beneficial to your health, time and wallet.
The key is to choose the best dentist in Tijuana or that Mexico has to offer. Our dental office have the most qualified dental professional available in Mexico. More than 20 year of experience support us!
There is no time to waste if you want the best dentist in Mexico to perform your bone graft in Tijuana, Mexico.
Address
Blvd. General Rodolfo Sánchez
Taboada 929, Zona Rio, Tijuana.
Opening Hours
Monday: 9:00 am – 6:00 pm
Tuesday: 9:00 am – 6:00 pm
Wednesday: 9:00 am – 6:00 pm
Thrusday: 9:00 am – 6:00 pm
Friday: 9:00 am – 6:00 pm
Saturday: 9:00 am – 2:00 pm
Sunday: Closed
Email
info@trustdentalcare.com
Phone
(844) 848 7878
Latest News & Articles Regarding Your Oral Health
Take some time to read the latest news and articles regarding your oral health. This includes helpful tips on how to improve your dental health and articles regarding innovations in the dental world.
In the meantime, we also included some tips to make your dental tourism trip much easier and comfortable.
Finally, we also include some interesting reads for a better understanding of the medical dental field. At Trust Dental Care we care about you, but most of all, we value your trust.