An Easy Guide to Get All on 4 Dental Implants In Mexico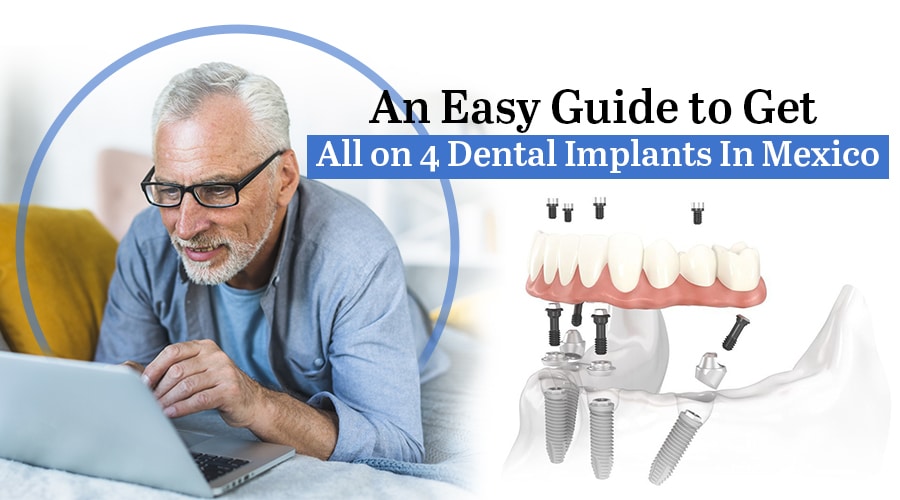 Are you looking to restore your smile? We know how hard and discouraging it can be not to be able to eat and do such simple things as smiling every day.
A smile can help you find the love of your life, it can give you the job you've always wanted, or it can improve someone's life in an instant.
But what happens when you've lost the opportunity to have that? What happens when your teeth cannot longer chew your favorite food? A bunch of problems come knocking at the door, reclaiming your spirit, health, and happiness.
Don't let this be your case. If you've lived with these issues for several years, now it's time to face the demons that keep you down and be freed from the insecurities and obstacles this causes in your life.
Trust Dental Care has gathered all the information you need to know to begin your journey of getting all on 4 dental implants Mexico. Let today be the day you change your life for the better.
You'll be enjoying life like never before in just a few days!
Let's begin!
What Is the All on 4 Dental Implant Procedure In Mexico?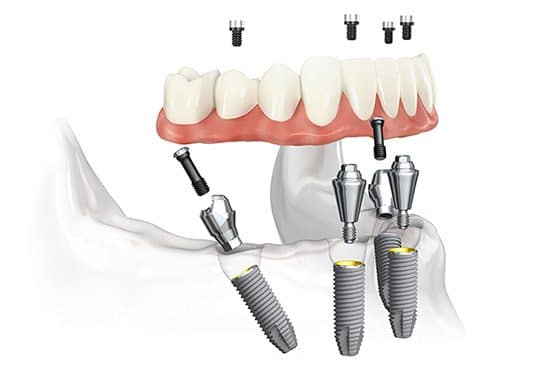 The all on 4 dental implant procedure is the most common solution used by dentists to replace multiple teeth.
To achieve this, dentists carefully install 4 to 6 implants in the jaw to support a temporary denture first.
If you have no teeth and thought you'll have to get one implant per missing tooth, you can breathe a sigh of relief.
When the implants have strongly become one with your jawbone, the dentist in Mexico will remove the temporary denture. A beautiful permanent one will be installed instead—successfully restoring a full arch of teeth.
Awesome, right?
All on 4 is one of the most advanced and modern restoring methods. It gives people a second chance to a healthy smile and, therefore, a better life.
You will be able to do all the things you used to do when you were a kid. Eating your favorite candy (but not too often, don't go crazy!), laughing until your stomach hurts without fear of people judging your teeth, and even make other people's lives better.
6 Reasons Why You Should Get All on 4 Dental Implants Mexico
This procedure brings mostly benefits to you, but you should still know some of the advantages and disadvantages of the all on 4 method to make it easier for you to make up your mind.
Try to consider this:
1. You'll have beautiful permanent results. Your new teeth will be securely attached to your mouth so that you won't need frequent visits to the dentist.
2. A total makeover. With a brand new smile, your appearance will look even better and help you regain your self-confidence. Dating? Taking pictures? Yes! You can do all of that without any fear.
3. You can enjoy a great variety of foods. The strong permanent dentures will allow you to eat food the way you used to without worrying about them shifting. Don't worry! You won't appear on any of those funny videos on the internet.
4. Easy maintenance. Just follow a complete oral hygiene routine; brush, floss, and mouthwash. Other than that, just make sure to get your dental check-ups every six months.
5. Prevent your jaw from degrading. Implants strengthen your jaw, lowering the chances of suffering from bone loss over time.
6. Cost and time-effective. Replacing every missing tooth with individual implants would be a more lengthy and expensive process. That's why this method is designed to benefit you as much as possible in these aspects.
Who Is A Good Candidate for All on 4 Dental Implants Mexico?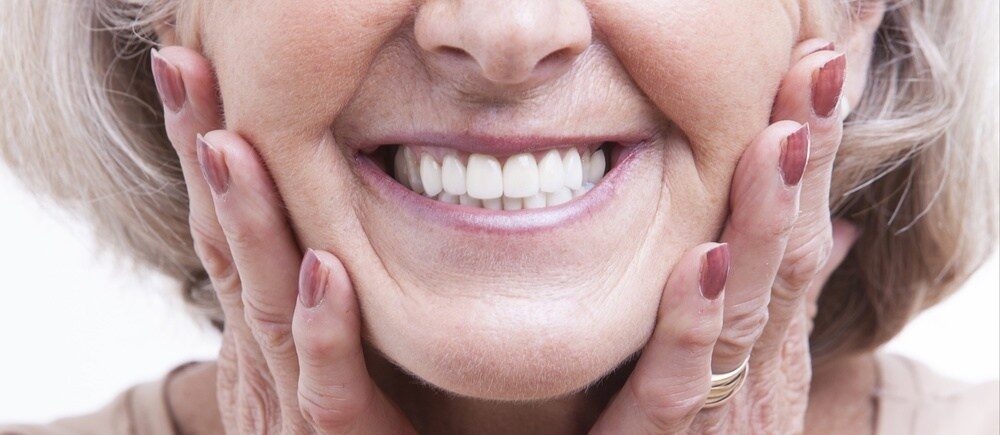 Fortunately, the list of requirements you have to meet to get your all on 4 dental implants is not too long. Of course, the most crucial opinion belongs to your dentist. However, you can always evaluate a couple of things by yourself to see if you could be a good candidate.
So, if:
You have multiple damaged or missing teeth that need to be replaced.
Your dental health state should be in good shape. This means that you maintain a good hygiene routine and get your dental check-ups every once in a while. And if you don't, it's never too late to start. You got this!
You have the will to stop smoking. If you didn't hear, smoking is a significant contributor to implant failure (it also pretty much damages every other part of your body) and makes you six times more vulnerable to gum disease.
Your overall health is good enough for you to undergo surgery. The implants' placement is a surgical procedure, so there is some risk that comes with it.
You have the commitment to make the treatment work for you. To ensure all on 4 dental implants are a success, you must listen to the dentist's recommendations. Make any needed changes to your diet and say goodbye to bad habits. Go to every necessary dental visit to monitor your progress.
If you're unsure that you meet all the requirements, don't give up just yet! It would be best if you still talked with your dentist to see your options and any other solutions you can take.
What Is the Process of Getting All on 4 Dental Implants Mexico?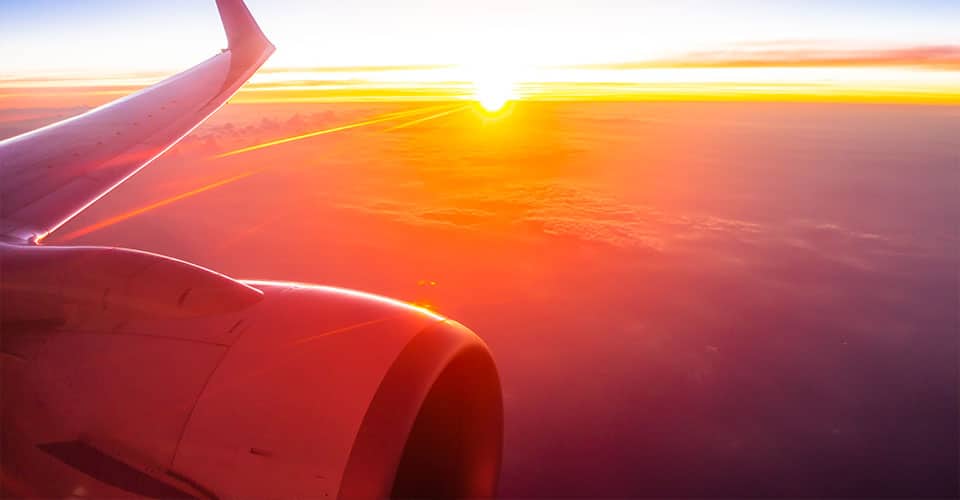 With Trust Dental Care, It's super simple! Here are the steps you can follow:
1. Call us and get all the info you need. Request shuttle service if you need it. It's at your complete disposal. Also, let us know if you need help with the hotel. We will even pay for it, so if you have more questions about that, get in touch with us!
2. Buy your plane ticket or drive to Tijuana. If you're visiting from far away, make sure to plan everything with time so you can take advantage of any discounts. Yay! One step closer.
3. Come to Trust Dental Care Tijuana. Go into your first appointment with your Tijuana dentist to see how the treatment is going to go for you and get a second appointment.
4. Show up to the next appointment for the dental implant surgery! Don't be afraid. The procedure is mostly painless, and our team will make sure you feel comfortable and at home. We're here for you.
5. Walkout with brand new teeth, ready to conquer the world!
How Much Do 4 Dental Implants And Dental Implants In Mexico Cost?
Mexico is very well positioned when it comes to high quality and low costs compared to other countries. Besides, it's such a convenient location because it's so easier and faster to reach.
Not to mention that Mexico has beautiful touristic destinations available and a rich culture that guarantees a great time for anyone.
However, let's be more specific, shall we?
Let's talk about Tijuana, Baja California. A minimum of 500,000 people crosses the border every year looking for a healthcare provider, which has caused the city to invest and prepare to offer even better dental and medical services—having some of the most prepared and certified dentists in Mexico. With world-class facilities and state of the art technology equipment.
This, however, does not increase the cost. Let's make a quick comparison for you:
Dental Implants
In the United States, a dental implant can cost $2,000 per implant.
In Trust Dental Care Tijuana, a dental implant can cost only $ 699 per implant.
All on 4 Dental Implants
In the United States, all on 4 dental implants' cost goes from $12,000 to $26,000 per jaw.
In Trust Dental Care Tijuana, all on 4 dental implants' cost goes from $6,000 to $8,499 per jaw.
Can you imagine what you can do with the money you'll save? You could get a new car, a house even! Maybe a nice vacation.
As you can see, that is quite the difference. You can potentially save about 75% of what you would've spent in your hometown! Be confident that Trust Dental Care is the best option to get all the high-quality results you expect and still save thousands!
Get all on 4 dental implants in Mexico, and let's start your beautiful smile makeover today!