A Call to All Breast Cancer Survivors Who Are Looking to Smile Again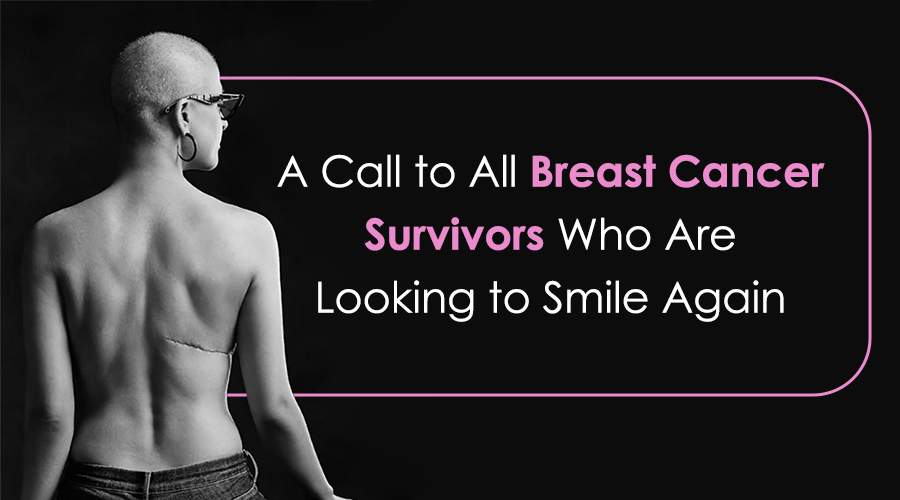 Trust Dental Care has some good news to share with all breast cancer survivors for the upcoming Breast Cancer Awareness Month.
If you are a survivor or know somebody who has gone through breast cancer, please keep reading this article to learn more about how we want to give our support.
Breast cancer can affect how you feel on the inside and out, whether you've just been diagnosed, have been a long-term survivor, or are still undergoing treatment.
Looking in the mirror after going through something like this can be heartbreaking. You may not even recognize yourself. Realize that the person you used to be is gone forever.
But this doesn't necessarily mean something negative. Everything you have been through has given you the opportunity of seeing the beauty of the world around you with a fresh perspective.
It's not easy, of course, to face your new reality as a survivor. You still have to deal with the negative feelings that come after. But it's all part of your ongoing growth. You should recognize the strengths within yourself that you didn't know you had.
You're a fighter and a winner who should accept the new person you've become.
Breast cancer patients have a 90% 5-year relative survival rate. This means that 90 women out of 100 survive five years after being diagnosed with breast cancer.
You can make this the beginning of a new beautiful story, find your new meaning and hold on tight to your hopes. There's nothing you can't accomplish if you set your mind to it.
Breast Cancer and Oral Health
Many people who have previously been diagnosed with breast cancer have likely had chemotherapy or radiation. These procedures, while often successful in treating cancer, can have detrimental consequences for dental health.
For instance, oral tissue, salivary glands, and bone may be damaged and broken down due to radiation therapy. Saliva lubricates the mouth, washes away waste, and contains enzymes that destroy carbohydrates and bacteria that cause disease, and it is an excellent natural defense.
For this reason, many patients develop chronic dry mouth, mouth ulcers, infections, taste changes, pain, and tooth decay.
This often leaves cancer survivors with yet another battle to access the dental care they need. In countries like the U.S, most dental procedures are expensive, and most cancer survivors need major dental work.
Something like that can be very tough after going through so much. It'll represent a great obstacle in trying to move on with your life.
Let a Brighter Tomorrow Come Along
"One day at a time, one step at a time. Do what you can, do your best. Let God handle the rest." — Michelle Jones.
This October is Breast Cancer Awareness Month, and Trust Dental Care wants to help breast cancer survivors on their journey of moving forward.
It is a cause very close to our hearts as this disease has touched some of our staff members' and patients' lives.
We emphasize with all survivors and those who are experiencing the same. They all deserve to confidently live the life they fought so much for without feeling like something is missing in them.
We want to support you in getting the courage to walk towards the bright, fantastic future that you have forward.
So, we're putting on pink and launching a Smile Makeover Contest for cancer survivors whose dental health was affected in any way.
The winner will receive a completely Free Full-Mouth Restoration from our Tijuana dentists!
Let the world see your smile again.
If you want to participate, please stay tuned to all our social media and webpage. That's is where we'll announce how you can enter the contest and have your chance to win a Smile Makeover.
Trust Dental Care is here for you, and we're ready to change lives one smile at a time.