Has it happened to you that you have a long day at work and all you want is to be able to rest? Sometimes it's good to hang out with coworkers or hang out with friends for a glass of wine, go to a local coffee shop and have a coffee to entertain a conversation.
Or, we are already feeling the summer nearby which means that the days will be available for a quiet time among friends, to make parties where you can prepare a rich BBQ where the refreshing drinks will have a presence.
Everything seems to sound very good until we realize that drinks like red wine are gradually causing our teeth to lose the whiteness that characterizes them.
But don't worry! This doesn't mean you can't have fun in the company of your friends and don't have a drink of alcohol, you just have to be careful this season as both drinks and dishes will be present in our daily foods, so the best thing is to do the following to remove teeth stains or avoid them.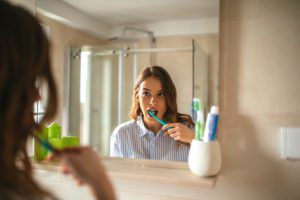 1. Brush your teeth BEFORE eating, not after.
Perhaps many of us know that it is essential to brush our teeth after eating to remove some residues and prevent bacteria from being generated in our mouth, but it is also known to brush our teeth before we have a glass of wine.
At this point you may wonder why we would do that, well, this is simple: at the time we brush our teeth we are eliminating the plaque that accumulates in an area of the teeth, which is not properly cared for may be useful for bacteria.
Just remember not to brush and immediately drink some drink like wine or coffee, as the flavor it will generate in you will be as if in the morning when you wake up you brush your teeth and then drink orange juice. # yikes!
2. Drink lots of water
That's right. In addition to helping us stay hydrated and being one of the basic needs of our body, it is important to be clear that it is good to drink a lot of water as it will help us to "rinse" once we are drinking drinks such as coffee or wine, or any kind of food that contains strong condiments, and in a way to clean the remains that remained in our teeth, preventing them from losing their natural shine.
3. If you're a woman, put lip gloss back on your lips.
A funny thing about this friend of many women is that they protect our own when it comes to drinking wine.
In addition to being a very effective resource to look beautiful on a date or departure with friends for a glass of wine, it turns out that it also becomes a protective shield that will fight the tannins, so the best thing will be that after having a sip of your cup or cup, you better touch your lips between each glass.
4. Eat crunchy fruits and vegetables
Eating high-fiber foods (such as fruits and vegetables) will act as if they were a natural toothbrush, as they will clean up all traces of strong drinks.
This will happen at the time of chewing. It will start acting in a way that looks like we're recreating the action of brushing your teeth, and as we're chewing we'll generate quite a lot of saliva which will help us rinse out any residue that exists between our teeth.
We recommend that you eat fruits and vegetables that are drier, as they generate more saliva.
5. Avoid acid wines
If you're a person who wants to have a glass of wine in the afternoons or in a more social way, there's a way to keep your teeth from getting stained so quickly.
We will not lie to you, they will be stained over time, but if you avoid wines that have a lot of acidities, that time will be prolonged. But do you know what we mean by this?
When you have a glass of red and white wine, you immediately have a glass of red wine again.
This, in addition to smearing your teeth and mixing the acidity that each one produces, believe us that it will produce a very bad hangover.
Note that acidity in some foods as well as in wines, remove a protective layer of enamel on the teeth, therefore, the higher the acidity of the wine the more likely it is to end with a purple smile.
6. "Cheese, please!"
Sometimes there's nothing better to accompany a wine than a good cheese table. And best of all, cheese is one of the protective shields that help keep our teeth from losing strength and stain.
Cheeses such as cheddar, asiago, brie or gouda, cover our teeth in calcium, making a protective layer on the teeth.
Now, you already have a better excuse for eating cheese in the company of a glass of wine!
7.  Drink coffee with less caffeine
Caffeine is one of the great reasons for those who love coffee in the morning, afternoon or simply because it's coffee, having their teeth dyed. Depending on how much caffeine your drink contains, you'll know how much it will affect your teeth as soon as it gets stained.
If we drink decaffeinated coffee, we will be prolonging – like wine – the stains on our teeth, as well as not making them so obvious.
Just as there are different levels of caffeine, there are processes for making coffee that also help in this process.
Coffee made in a percolator will not stain our teeth so quickly that if we compare it with another method, as in a French press.
8. Go to your dentist for professional bleaching
And this may be the most obvious point, but going to your dentist for professional bleaching is one of the most effective ways to eliminate those stains that are causing us a little bit of insecurity.
Do not let your teeth start to lose their natural color and brightness, as they can go with a professional to apply this treatment because if applied regularly, you will be helping your teeth to look healthy and clear, you will get a bright smile.
Note that this process is done by professionals, but if you overdo it as whitening applications, this as everything can bring a little downside, such as damaging the natural protective layer and then you will have sensitive teeth.
Using professional whitening in combination with these other methods will give you the best protection against coffee stains on your teeth.
Now, if you have any questions about which dental products can serve you at home to prevent these angry stains on our teeth, we leave you the ones we consider the best!
– Sensodyne Pronamel Toothpaste
It costs $ 16 a pack of 3.
– Colgate Enamel Health Mouthwash
It costs $20 and has a 3-pack.
As mentioned above, before you have your first glass of wine or cup of coffee, make sure our teeth are clean. American Dental Association spokeswoman Dr. Ruchi Sahota comments that having clean teeth is less vulnerable to spot.
That's why they recommend using these products for brushing our teeth before we go to taste a good coffee or a glass of wine.
– Vaseline Lip Therapy Advanced Healing
It costs $ 10.
This option serves as with lipgloss, as in addition to leaving a stain on our teeth, red wine leaves its mark on our lips, and if you are from someone who suffers from broken lips you will be more likely to be notorious. The best way to avoid this is to keep our lips hydrated, and if you don't want an option with a strong taste or smell.
These oil-based balms will act as a barrier to tannins.
But what if you don't find yourself at home or somewhere nearby to brush your teeth? Don't worry! Since there are some to-go resources that we can easily save with us:
– True Wine Stain Removing Wipes
It costs $ 8 and it's a 12-WIP package.
– Colgate Max Fresh Wisp Disposable Mini Toothbrush
It costs $ 32 and the package brings about 24 pieces.
– Trident original Flavor Sugar-Free Gum
This will vary, as it depends on the cost of the supermarket where it is sold.
– Crest 3D Glamorous White Strips
It costs $ 30 to 45.
Products that are "Whitening" work to remove the stains that are superficial in our teeth that occur naturally, and to avoid that, with time, forming new spots that we cause by the food we sometimes consume.
This is a little bit we recommend to avoid those annoying stains that make us ashamed to smile, and as you can see, it doesn't mean that you stop eating foods that make a conversation enjoyable among friends, or that you don't have a drink of your favorite wine anymore, you just have to take into account certain care that we must take towards our teeth. /
Remember that Trust Dental Care can be trusted, so if you have any stains that bother you don't hesitate to call us and make an appointment for one of our expert doctors to analyze your teeth and apply a professional whitening.
Do you know any other way to avoid these stains? If so, we invite you to comment below!
* Prices are obtained from Amazon.
With teeth whitening, 75% of adults think that a nice smile supports career success and 84% think that an attractive smile aids in meeting Mister or Miss Right.
Teeth Whitening is a bleaching procedure popularly applied throughout the nation and around the globe to lighten stained teeth.
Tooth blemishes are a direct result of smoking, coffee, tea, red wine, and other dark-tint beverages.
Our dental office we use Philips Zoom Whitening uses a light-activated system to penetrate the tooth through it micro cracks. The gel penetrates the outer layer of a tooth, enamel, to get to discolored molecules removing teeth stains in minutes.
Unlike many other systems, Philips Zoom White Speed uses a proprietary LED light to accelerate whitening for maximum results in minimal time.