Tijuana is a place that has grown exponentially, both culturally and economically, in the last decade. The border town is by far the best option when searching for top quality, affordable dentistry in Mexico.
If you live in the United States or Canada, choosing a dentist is never a fun-filled activity. Not only are you understandably in pain, but just thinking about high deductibles, premiums, and co-pays, can be a whole new headache. Insurance agencies tend to drag this process along for months on end, only to disappoint the patient with a measly 50% coverage, if that. Recent studies have proven a majority of Americans lack proper dental insurance and those who do, can barely afford treatments. Decent oral coverage can be hard to come by for most people, and those fortunate enough still end up paying over five grand for services. Many people have to resort to long waiting lines when free dental services are locally provided for a predetermined amount of time. It's time to realize that dental tourism in Tijuana, Mexico opens up an entirely new possibility for dental treatments. Tijuana is a place that has grown exponentially, both culturally and economically, in the last decade. The border town is by far the best option when searching for top quality, affordable dentistry in Mexico.
Do not judge Tijuana for its history involving violence. This city has transformed into a cultural destination that is safe, fun for the whole family, and endlessly interactive. Many dental practices in TJ have successfully thrived for years thanks to medical tourism. Vast amounts of dental patients would rather choose Tijuana over other cities in Mexico (or the U.S. for that matter) for its affordability, quality, and proximity to the states, among other things. If you are still not convinced Tijuana is the best destination for all your dental needs, the following seven reasons will surely change your mind about it being the best choice for dental treatment.
1.- Affordability
This of course, is a commonly-known fact, but we never get tired of comparing prices in the United States, or Canada, to those of any city in Mexico. Dental Care in Tijuana is over 75% more affordable than any other city in North America. This is the primordial reason why many citizens from the United States or Canada visit Tijuana for dental treatments. Not only do they get to save insane amounts of money, but they also get to disconnect from the everyday life, taking the edge off while obtaining their desired bright smile.
2.- Quality
Some of the best dentists in the world host offices in Tijuana. Living in a border city is a great advantage for these dentists. The dental craft is more affordable in Mexico, allowing for tons of revenue and profits. Dentists in the United States spend a lifetime of savings in education, or end up with massive debt for the remaining of their lives. This gives them a great reason to overcharge American citizens just to cover student loans. Education is of top quality in Mexico, with some of the most competent professors in the world. They also continue education throughout their career to stay updated with the latest procedures and technologies.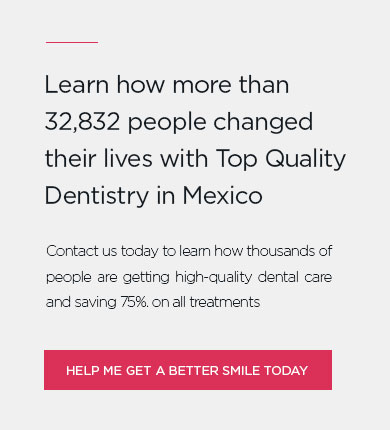 3.- Location
While some patients do prefer a Cancun beach vacation when visiting the dentist in Mexico, others prefer the proximity of Tijuana to get their work done quickly. Choosing a dentist in Tijuana is the best option for many patients coming from Canada or the East Coast. Although tanning in Cancun or Puerto seems appealing, Tijuana is the perfect place for affordable treatments. Safely returning home in no time always eases people's' minds. The advantage of being a border city with an available airport, and 15 minutes from San Diego's airport (Free Shuttle Service), makes Tijuana the only sensible option for customers traveling long distances.
4.- Tourism
Soon after the whole violence ordeal in Tijuana, a long period of blossoming and tranquility in all of Baja California surfaced. Tijuana quickly became the perfect place to enjoy a great night out with friends, regardless of age or social status. Cities nearby, such as Ensenada and Rosarito, have become perfect destinations to escape reality and enjoy a well-deserved vacation with loved ones. Please do ignore rumors involving the beautiful city of Tijuana. You don't want to miss out on some of the greatest sites in all of Mexico.
5.- Culture
Tijuana is a Mexican City enriched by culture and artistic creativity from its citizens. In a single decade, TJ has exponentially grown in arts, culture, gastronomy, breweries and high-quality wine tastings. The way Tijuana unexpectedly changed its fate after struggling with violence and corruption, is admirable to say the least. Becoming one of the most coveted destinations for vacation and dental tourism is making this city a force to be reckoned with.
6.- Unmatched Technology
Dental practices in Tijuana have withstood the test of time, evolving rapidly and efficiently. Having endless work has granted the city an opportunity to work with the most advanced technologies in dentistry. This has earned Tijuana plenty of respect and credibility from North American patients. The latest state of the art technology can be found in select dental clinics around Tijuana. One of the most advanced pieces of equipment is the latest CEREC MCXL Machine from Sirona. The latest in dentistry technology can be found at the "Trust Dental Care" clinic. Trust Dental owns 3D machinery which allows for same day procedures; not many clinics can say the same for themselves.
7.- The Best Clinics
Trust Dental Clinic has been operating for over ten years, becoming the most recognized dental practice in Tijuana. There are a few other clinics with similar advantages, but Trust Dental specializes in maintaining lifelong patients happy from day one. Many dental clinics in Tijuana have a solid clientele base due to a full shuttle experience that meets clients at the border or at the San Diego Airport. This allows for patients to relax and feel comfortable in a foreign place, returning home completely satisfied. Dentist visits are no fun anywhere in the world, but choosing Tijuana for dental treatment will leave you ecstatic after huge savings for the same American quality. Next time you need dental work done, make sure to choose Tijuana; you will not be disappointed.
Feel free to send us a message. We will answer all your questions and explain the benefits of getting dental care in Tijuana.
Make sure to mention "phone consultation" under "Description".