3 Reasons Why You Need a Dental Crown After Root Canal Therapy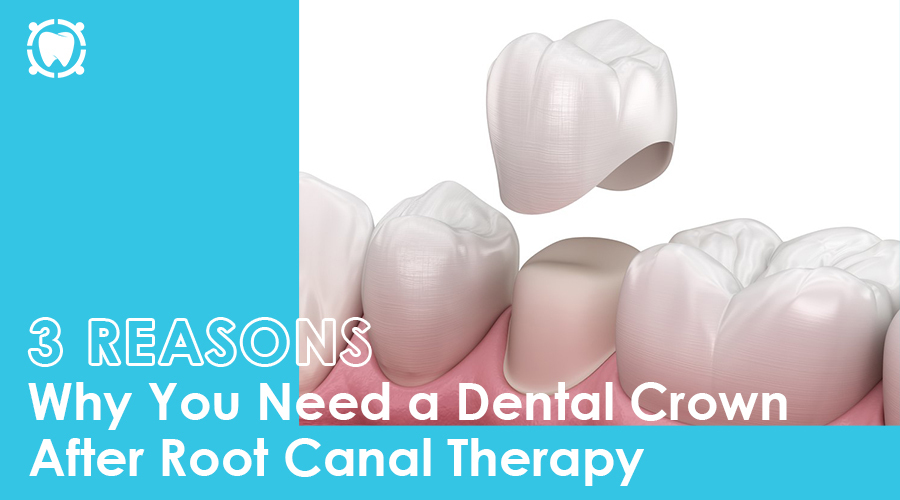 How a Root Canal Therapy and a Dental Crown Can Restore Your Smile
Root canal therapy is a great solution to save a tooth, but it might leave it a bit weakened in some cases. Because of this, dental crowns or dental fillings are often used after this procedure.
Root canal therapy consists of drilling into the damaged tooth to reach the infection. Besides, have in mind that the tooth is probably already fragile due to the decay and damage.
As you may imagine, by the end of the treatment, the tooth structure ends up not being as strong as it was. It wouldn't be safe for someone to eat, speak and laugh as it could easily cause harm to the area.
The tooth's form, scale, and function are all restored with a crown. It can both maintain and improve the quality of the tooth.
Crowns may be made out of a variety of materials. Metal alloys, Zirconia, ceramics, porcelain, porcelain fused to metal, and composite resins are among them.

At Trust Dental Care, you can get beautiful Porcelain Crowns in One-Single Visit right next to your dental chair.
Give us a call to get more information on tooth crowns and get your smile restored today.
3 Reasons Why You Might Need a Dental Crown After Root Canal Therapy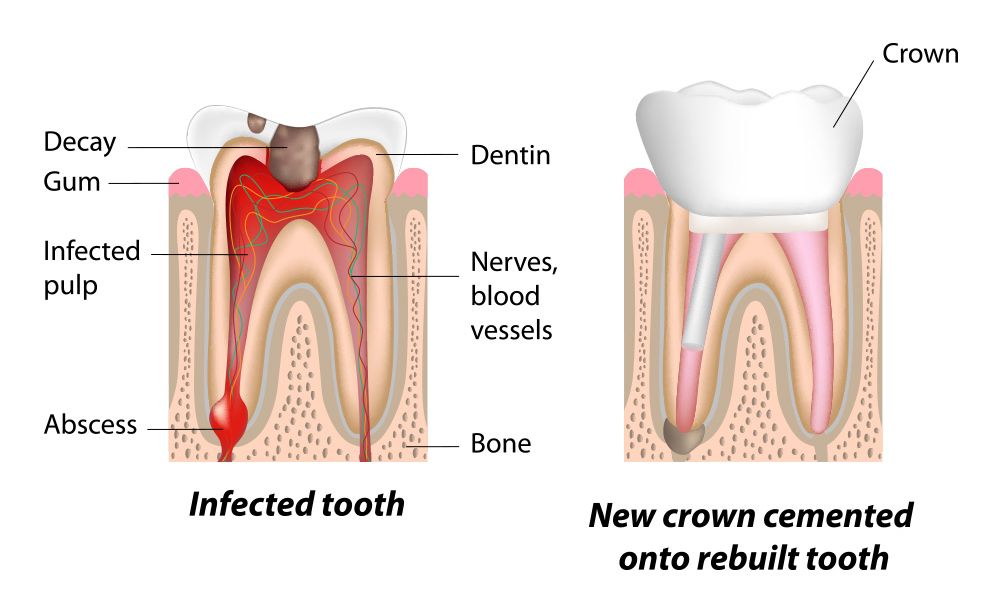 Here are some reasons why you might need a dental crown after root canal therapy and the benefits it can bring you.
1- It protects your tooth
The crown will cover the tooth. It's like a protective layer for your teeth. So, in the event of a crack, only the dental crown will be damaged, leaving your tooth unharmed. Even though the crown is usually strong, it can still be damaged. In that case, the crown can be replaced at any time.
2- It looks just like a natural tooth
If you have cavities in your tooth or teeth, they will most definitely have a less than attractive look. You can choose to hide your smile whenever you smile or avoid social situations to avoid being stressed by other people's prejudices. In these circumstances, wearing realistic-looking crowns will make you feel a lot better about your appearance and yourself.
3- Keeps infections away
The tooth's surface is even more fragile after root canal treatment and is at a higher risk of infection and damage. A dental crown will be placed over the tooth to seal it from harmful filtrations and keep the tooth from needing to be extracted if the root canal procedure fails.
3 Precautions You Should Take After Getting a Dental Crown
1- Stay away from sticky, chewy food
Chewing gum, for example, may cause the crown to fall out. When a crown is applied for the first time, the teeth become very fragile. The crown can become infected if the gums have not healed and the crown is already worn or damaged. This is something you should prevent at all costs.
2- Try not to use the crowned tooth as much
Try not to utilize the jaw's side where the crown is until it is fully healed. Chew your food on the other side of your jaw to protect your new tooth. Once it has recovered and is strong and solid, then you can use it.
3- Brush your dental crown very gently
It is best to take some time before brushing your teeth with a stiff brush. Brush the non-crown side for hygienic purposes and freshen your breath. The most critical action in having a fiery breath is brushing the tongue.
How Much are Dental Crowns?
In countries such as the United States, dental crowns prices can be around $2,000 and up per tooth. The cost can also vary, depending on aspects such as insurance, materials, or additional procedures.
Dental crowns can be quite expensive in many places, which can be disappointing if you need one. Because before being useful for appearance, crowns are necessary to keep your dental health safe.
In Trust Dental Care, not only can you save money by getting a root canal. You can also save up to 75% on dental crowns.
And the cost is not the best part, visiting our Tijuana dentist is an experience you must have. Receiving friendly, efficient, and professional dental care has never been more accessible.
If you want to visit an innovative, modern dental office to get the care your smile always deserved, don't hesitate to call us.
Don't miss out and follow the steps of thousands of Americans that chose to save their smile and money!